Dear Friend,
I am pleased to present my electronic newsletter. These e-newsletters enable me to provide information about issues, events and activities in Harrisburg and around the 47th Senatorial District to you in a timely manner while saving postage costs.
If you find this e-newsletter useful, I invite you to visit my website www.senatoreldervogel.com for more information about your state government. If you do not wish to receive these e-newsletters, please click the "unsubscribe" button at the bottom of the page.
Sincerely,
Elder Vogel Jr.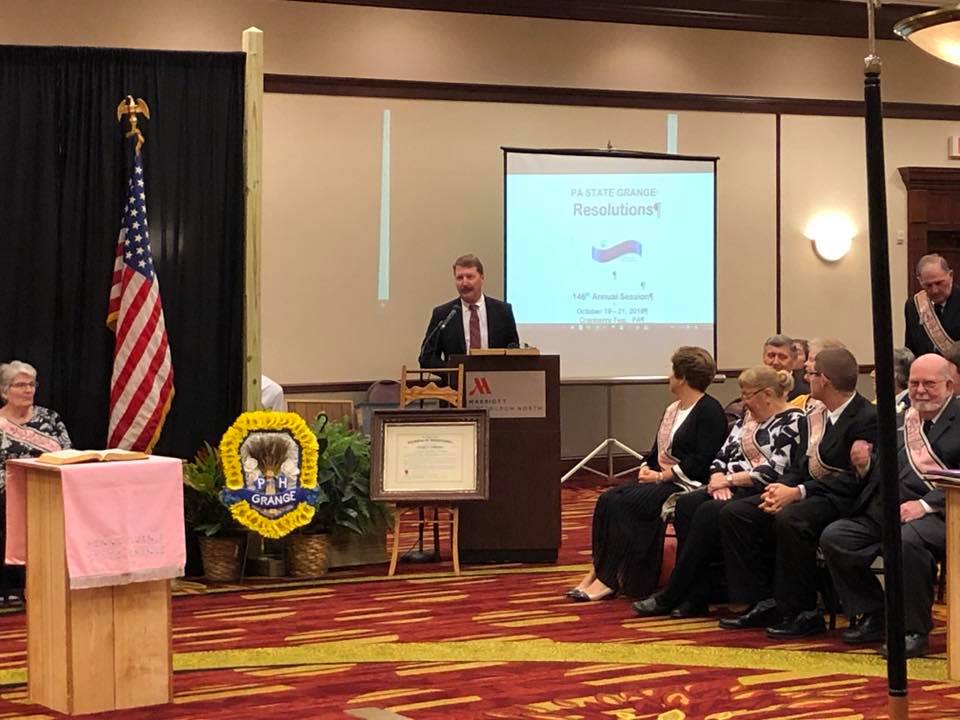 It was a pleasure to attend the opening of the 146th annual session of the PA State Grange, where I shared with the attendees a resolution celebrating the Women of the Grange. Thank you for having me!
---
Veterans Breakfast
I am honored to again be part of planning the Veterans Salute Breakfast at CCBC on Friday, November 9th. This breakfast will provide resources for current military members and veterans alike.
The Breakfast is free to all veterans and their first guest, and any guest after that is $5. This year, WQED's Chris Moore will be a commentator on a panel of four post 9/11 veterans who are also students at CCBC. They will talk about their experiences and a portion of this will be taped for a documentary "Veterans Coming Home".
The Veterans Breakfast is also in need of volunteers. If you'd like to help our veterans on this special day please call the number below and let them know that you want to volunteer. Please try to RSVP by November 2nd by calling 724-480-3561 or email rsvp@ccbc.edu.
Local School Safety Grants
Several schools in the 47th Senatorial District were awarded state grants today (October 30) to help improve student safety through a new program. The School Safety and Security Grant Program was created by lawmakers earlier this year to provide grants to school districts, intermediate units, area vocational-technical schools, charter schools and private residential rehabilitative institutions for a wide variety of projects to improve school safety.
Eligible uses for the grants include hiring school security officers, purchasing security-related technology, completing safety and security assessments, implementing violence prevention curricula, offering counseling services for students, and creating other programs to protect students.
This funding provides these districts in Beaver, Butler and Lawrence counties with financial support to enhance the safety of students in these schools. It is important to me that we take the appropriate and necessary steps to ensure our young people can feel safe in their classrooms and schools.
Each local school district that applied through the program was awarded a grant of $25,000. Local grant recipients include:
Ambridge Area School District, Beaver Area School District, Big Beaver Falls Area School District, Blackhawk School District, Central Valley School District, Freedom Area School District, Hopewell Area School District, Midland Borough School District, New Brighton Area School District, Riverside Beaver County School District, Rochester Area School District, South Side Area School District and Western Beaver County School District.
Seneca Valley School District and Slippery Rock Area School District.
Ellwood City Area School District, Laurel School District, Mohawk Area School District, Neshannock Township School District, New Castle Area School District, Shenango Area School District, Union Area School District and Wilmington Area School District.
The new program was created as part of a comprehensive school safety bill that was signed into law in June. More than $60 million in new funding was dedicated in the current year's budget to improve school safety. More information on school safety measures under consideration in the General Assembly is available online at https://www.pasenategop.com/school-safety/.
Pennsylvania Governor's School for the Sciences
The Pennsylvania Governor's School for the Sciences (PGSS), an affiliate of the National Conference of Governor's Schools, is a 5-week summer residential program for talented high school students of science and mathematics, which emphasizes cooperative learning and hands-on laboratory research. Hosted by the Mellon College of Science at Carnegie Mellon University, the PGSS offers an enrichment experience in science, technology, engineering and mathematics (STEM). The major goal of PGSS is to encourage young talent to pursue careers in STEM-related fields.
To apply you must be recognized by your school as a junior at the time of the application deadline, and must be a resident of Pennsylvania, attending a public, charter, cyber or non-public secondary school, or be homeschooled. PGSS takes place from June 30th to August 3rd, 2019.
Successful applicants receive a full scholarship to the PGSS program, which includes housing, meals, and all instructional materials. Families are responsible for cost of transportation to and from the program, personal items and spending money. Students must commit to being in residence on the Carnegie Mellon University campus for the duration of the program. Trips home during the program are not permitted.
For more information, please visit the website by clicking here.
Absentee Ballot Voting
The deadline to have sent in an absentee ballot is Friday November 2nd for voting in the November 6th election. Those who can apply include voters out of town due to work/vacation, college students and those with a disability or illness that prevents them from going to the polling place. Members of the military can apply at any time.
For the application and more information, please click here.
Senate Bill 1127 – Prevent SNAP Trafficking
Legislation to prevent trafficking of Supplemental Nutrition Assistance Program (SNAP) is now law. Senate Bill 1127 creates stronger penalties against individuals and businesses that unlawfully trade goods or services in exchange for SNAP benefits. Individuals convicted of trafficking more than $2,500 in SNAP benefits could be found guilty of a second-degree felony and be required to pay restitution of up to three times the amount of the fraud they committed.
Unfortunately, there are individuals and some businesses which exploit this important program, unlawfully trading money or other goods/services in exchange for the SNAP benefits. This bill is important because our outdated law treats the recipient who sells the benefits and the merchant who creates the illegal market for and traffics in those benefits, just the same. Just as our law differentiates between drug dealers and the buyers they victimize, so should we distinguish between recipients and nearly professional traffickers in public benefits.
For more information on Senate Bill 1127, please click here.
House Bill 1013 – Emergency Service Reimbursement
Legislation that will require insurance companies and Medicaid to reimburse emergency medical services agencies for services provided when care is rendered, but transport to a hospital does not take place, has been signed into law by the Governor. With this new law, insurance companies and Medicaid are required to reimburse EMS organizations for services whether they include transportation to a hospital or not.
Under current law, EMS agencies can only be reimbursed for a covered claim if they transport the patient to a hospital. Many times an ambulance and/or advanced life support squad will render care at an incident and not provide transport, usually because the patient has refused transport to the hospital.
Furthermore, many EMS agencies that provide ALS service must rely on a contract with a Basic Life Support unit, which transports in order to receive payment for services rendered. Today's EMS delivery system has grown with many changes and requirements in EMS protocols.
For more information on House Bill 1013, please click here.
---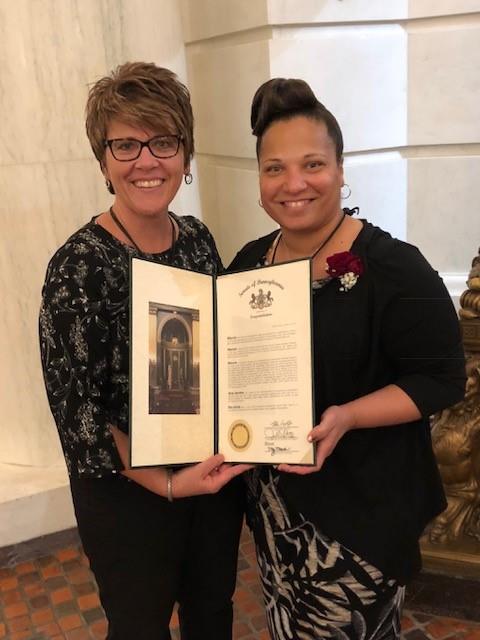 Staff from my office presented Yolanda Little with a citation to congratulate her for receiving the Western Region Frontline Manager of the Year Award. Yolanda has worked tirelessly to make a positive difference in our community and provide exceptional guidance to the autistic and intellectually disabled young people she works with at Passavant Memorial Homes. Thank you for all that you do!
---
Senate Bill 6 – Public Assistance Integrity Act
A new PA welfare reform law prohibits benefits for sex offenders not complying with Megan's Law and certain high-level felony drug dealers. It also prevents the use of EBT benefit cards at casinos and adult entertainment venues, and requires lottery winnings of more than $600 to be counted as a resource for the purpose of calculating eligibility.
For more information on Senate Bill 6, please click here.
Attention Boaters – Life Jacket Regulation
From November 1st – April 30th, PA Fish and Boat Commission regulations require wearing a Coast Guard-approved personal flotation device (PFD or life jacket) while underway or at anchor on boats less than 16 feet in length or any canoe or kayak. A disproportionate number of boating fatalities occur during cold weather months.
Please visit our frequently asked questions webpage for more information.
Senate Bill 1078 – School District Security
Legislation permitting school districts and municipalities to discuss security matters in executive session is now law. Senate Bill 1078, now Act 156, balances the need to protect sensitive discussions and documents involving security with the public's right to know. More than half of the states have measures in place which allow for security and safety matters to be discussed in non-public executive session.
As more security measures come in place, many municipalities and school districts in Pennsylvania struggle with the fact that, while they are trying to better protect those in their care, they are also subject to publicizing just how they plan to respond and where, if any, their plan is weakest. This bill would allow these matters to be discussed in Executive Sessions instead of releasing the info to those who would wish to do harm.
For more information on Senate Bill 1078, Act 156, please click here.
Lawrence County United Way Blanket Drive
This November the Lawrence County United Way is running its annual Winter Blanket Drive. Through the month of November, you can donate a blanket which will be given to a family in need this winter season. With this winter projected to be very cold, the United Way is hoping for a great turnout.
You can drop off any donations at my New Castle Office at 1905 West State Street, New Castle PA 16101. You can also drop off donations at State Representatives Chris Sainato and Aaron Bernstein's offices.
For more drop off locations and information, please click here to visit the Lawrence County United Way webpage.

Please contact me to provide input on any state-related matter, or to receive help in dealing with a state agency.