Dear Friend,
I am pleased to present my electronic newsletter. These e-newsletters enable me to provide information about issues, events and activities in Harrisburg and around the 47th Senatorial District to you in a timely manner while saving postage costs.
If you find this e-newsletter useful, I invite you to visit my website www.senatoreldervogel.com for more information about your state government. If you do not wish to receive these e-newsletters, please click the "unsubscribe" button at the bottom of the page.
Sincerely,
Elder Vogel Jr.

September 16, 2019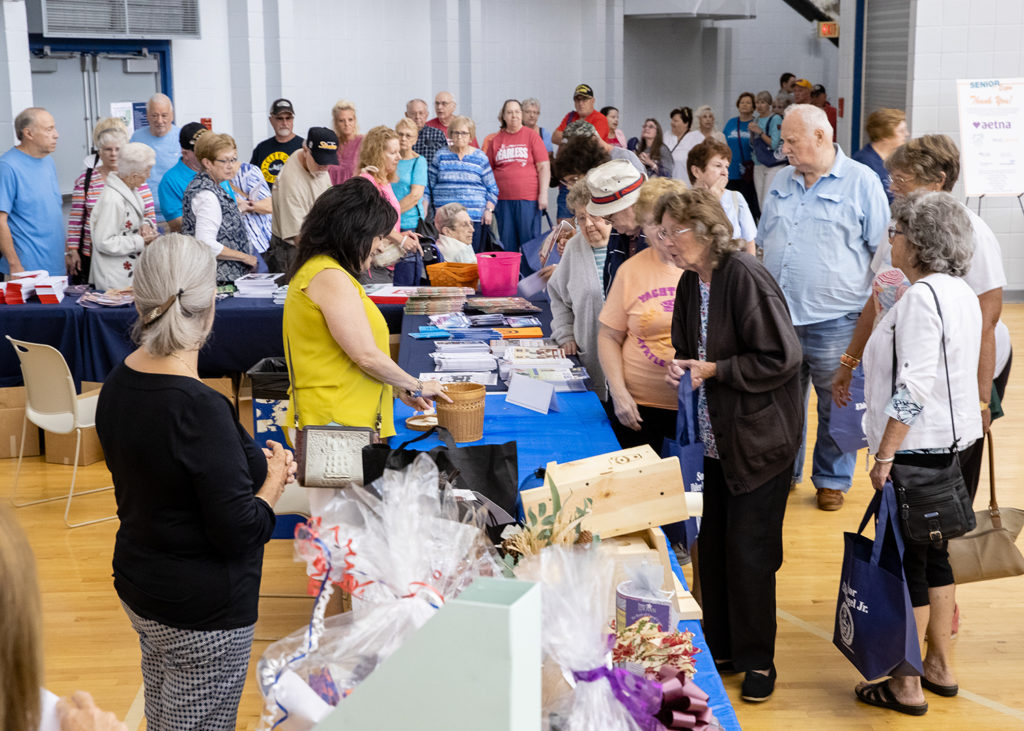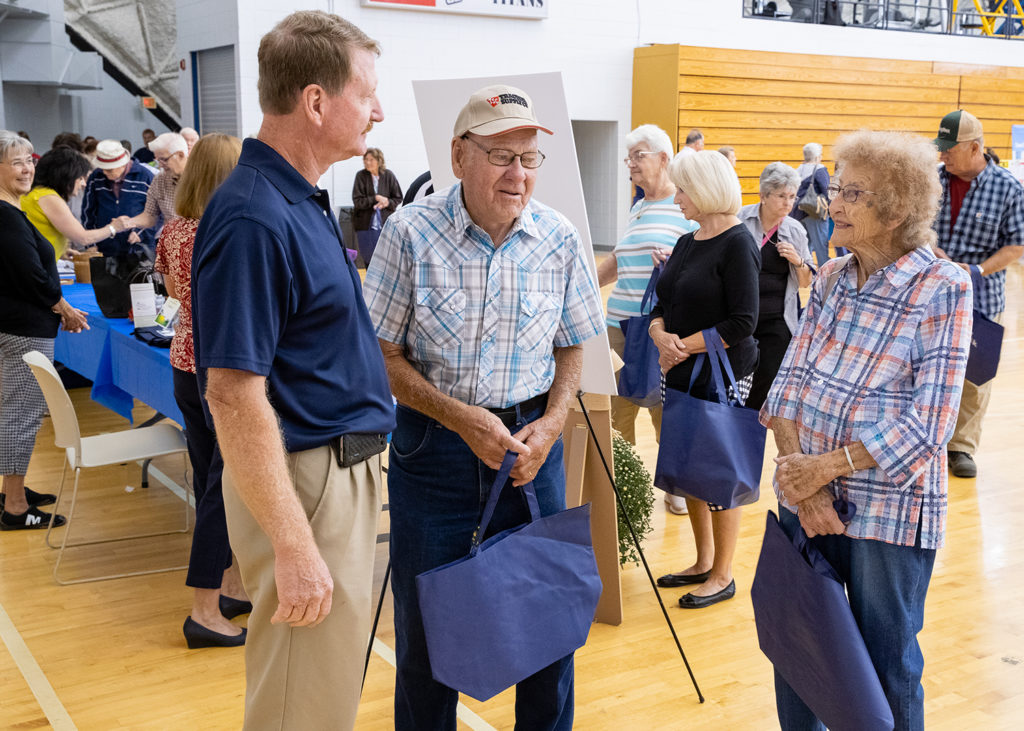 Thank you to all who attended my 55+ Beaver County Senior Expo! A special thanks to this year's sponsors as well, without their support this event would not be possible.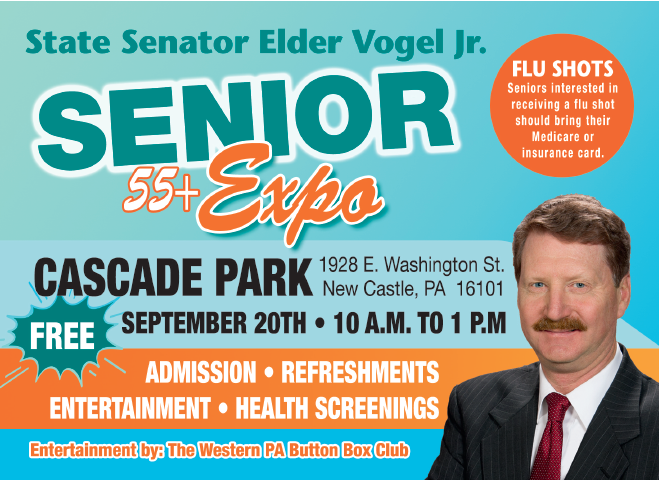 Lawrence County Senior Expo
I would like to invite all seniors to my 55+ Senior Expo on Friday, September 20th, at Cascade Park in Lawrence County. FREE admission, refreshments, entertainment and more. It promises to be a great event. Hope to see you there!
Penn Power Scam Alert
SCAM ALERT: Penn Power has recently learned of two separate SCAMS in our area:
1) Phone calls are being made to residents offering 40% their Penn Power electric bill if they accept the offer. The caller ID shows as Penn Power and the Customer Service number of 800-720-3600. This number is the actual Penn Power customer service number. The SCAM has found a way to use the number. Residents are advised to HANG UP. It is a SCAM.
2) Individuals are going door to door with material offering Surge Protection. Penn Power does not have employees going door to door to sell or offer products. Please do not accept a product at the door or sign up for anything. If a Penn Power employee ever knocks at the door the employees will be in a Penn Power marked vehicle and be wearing a Penn Power photo ID.
2020 Census Information
With the upcoming 2020 census and tomorrow, September 17th, being constitution day we want to remind citizens of the importance of the 2020 United State Census to our state and our nation. The census is more than just a head count. It provides a picture of our nation that helps determine where to build new schools, hospitals, and businesses; how federal funding is distributed; and how congressional seats are apportioned.
The census is confidential and secure with strict federal laws protecting your census responses. It is against the law for any census employee to disclose or publish any census information that identifies individuals or businesses. The Census Bureau will never ask for your social security number, bank or credit card account numbers, money or donations, or anything on behalf of a political party.
Starting soon, there will be census employee's door knocking in your community. These employees will be wearing ID from the Census Bureau to identify themselves. With this community effort the Census Bureau is asking for 600 applicants for temporary jobs during this on-going important national event.
In 2020, for the first time ever, the Census Bureau will accept responses online and by phone while continuing to accept applications by mail. For more information on the 2020 Census, please click here or call my office at 724-774-0444.
Fall Flooding Facts
The National Oceanic and Atmospheric Administration's (NOAA) 2019 hurricane season update predicting an above normal level of activity in the Atlantic for the peak months of September and October, provides a good backdrop to consider flood facts for driving.
Key considerations for driving during heavy rainfall include:
Six inches of water will reach the bottom of most passenger cars, causing loss of control and possible stalling
A foot of water will float many vehicles
Two feet of rushing water can carry away most vehicles including sport utility vehicles and pick-ups
Do not drive around road closure barriers erected by emergency responders to protect motorists and their passengers
Before traveling in questionable weather, consult 511PA for conditions on 40,000 roadway miles including more than 860 traffic cameras. The app, available for iPhone or Android devices, is free and available 24 hours a day, details traffic delays, issues weather forecasts, and more

PennDOT Accepting Applications for Transportation Improvement Projects to Enhance Mobility Statewide
The Pennsylvania Department of Transportation (PennDOT) today announced that applications will be accepted to fund improvement projects that will enhance Pennsylvania roadways, bridges, transit facilities, park and ride facilities, sidewalk, crosswalk safety improvements, bicycle lanes and route designations under the Multimodal Transportation Fund (MTF) through November 8, 2019.
Eligible applicants include municipalities, council of governments, business/non-profit organizations, economic development organizations, public transportation agencies, public airports, airport authorities, and ports and rail entities. Projects that will be considered should coordinate local land use with transportation assets to enhance existing communities.
Last year, 49 projects were awarded $43 million in grant funding throughout 23 counties. Act 89 established a dedicated Multimodal Transportation Fund that stabilizes funding for ports and rail freight, increases aviation investments, establishes dedicated funding for bicycle and pedestrian improvements and allows targeted funding for priority investments in any mode.
PennDOT will evaluate the applications and make selections based on safety benefits, regional economic conditions, technical and financial feasibility, job creation, energy efficiency, and operational sustainability. PennDOT expects to announce grant recipients next year and funding will become available in July 2020.
For more information about the program and previous years' applications and awards, visit www.penndot.gov and click on Multimodal Program under the "Projects & Programs" menu.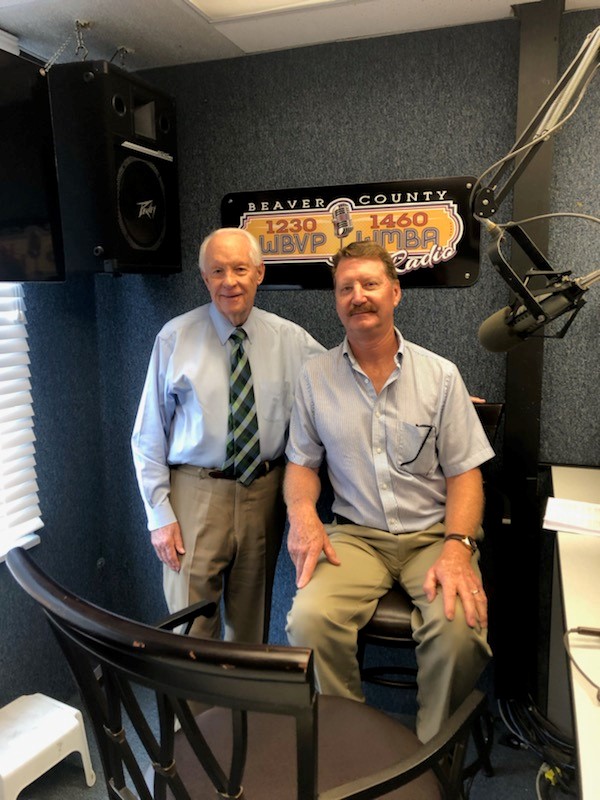 Had a great time on-air at WBVP-WMBA last week, thank you all for having me! If you would like to listen to what Jim and I talked about, please click here.
Senate Bill 399 – Sexual Assault Victims "Bill of Rights"
A "bill of rights" for survivors of sexual assault in Pennsylvania, created by passage of Senate Bill 399, is now in effect. It ensures victims aren't prevented from receiving a forensic medical exam and are told results, and that evidence is treated with the care it deserves. The bill was passed by the General Assembly and signed in June, with the provisions taking effect in 60 days.
In October of 2016, the federal "Survivors' Bill of Rights Act" was signed into law, guaranteeing basic rights for a sexual assault survivor. With passage of the federal law, there is now an effort to get a similar bill of rights law in every state. While the federal law provides basic rights for sexual assault survivors in federal cases, it should also serve as a model for states to adopt to ensure that the same rights and protections are extended to survivors at the state and local level, where the vast majority of sexual assault cases are tried.
The rights include:
Not being prevented from, or charged for, receiving a forensic medical exam
Preserving their rape kit, without charge, for the full statute of limitations, or 20 years, whichever is shorter
Being informed of any result of sexual assault evidence kit results including DNA matches and toxicology reports
Being informed, in writing, of policies governing the collection and preservation of a sexual assault evidence kit
Upon written request, receiving written notice within 60 days of intended destruction or disposal of evidence
Upon written request, being granted further preservation of the kit
Being informed of these right
For more information on this important new legislation you can click here to visit the bill's webpage or call my office at 724-774-0444.
PA State Police Horse Donation Request
The PA State Police is asking the community for donations of horses to support its 28-horse mounted patrol unit in Hershey. The unit is deployed for searches, crowd control, community events and more. Must be geldings age 5-15, 16-18 hands tall. Draft and draft-crosses are the preferred breed.
To arrange a donation or for more information, contact Corporal Carrie Neidigh at 717-533-3463.

Please contact me to provide input on any state-related matter, or to receive help in dealing with a state agency.