Dear Friend,
I am pleased to present my electronic newsletter. These e-newsletters enable me to provide information about issues, events and activities in Harrisburg and around the 47th Senatorial District to you in a timely manner while saving postage costs.
If you find this e-newsletter useful, I invite you to visit my website www.senatoreldervogel.com for more information about your state government. If you do not wish to receive these e-newsletters, please click the "unsubscribe" button at the bottom of the page.
Sincerely,
Elder Vogel Jr.

August 24, 2018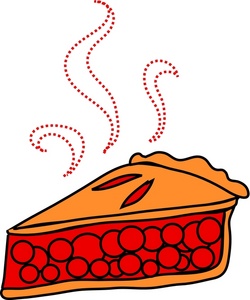 Pie Night at Big Knob Grange Fair
With the 8th Anniversary of the signing of my legislation Senate Bill 828 or the "Pie Bill", we are offering all former one room school house students a free slice of pie and drink. This event will take place from 8p.m-9p.m at the Big Knob Grange Fair on August 28th.
PCN Civics 101
The Pennsylvania Cable Network (PCN) has been working hard to bring a free learning resource to PA classrooms. The program, Civics 101, is available now and is prepared for students at the fourth-grade level.
Civics 101 brings the basics of lawmaking to life for PA students. The site features video interviews with former Governors, a roundtable of Capitol reporters explaining the importance of the media, and special PCN Tours of the Governor's residence and the State Capitol. In addition, a "Teacher's Guide & Tools" page offers ideas for use in the classroom and downloadable classroom tools.
Being knowledgeable and comfortable in exercising civic duty is important for every citizen. The goal of Civics 101 is to be a valuable resource in the classroom resulting in educated and interested students. PCN welcomes teachers to share how they're using Civics 101. In return, PCN will send a certificate of recognition and a special gift to participating schools, while supplies last. We hope to have you join in on this program, and help educate the younger generation in Pennsylvania Civics for years to come.
PCN (Pennsylvania Cable Network) is a statewide Public Affiars network responsive to the needs and interests of Pennsylvania and its people. You can follow PCN on Twitter or Facebook for up to date news on PA topics.
Faith in Action
Faith in Action Beaver County is a local organization providing no cost rides to Beaver County Seniors over 60, who need rides within the county to medical appointments.
Faith in Action covers four distinct zones listed below:
Beaver, Brighton township, Midland and Western Beaver
Ambridge, Baden, Conway and Freedom
Beaver Falls, Big Beaver, Chippewa, Darlington, New Brighton, Patterson and Rochester
Aliquippa, Center, Hopewell, Monaca and Raccoon
You are instructed to give two weeks prior notice for a ride and identify which zone you live in, from the numbers above, when you call. To contact Faith in Action Beaver County call 1-800-207-6701 and then press the extension number for your zone from the list above.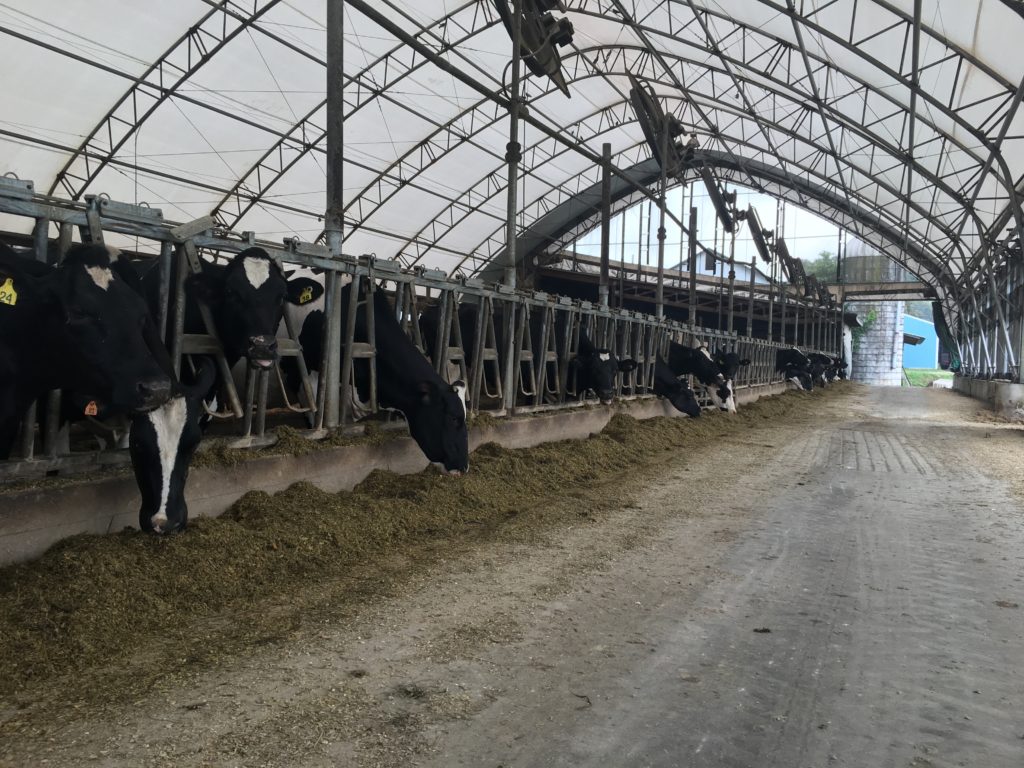 Staff from my office joined the Butler County Farm Bureau to discuss various issues facing local farmers and participate in a tour of the Davis family dairy farm. Did you know that automatic milking systems allow a cow to choose her own milking time and interval while recording all of the data a farmer needs to ensure safe and efficient production?
Food Safety Certification Training
The Pennsylvania Department of Agriculture requires licensed food establishments to have one person in charge that has successfully completed a manager food safety training class.
To assist food establishments to meet this requirement, Penn State Extension is offering ServSafe®, a nationally recognized food safety training course. The course will be held at the Penn State Extension office in Beaver from 9a.m–4p.m on September 6th and 13th, 2018, with the examination on September 13th at 1 p.m. The course fee of $185 per person covers the cost of the ServSafe® course book, food handler guide, instructional materials, and digital food thermometer.
Pre-registration is required. To register, go to www.extension.psu.edu/servsafe. For those without internet access, register by contacting Penn State Extension at 1-877-345-0691. Register early as seating is limited. Penn State encourages persons with disabilities to participate in its programs and activities. If you anticipate needing any type of accommodation or have questions about the physical access provided, please contact your local Extension Office in advance of your participation or visit.
12-Year Transportation Program
The State Transportation Commission has updated the 12-Year Transportation program. The new plan, which takes effect October 1, anticipates $11.53 billion being available for state highway and bridge projects in the first four years. Public transit is in line for $9.62 billion; aviation, $128 million; rail freight, $228 million, and multimodal projects, $319 million.
The commission is chaired by the Secretary of PennDOT and consists of 10 appointed citizens and the majority and minority chairs of the state House and Senate Transportation committees.
You can read the plan & search projects by county by clicking here.
Auto Insurance Guide
The Pennsylvania Department of Insurance is offering a free guide to help everyone understand their car insurance better based on a statewide zip-code based study from 2016. Pennsylvania is also currently participating in a national zip-code based study of auto insurance affordability and availability being conducted by the National Association of Insurance Commissioners (NAIC). The Insurance Department anticipates that the NAIC will release information on its study after it is completed.
Simply stated, auto insurance is a contract between you and your insurance company that protects you against financial loss if you have an accident. Auto policies contain a variety of coverages that can be purchased depending on your needs and wants. You agree to pay the premium, and in return, the insurance company agrees to pay for certain expenses as defined in your policy.
The department has put together a list of resources to help answer your questions and help you understand your options. Feel free to browse the following publications and resources. For the Auto insurance guide please click here to download the PDF. For a complete list of consumer brochures and fact sheets, you may click here.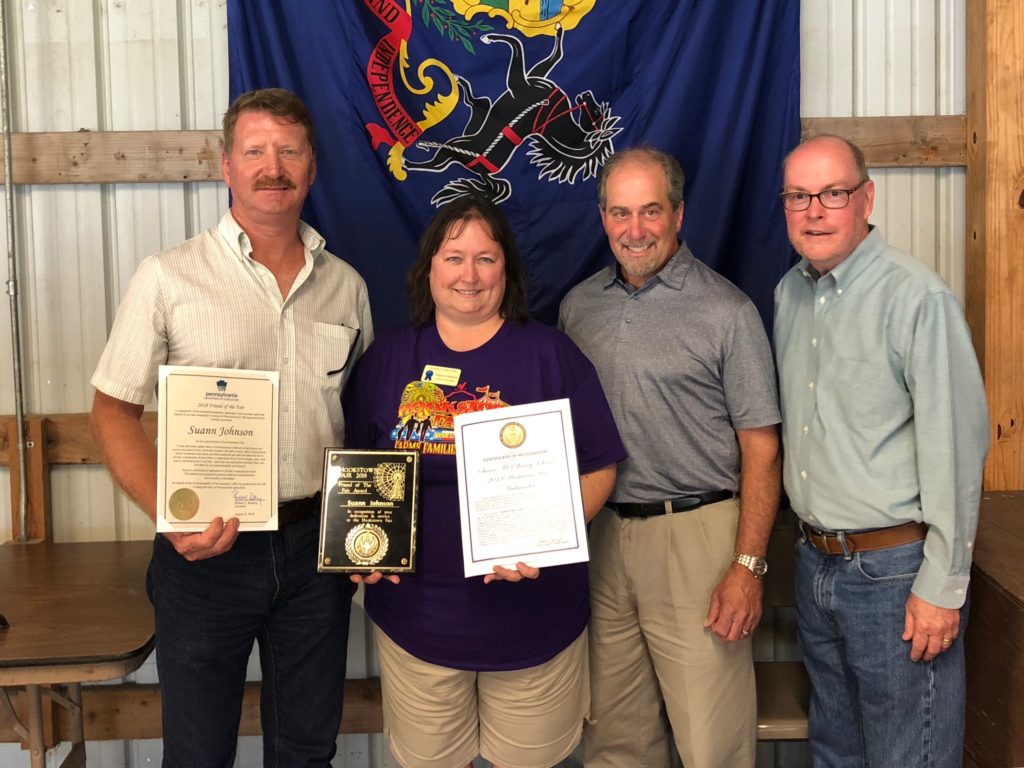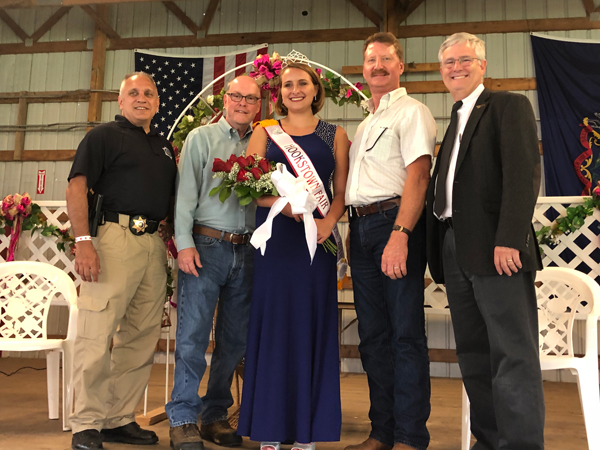 It was a pleasure to be a part of the opening ceremonies at Hookstown Fair. Congratulations to Suann McElhaney Johnson (Top) for receiving this year's Friend of the Fair Award and Emily Stewart (Bottom), crowned the 2018 Hookstown Fair Queen.
School Bus Safety
Students will be returning to school soon, and for their safety please keep PA's school bus stopping law in mind. Motorists must stop at least 10 feet away from school buses that have their red lights flashing and stop arm extended. Motorists must stop when they are behind a bus, meeting the bus or approaching an intersection where a bus is stopped.
For more details on motorist school bus safety please click here to visit the PennDot webpage.
Mail Scam Alert
Beware of a recently reported mail scam threatening penalties if recipients don't pay non-existing tax debt immediately. PA residents have recently reported receiving notifications through the mail from the "Tax Processing Center."
The notices say the recipient owes "The State of Pennsylvania" unpaid taxes and a "warranted lien" has been issued in their name. The Department of Revenue will send multiple letters to taxpayers if there is a legitimate liability owed.
For more information or if you believe you're a victim of a scam please call 800-441-2555 or click here to visit the webpage.
Another reminder that my Beaver County Senior Expo will be held on September 7th from 10a.m-1p.m. See the poster below for more details.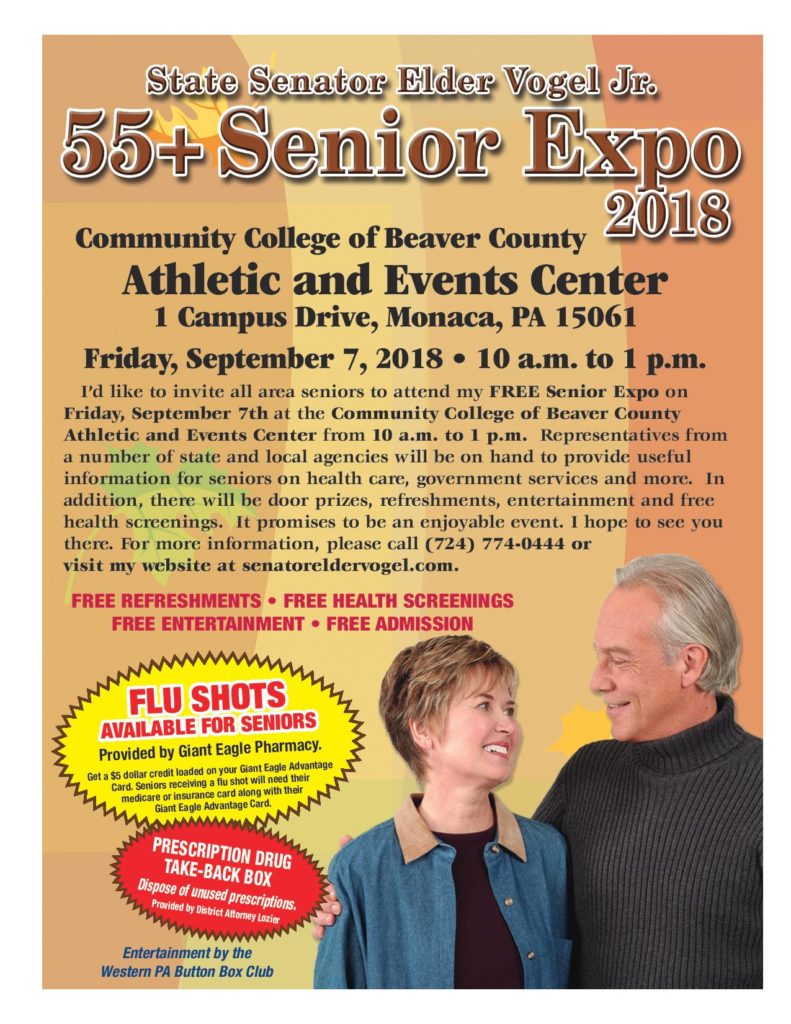 Please contact me to provide input on any state-related matter, or to receive help in dealing with a state agency.