Dear Friend,
I am pleased to present my electronic newsletter. These e-newsletters enable me to provide information about issues, events and activities in Harrisburg and around the 47th Senatorial District to you in a timely manner while saving postage costs.
If you find this e-newsletter useful, I invite you to visit my website www.senatoreldervogel.com for more information about your state government. If you do not wish to receive these e-newsletters, please click the "unsubscribe" button at the bottom of the page.
Sincerely,
Elder Vogel Jr.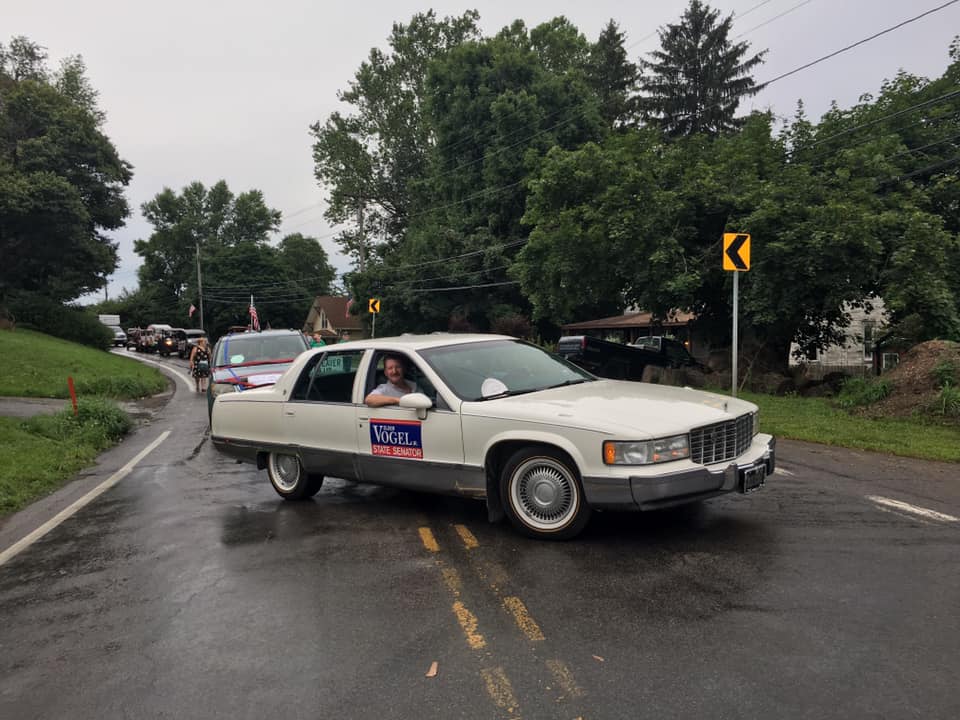 I had a great time Celebrating Community Day at the Enon Valley Parade!
Four Local Projects Receive Grants
Four local projects were awarded State Redevelopment Assistance Capital Program (RACP) Grants totaling $3 million today (August 1).
In Beaver County, $500,000 was awarded for the demolition of the IBEW Educational Development Center and the construction of a new training facility in Vanport Township and $500,000 was awarded for the Beemac Trucking maintenance/repair facility expansion in Ambridge. The Pennsylvania Industrial Development Authority approved a $1,573,087 low-interest loan for that project in July.
These grants support the efforts to promote job training an economic development in our region. The new IBEW training facility will certainly ensure that its students are masters of a trade that is definitely in high demand. The Beemac Trucking grant builds on the PIDA loan in supporting that important expansion project.
The Zelienople/Harmony Destination Location project was awarded $500,000 for comprehensive infrastructure improvements in Zelienople and Harmony boroughs in Butler County. These funds will help enhance the attractiveness of those borough not only for local residents, but for businesses looking for a great location to set up shop.
Westminster College in New Wilmington borough was awarded $1.5 million for major expansion projects related to its Hoyt Science Resource Center. Westminster College's Hoyt Center is a local leader in STEM education and this grant will help the school build out that program and give it room to grow.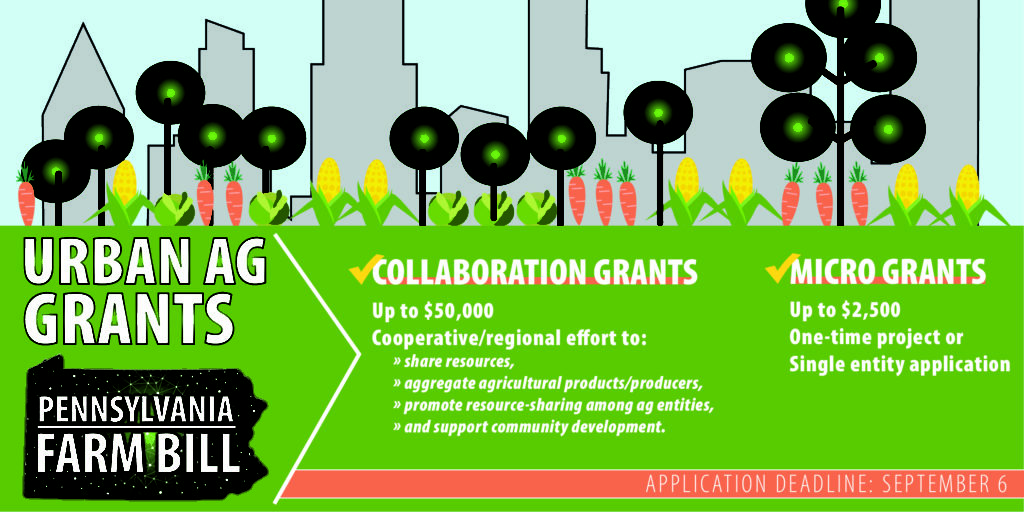 Urban Agriculture Infrastructure Grant Program Opens
The Department of Agriculture and I are pleased to announce the opening of the first grant program made possible by the PA Farm Bill. The Urban Agriculture Infrastructure Grant Program will provide $500,000 in funding to increase market opportunities for the commonwealth's urban agriculturalists.
Beginning August 1, individuals and organizations can apply for the grants by clicking here. The application period closes on September 6.
The Urban Agriculture Infrastructure Grant Program (UAI) will provide grants to improve agriculture infrastructure in urban areas, the aggregation of product, sharing of resources, and support for community development efforts.
Projects must include improvements to agricultural infrastructure in urban areas and support for community development in the project service area. Two types of grants can be awarded: "microgrants" and "collaboration" grants. Microgrants of up to $2,500 can be used for one-time projects or a single entity applicant. Collaboration grants (up to $50,000) demonstrate cooperative or regional efforts which share resources, aggregate agricultural products or producers, promote the sharing of resources among agricultural entities, and support community development.
Urban agriculture initiatives serve many purposes, including creating and enhancing local food networks, providing new pathways for education, and driving innovation and workforce training. An important element of urban agriculture is that by its very nature, it brings communities together. These communal spaces serve as a meeting place for people of all backgrounds to actively engage and participate in their community through agriculture.
Through the Urban Agriculture Infrastructure Grant program, PDA aims to invest in these community assets to further enhance the impact they provide. Bringing urban agriculture projects to scale can support communities as they deal with food deserts, create more resilient local food systems, and expand opportunities for entrepreneurship and community development.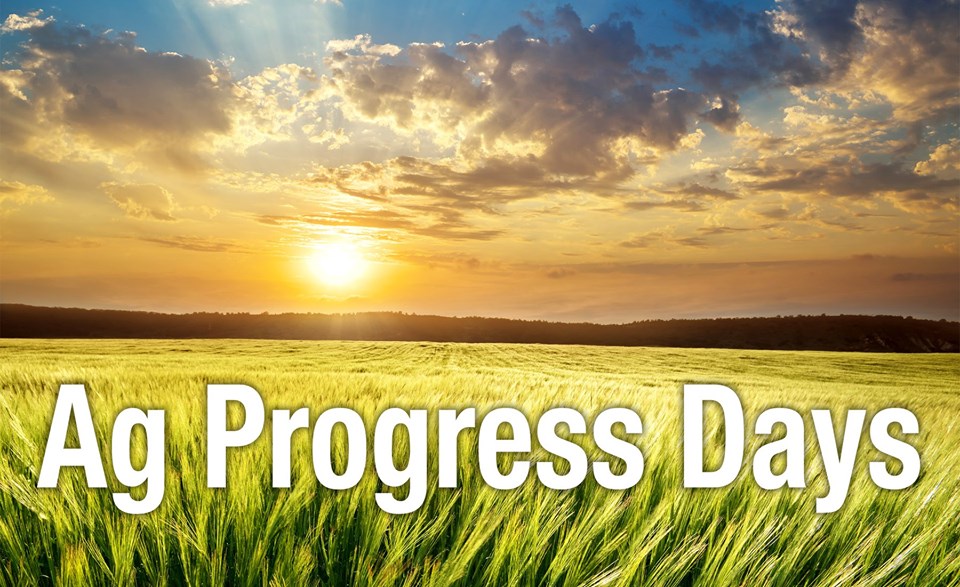 Ag Progress Days
Penn State University will be hosting the Commonwealth's largest outdoor agricultural exposition from August 13th-15th at the Russell E. Larson Agricultural Research Center just outside of State College. With over 500 exhibitors from more than 30 states, Ag Progress Days has something for everyone. The exposition is a great way to learn more about Pennsylvania's rich history in agriculture and witness the innovation that is shaping its future.
A variety of workshops, tours, and presentations will be available highlighting everything from commercial agriculture production to tips and tricks for your home garden. There are plenty of activities planned for kids as well!
During the exhibition, the House and Senate Agriculture and Rural Affairs Committees will be holding an informational joint meeting to discuss the importance of biosecurity and the many efforts we take to protect our crops and livestock.
Ag Progress Days is a family-friendly event that presents endless opportunities to learn and have fun. Admission and parking is FREE. To learn more about the event, exhibitors, and activities, click here.
Fluorescent Orange Requirements Simplified for Hunters
Hunters will find simplified rules for wearing fluorescent orange during the 2019-2020 license year, according to the Pennsylvania Game Commission.
The 2019-2020 Hunting and Fishing Digest offers clear examples of meeting the PGC's fluorescent orange requirements.
The PGC highly recommends the use of fluorescent orange, even when not required. A fluorescent orange hat is recommended for turkey hunters while moving. Hunters using turkey blinds are reminded of fluorescent orange and other requirements, including tagging and reporting requirements.
Fall for Fishing in PA
Catch PA's fun Family Fishing programs and events available summer or fall at state parks, lakes, and waterways, courtesy of the Pennsylvania Fish and Boat Commission.
Children five and older are encouraged to learn and practice basic fishing skills without a fishing license during a Family Fishing Program event. The free program also provides fishing poles and other equipment.
Check the PFBC events calendar for programs to round out your summer or kick off your autumn. For more on fishing in PA, see the PFBC's Frequently Asked Questions.

Please contact me to provide input on any state-related matter, or to receive help in dealing with a state agency.