Dear Friend,
I am pleased to present my electronic newsletter. These e-newsletters enable me to provide information about issues, events and activities in Harrisburg and around the 47th Senatorial District to you in a timely manner while saving postage costs.
If you find this e-newsletter useful, I invite you to visit my website www.senatoreldervogel.com for more information about your state government. If you do not wish to receive these e-newsletters, please click the "unsubscribe" button at the bottom of the page.
Sincerely,
Elder Vogel Jr.

July 18, 2019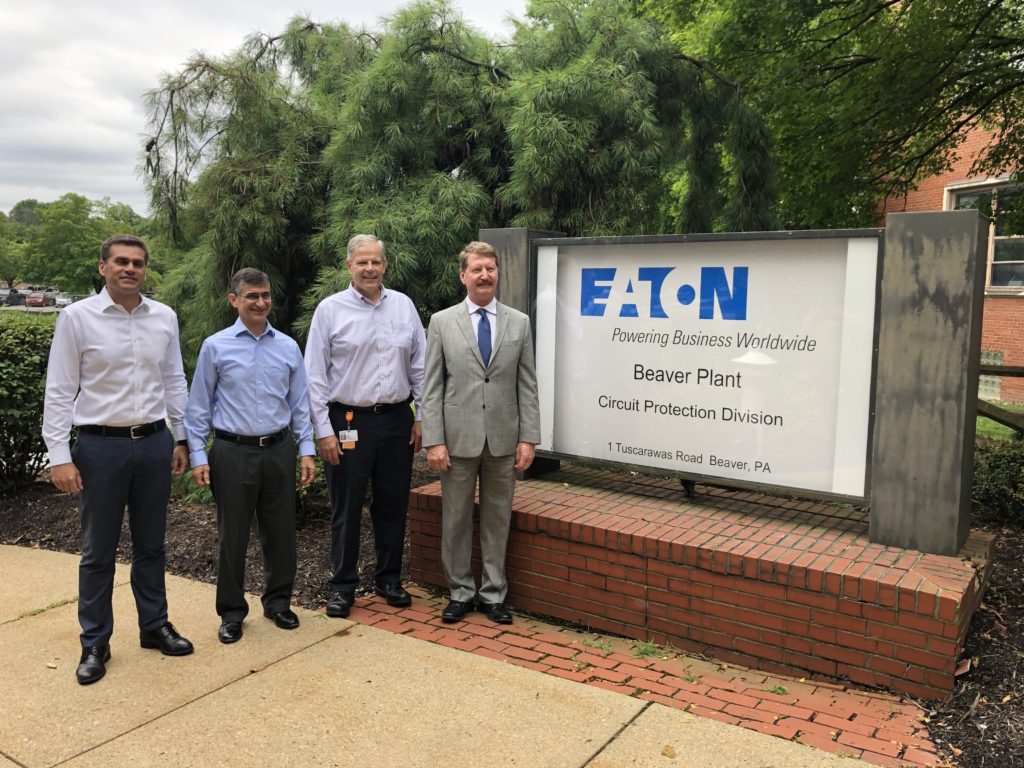 Recently I was invited to tour the Eaton Corporation's Beaver plant to learn about cutting edge technology being used for power distribution and control systems, among other applications. It's always exciting to see such unique innovations and careers right here in our own backyard. Thank you for having me!
102 Bills Passed in First Half of 2019
The PA Senate passed 102 bills in the first half of 2019, with 39 from Senate Republicans signed into law. Along with holding the line on taxes, we acted on boosting school safety, providing assistance to PA farmers, strengthening the rights of crime victims, and more. You can see many of the bills listed by clicking here.
Here are two of the bills I passed:
Senate Bill 746: extends the date for existing emissions inspection stations to obtain new emissions testing equipment from November 1, 2019 to July 1, 2021.
Act 65 of 2019 creates a tax credit program for landowners to lease or sell farmland to future generations of farmers. (more below)
For questions on any legislation please contact my office by calling 724-774-0444 or email my office at evogel@pasen.gov.
Farming Legacy Tax Credit Signed Into Law
My farming legacy bill, a key measure to help promote and support Pennsylvania's agriculture industry, was signed into law on July 2nd.
This measure, Senate Bill 478 (Act 65 of 2019), provides a personal income tax credit for landowners who lease or sell their land, buildings and equipment to beginning farmers.
Landowners will receive a one-time personal income tax credit for the sale or a multi-year lease of property. The legislation requires all leases be enforced through written agreements and that the sale of property be for fair market value in order to qualify for the tax credit.
For every farmer under the age of 35 in Pennsylvania there are four farmers over the age of 65. Of the 7.7 million acres of farmland across Pennsylvania, 41 percent is managed by a farmer 55 years of age or older and 11 percent of that land is expected to transfer in the next five years.
The facts clearly show the 'graying' of Pennsylvania's farming industry. That is an issue that we need to quickly address as a state. I have heard throughout the state that the top hurdle facing new farmers is finding affordable farmland. The tax credits provided under this new law will reward landowners who help new farmers get started. None of our neighboring states offer a similar tax credit program, so this is a great way to show the agriculture community that Pennsylvania is open for business.
The agriculture industry generates more than $7.5 billion in cash receipts annually. You can watch my keynote speaker address at the Capitol by clicking here to go to my webpage.
New Castle Sanitation Receives State Funding
The New Castle Sanitation Authority was awarded $32 million in financing from the Pennsylvania Infrastructure Investment Authority (PENNVEST) for major upgrades to its wastewater treatment plant.
PENNVEST awarded a $23,437,982 low-interest loan and an $8,562,018 grant to the authority for the first phase of a multi-phase project to upgrade the 50-year-old sewage treatment plant.
Most of the equipment in the plant is 20 to 50 years old, so it's not surprising that it needs to be replaced. The facility can no longer handle the overload caused by wet weather events, with raw sewage ultimately ending up in the Mahoning River. This funding will help the authority address that contamination problem and other public safety and quality of life concerns, while easing the financial burden that otherwise would be placed on ratepayers.
PENNVEST financing is provided through the use of federal funding and prior bond issues by the state. It is not supported by the state's General Fund budget, which covers the daily operations and services of the Commonwealth.
For any questions regarding this PENNVEST loan or the project, please call my office at 724-774-0444.
Emergency Weather Alerts
Sign up for the AlertPA notification system if you'd like emergency & weather alerts, health notifications, building alerts & other updates from commonwealth & federal agencies. Alerts you if your address falls in the path of severe weather, as determined by the National Weather Service. You can customize the types of notifications & add an additional address.
For more information or to sign-up, please click here for the AlertPA webpage.
Extreme Heat Tips
Extreme heat increases the risk of deadly heat stroke, in addition to heat exhaustion, cramps and more. Older adults and the very young are most at risk, but 'Stay Cool & Stay Hydrated' is good advice for everyone in extreme heat.
Heat-related illnesses are preventable. Learn the symptoms and what to do if you or a loved one shows signs of having a heat-related illness.
Here are some of the signs to look out for:
Hot, Red, Dry or Damp Skin
Headache and Dizziness
Nausea and Vomiting
Confusion and Disorientation
For more warning signs and tips on how to handle these issues, please click here for more information.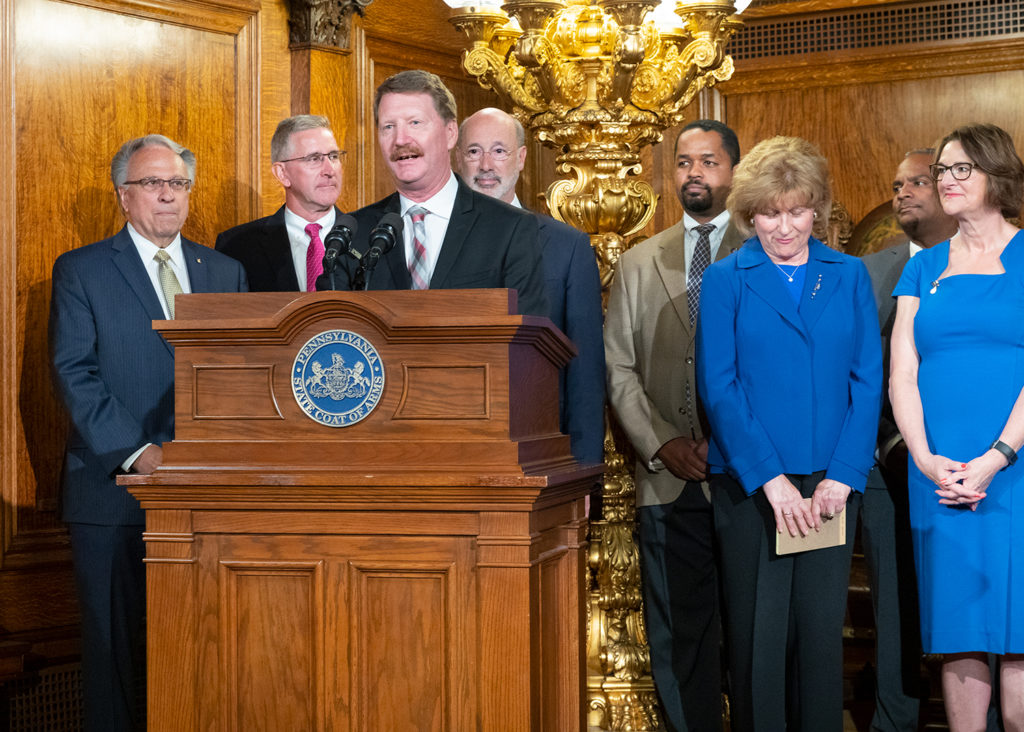 I had the pleasure of speaking at the signing of the Farming First Bill Package, which included SB 478, as the bills were passed into law. It was a great day for PA's agricultural community.
Stolen Valor – Act 62
Among the PA Senate bills enacted this session was Act 62, which ensures that "Stolen Valor" fines collected from individuals impersonating a military veteran go into the PA Veterans' Trust Fund to support organizations helping veterans. This allows us to defend the integrity of military service while aiding veterans in need.
Pennsylvania's Stolen Valor statute provides that an individual who wears a uniform or other indicia of membership, without authority, commits a summary offense. It also provides that an individual commits a misdemeanor if, with the intent to obtain certain benefits, he or she fraudulently holds himself or herself out as a member of the armed forces or as the recipient of any decoration or medal. In either event, a violation of the law subjects an individual to the imposition of a fine.
These men and women have served our country voluntarily and anyone attempting to obtain that same valor without service is rightfully punished. Now that punishment will go to serving the men and women who have served us. For more information on Act 62, please click here.
Charitable Organizations
There are more than 11,000 registered charities operating in Pennsylvania and they are subject to strict laws on operations. These tips for charitable giving from the PA Department of State can help you make informed decisions about donations and ensure your compassion isn't exploited.
For tips on charitable giving, please click here to visit the Department of States webpage.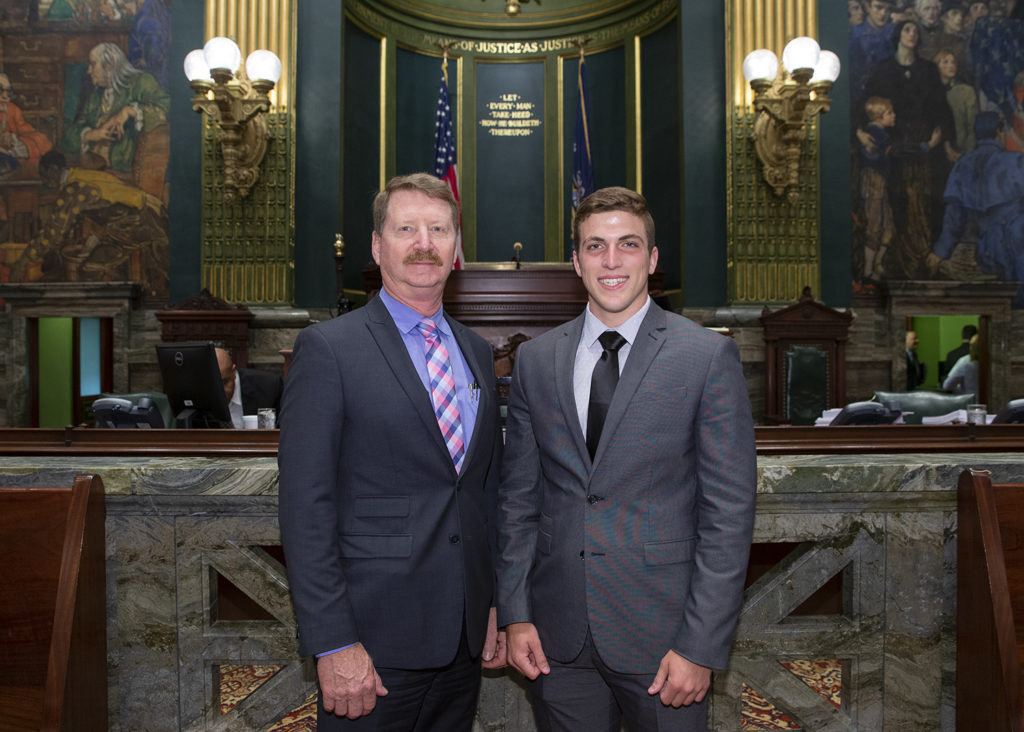 I was pleased to introduce my Intern Dustin at the Capitol. Dustin is a Penn State student interested in Government and Politics. Happy to have him in our office helping during these summer months.

Please contact me to provide input on any state-related matter, or to receive help in dealing with a state agency.