Dear Friend,
I am pleased to present my electronic newsletter. These e-newsletters enable me to provide information about issues, events and activities in Harrisburg and around the 47th Senatorial District to you in a timely manner while saving postage costs.
If you find this e-newsletter useful, I invite you to visit my website www.senatoreldervogel.com for more information about your state government. If you do not wish to receive these e-newsletters, please click the "unsubscribe" button at the bottom of the page.
Sincerely,
Elder Vogel Jr.

June 21, 2019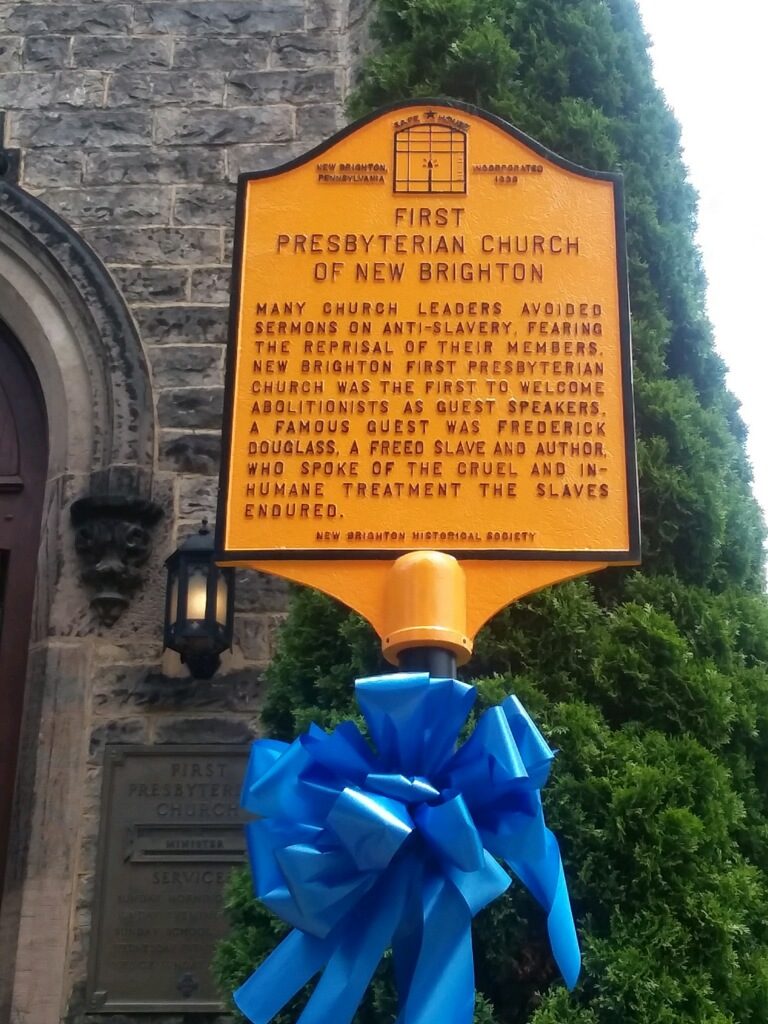 I had the pleasure of joining the New Brighton Historical Society for the dedication of multiple "safe house" markers, which highlight Beaver County's role in the Underground Railroad, an important piece of America's fight to end slavery.
Budget Approval and Commitment to Agriculture
The Senate approved a budget for Fiscal Year 2019-20 that reaffirms Pennsylvania's strong commitment to farming families. Video
House Bill 790 also includes no tax increases, provides funding for essential services, promotes workforce development efforts, bolsters education spending at all levels and makes a substantial investment in the state Rainy Day Fund. Video
HB 790 maintains Senate Republicans' commitment to Pennsylvania's farmers by restoring all of the Governor's proposed cuts and increases the overall appropriation to the Department of Agriculture by 13 percent to $19.5 million. This additional money includes:
Increases for Ag Research/Ag Extension and the University of Pennsylvania School for Veterinary Medicine
New funding – Agricultural Business & Workforce Investment, $4.5 million; Animal Health and Diagnostic Commission, $2 million; and, Livestock and Consumer Health Protection, $1 million
I am extremely pleased by this budget and with the passage of the Farming First legislative package over the past two days. Robust state funding makes a real difference in ensuring that agriculture remains at the top of our state economy. Beyond that, the new money this year will help promote innovation in the industry and ensure the health of our livestock. These are great investments that will pay significant dividends.
Final revenues for Fiscal Year 2018-19, which ends on June 30, are anticipated to be $865 million over projections, with an ending balance of about $300 million. All of that money will go into the Rainy Day Fund, which covers financial shortfalls in the event of a dip in the economy.
This is a smart move. It would have been easy to spend that money, but it is much more responsible to put it away for a time when it is truly needed to prevent a budgetary crisis.
HB 790 also promotes workforce development and job training initiatives by:
Increasing funding for Career and Technical Education by 7.6 percent ($7 million) from $92 million to $99 million
Increasing funding for Career and Technical Education Equipment Grants by 117.6 percent ($3 million) from $2.5 million to $5.5 million
Additionally this year's budget makes important investments in local communities through worthy programs that Senator Vogel strongly supported such as:
Increasing funding for libraries by 9.2 percent ($5 million) from $59.5 million to $64.5 million
Increasing the funding limit for the Pennsylvania Housing Affordability and Rehabilitation Enhancement Fund (PHARE) from $25 million to $40 million
The budget also increases state support for all levels of education. Basic Education funding is increased by $160 million and special education will see a $50 million increase.
HB 790 increases spending to support early education with Pre-K spending increasing by $25 million, HeadStart receiving a $5 million increase, and Early Intervention services receiving a $15 million increase.
Higher education institutions will also benefit from this budget with an across-the-board 2 percent increase in funding for community colleges, state-related universities (Pitt, Penn State, Temple and Lincoln) and the State System of Higher Education.
The budget continues Senate Republicans' ongoing efforts to protect Pennsylvania's students and school staff by restoring the Governor's $15 million cut to the Safe Schools program administered by the Pennsylvania Commission on Crime and Delinquency (back to $60 million) and increases the Safe School initiative under the Department of Education by $1 million to a total of $11 million.
Please click here to watch my comments on HB790.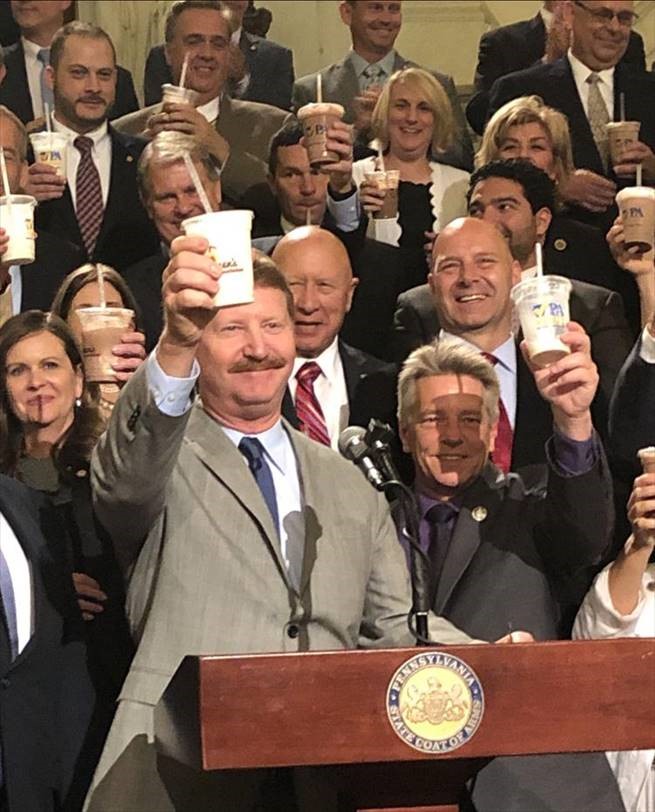 I was proud to be a part of the celebration about the 13 bill package that the senate approved, including my legislation for the Famer Legacy Tax Credit. It was a very successful week in Harrisburg.
Senate Approves Package of Bills Including Delay of Costly Emission Equipment Update
The Senate approved a bill that would delay a costly mandate on local garages that ultimately would increase the fees paid by motorists when their vehicles are inspected.
My legislation, Senate Bill 746, would extend the Pennsylvania Department of Transportation's November 1 deadline for existing emissions inspection stations to obtain expensive new testing equipment to July 1, 2021.
Local mechanics have requested that PENNDOT delay the deadline for installing these costly computer updates. The cost of the mandated equipment can range from $6,000 to $8,000 and that places a tremendous financial burden on many small garages. In addition, there is a concentrated effort to update Pennsylvania's emissions testing program, which may ultimately eliminate or reduce the need for some testing equipment. It only makes sense to slow down this implementation, thereby saving motorists and garages money.
SB 746 now goes to the House of Representatives for consideration.
A package of bills was also approved by the Senate Transportation Committee reforming Pennsylvania's vehicle emissions testing program, also referred to as the Vehicle Emissions Inspection and Maintenance (I/M) Program. You can watch the announcement by clicking the link.
Pennsylvania's federally-sanctioned I/M program requires motorists in 25 counties to participate in an annual emissions testing for gasoline-powered passenger cars, vans and light-duty trucks with a model year 1975 and newer. (Diesel-powered vehicles are federally exempt from an annual emissions testing, and other vehicles such as motorcycles are exempt in Pennsylvania.)
The reform measures would remove counties meeting or exceeding air quality standards from the testing requirement, change the annual emissions testing to a two-year testing requirement, and exempt newer vehicles, among other changes. Similar reforms passed in California, which has more stringent vehicle emissions standards than the U.S. Environmental Protection Agency (EPA), and other jurisdictions that join Pennsylvania in the federally-mandated Northeast Ozone Transport Region.
The package of bills that cleared the first legislative hurdle was introduced by Senator Kim Ward, Senator Wayne Langerholc (R-35), Senator Pat Stefano (R-32), Senator Michele Brooks (R-50), and myself (R-47). These bills will:
Exempt vehicles newer than eight years from emissions testing. Senate Bill 742
Change the annual emissions testing to a two-year testing requirement. Senate Bill 743
Replace the outdated tailpipe test in the Pittsburgh region and the two-speed idle test in the Philadelphia region with a gas cap test and a visual inspection for model year 1994-95 vehicles. Senate Bill 745
If passed by the General Assembly, the Pennsylvania Department of Environmental Protection would be required to prepare a revised State Implementation Plan (SIP) encompassing Senate Bills 742, 743, 744, and 745. The revised SIP would require review and approval by the EPA before the reform measures would take effect, ensuring that Pennsylvania is not in danger of losing any federal highway funding.
The legislation was the result of a Senate Transportation Committee hearing on "Exempting Eligible Counties from Vehicle Emissions Testing" featuring testimony from the Pennsylvania Department of Transportation, the Pennsylvania Department of Environmental Protection, the Joint State Government Commission, the Pennsylvania AAA Federation, and an inspection mechanic.
In 1990, Congress set the requirement for an I/M program as part of the Clean Air Act amendments. Since then, the Commonwealth implemented several changes, including the addition of counties beyond the regions of Philadelphia and Pittsburgh. For more information, please click here.
General Assembly Passes Voting Machine Legislation
On June 28 the General Assembly passed a bill that would increase legislative input and oversight in the voting machine decertification process was passed by the General Assembly.
Senate Bill 48 would create a legislative commission, similar to a measure I introduced, SB 422, any time an Administration would seek to decertify voting machines in at least 50% of counties statewide. This commission would hold public hearings, review the Governor's plan and make legislative recommendations to the General Assembly. This provision would become effective on December 31, 2019.
Another important provision in SB 48 is the authorization of a state-issued bond to provide up to $90 million to reimburse counties for the cost of replacing machines. This would cover up to 60% of what counties will be expected to pay out through Governor Wolf's current decertification efforts. An additional $14 million is available to counties for this effort from federally directed funds.
The legislation also contains several election related measures, including the elimination of straight-party voting, reforming the absentee ballot process, as well as, providing cost-saving provisions in regard to the number of ballots printed for elections.
Committee Approves Bill to Expand Tax Relief for Disabled Veterans
The Senate Veterans Affairs & Emergency Preparedness Committee approved a proposed constitutional amendment that would expand property tax relief for Pennsylvania's disabled veterans.
Senate Bill 92 introduced by Senator Camera Bartolotta (R-46) and myself, would allow for an expansion of the Property Tax Exemption Program for Disabled Veterans.
Currently, an honorably discharged disabled veteran must be 100-percent disabled and have a financial need in order to receive a 100-percent exemption from property taxes. The proposed constitutional amendment would allow veterans determined to be at least 50-percent disabled to receive the tax exemption based on the extent of their disability.
Under that proposal, a 100-percent disabled veteran would continue to be completely exempt from paying property taxes. However, those considered to be 75-percent disabled would then be eligible for a 75-percent exemption and a 50-percent disabled veteran could receive a 50-percent exemption. All veterans – regardless of their disability level – would still have to qualify based on their financial need.
As our fellow citizens continue to put their lives on the line for our freedom, this measure is another way in which we can say 'thank you' for their sacrifice. To watch my announcement of this proposed amendment, please click here to watch a video.
Farming First Package Passes General Assembly
I am pleased to announce a number of the measures championed by Senate Republicans as part of the Farming First initiative, which was announced in May passed this month. Additional measures were advanced by House Republicans, and components of the governor's PA Farm Bill are also included.
Bills in the package that are sponsored by Senate Republicans include:
Other bills in the package include:
All of the bills in the package have either been sent to the Governor to be signed into law, or are poised to earn final legislative approval this week.

Please contact me to provide input on any state-related matter, or to receive help in dealing with a state agency.