Dear Friend,
I am pleased to present my electronic newsletter. These e-newsletters enable me to provide information about issues, events and activities in Harrisburg and around the 47th Senatorial District to you in a timely manner while saving postage costs.
If you find this e-newsletter useful, I invite you to visit my website www.senatoreldervogel.com for more information about your state government. If you do not wish to receive these e-newsletters, please click the "unsubscribe" button at the bottom of the page.
Sincerely,
Elder Vogel Jr.

June 7, 2019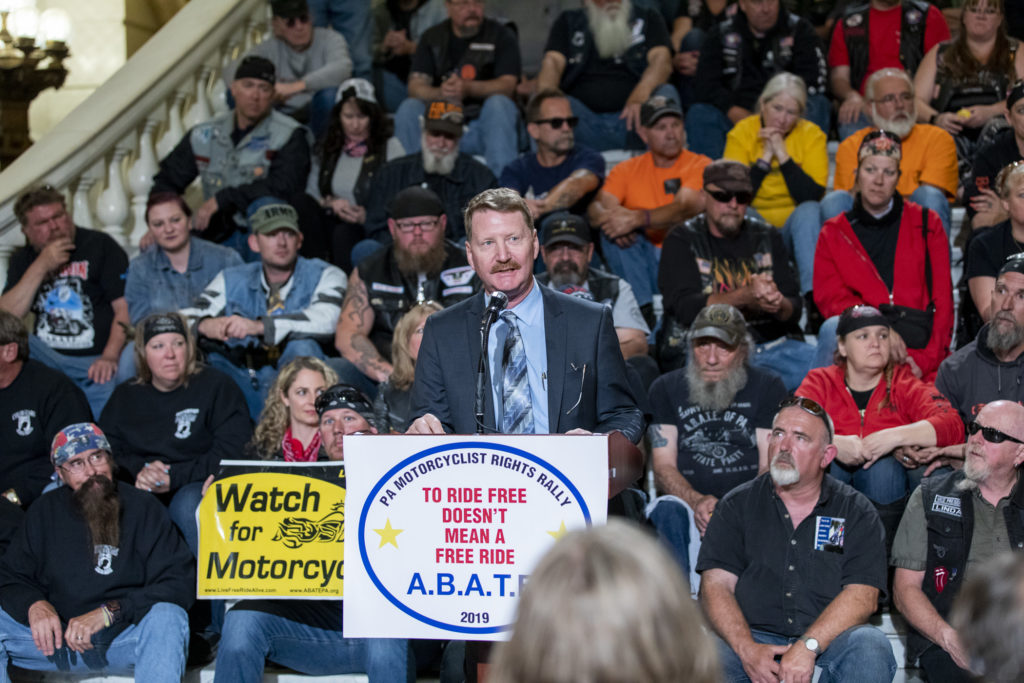 I had the pleasure of speaking on behalf of the Motorcycle community about important safety issue. Make sure to watch for Motorcycles when driving!
The Senate Will Come to Order
This week the Pennsylvania Senate will be in Session, you can follow along live here!
Session times are scheduled as follows:
Monday, June 10, 2019 at 1:00 pm
Tuesday, June 11, 2019 at 1:00 pm
Wednesday, June 12, 2019 at 11:00 am
Delay on Costly Vehicle Inspection Mandate
Last week in Harrisburg I had the opportunity to unveil a measure that would delay a costly mandate on local garages that ultimately would increase the fees paid by motorists when their vehicles are inspected. My legislation would extend the Pennsylvania Department of Transportation's November 1 deadline for existing emissions inspection stations to obtain expensive new testing equipment.
My bill is part of a coordinated effort to bring much needed updates and reforms to Pennsylvania's emissions testing program. Pennsylvania's air quality has significantly improved since the program was initiated 30 years ago. Mechanics have requested that PennDot delay costly computer updates. My legislation will slow down this implementation saving motorists and garages money.
In 1990, Congress set the requirement for a vehicle emissions testing program as part of the Clean Air Act amendments. Since then, Pennsylvania has implemented several changes, including the addition of numerous areas beyond the Philadelphia and Pittsburgh metropolitan regions.
Currently, Pennsylvania's program requires motorists in 25 counties to participate in an annual emissions testing for gasoline-powered passenger cars, vans, and light-duty trucks with a model year 1975 and newer. (Diesel-powered vehicles are federally exempt from an annual emissions testing, and other vehicles such as motorcycles are exempt in Pennsylvania.)
This measure is part of a package of bills unveiled by Senate Republicans today to reform the Vehicle Emissions Inspection and Maintenance (I/M) Program.
The other bills in the package would:
Exempt gas-powered passenger cars, vans, and light-duty trucks from the I/M program for the first eight years after manufacture in counties that require emissions testing.
Change the annual emissions testing to a two-year testing requirement for gas-powered passenger cars, vans, and light-duty trucks older than eight years in counties that require emissions testing.
Replace the outdated tailpipe test in Pittsburgh and the two-speed idle test in the Philadelphia region with a gas cap test and a visual inspection for model year 1994-95 vehicles.
Senate Bill 589 – Pennsylvania GI Bill for Families
The Senate unanimously passed legislation today that would provide free college education to the spouse or child of Pennsylvania National Guard members who re-enlist. Senate Bill 589 would establish a "Pennsylvania GI Bill for Families" to provide five years' worth of higher education benefits to the spouse and/or children of a Pennsylvania National Guard member who commits to serve another six years.
This program will be administered by the Pennsylvania Higher Education Assistance Agency in conjunction with the Department of Military and Veterans Affairs, and is aimed at increasing the retention rates in the National Guard and attract transitioning military service members to Pennsylvania.
Pennsylvania has a long-standing history of supporting its citizen-soldiers that dates back to our colonial days. Members of the National Guard are subject to being called to active service at any time and that can be a hardship for them and their families. This bill shows our appreciation for the families who support our fine men and women in uniform.
When an individual originally enlists in the Guard, they are typically graduating from high school and single, and a free college education is very appealing to them. However, when a Guard member completes their initial six-year enlistment, they are likely to have a started a family and a career. For that reason, the GI Bill for Families is likely to incentivize the Guard member to re-up for another six years.
The National Guard Educational Assistance Program provides men and women a free college education based on the tuition rate at the State System of Higher Education, in exchange for a six-year commitment in the Pennsylvania National Guard. Since 1996, over 50,000 Army and Air Guard members, or nearly 2,500 a year, have taken advantage of this program. In return, our Pennsylvania National Guard, the second-largest in the nation at 18,500 members, has remained strong at home and abroad. Pennsylvania's program was the first in the nation and has been replicated across the states.
Senate Bill 589 now goes to the House of Representatives for consideration.
Senate Approves Criminal Justice Reform Measures
On June 5th, the Senate approved a bipartisan package of criminal justice reforms that will reduce prison and probation costs, better protect crime victims and strengthen public safety.
Senate Bill 500 creates a County Adult Probation and Parole Advisory Committee to help counties better assess the unique risks and needs of probationers to reduce incarceration and cut costs to taxpayers.
Senate Bill 501 streamlines the placement of offenders in drug treatment programs and other intermediate punishment programs, and improve and expedite the parole process for non-violent offenders.
Senate Bill 502 improves communications with crime victims and ensure they receive any compensation they are owed.
These measures will benefit our communities and our county governments through lower rates of incarceration, which will result in reduced costs that must be paid by taxpayers. At the same time, these measure will reinvest a portion of those savings into improving communication with crime victims regarding compensation and services that are available to them.
The bills approved by the Senate build on the success of Justice Reinvestment Initiative measures approved in 2012. Over the past six years, the inmate population in state prisons has been reduced by more than 4,000, and the crime rate has decreased by approximately 18 percent, saving $400 million in projected costs to taxpayers.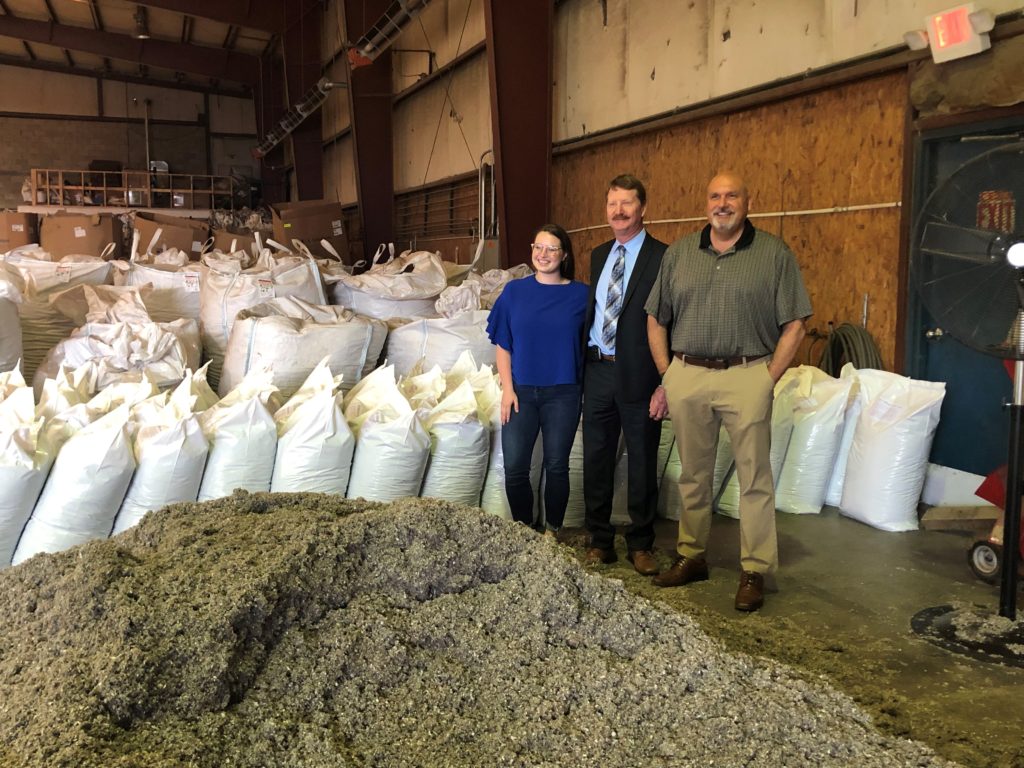 Recently I was invited to tour with the friendly folks at PittMoss in Ambridge. They're up-cycling local waste to produce a truly unique product!
Senate Bill 115 – CPR Training in Schools
The Pennsylvania Senate gave final approval to a bill aimed at saving lives through greater education and training in cardiopulmonary resuscitation. The bill now goes to the governor for his signature.
Senate Bill 115 would strengthen academic guidelines in schools for CPR training in grades nine through twelve, while adding hands-only CPR instruction to Pennsylvania's education curriculum.
This legislation is a top priority of the American Heart Association and the American Stroke Association. It is also supported by the Pennsylvania State Education Association, Sudden Cardiac Arrest Foundation, Children's Hospital of Philadelphia, Pennsylvania Athletic Trainers Society and Independence Blue Cross.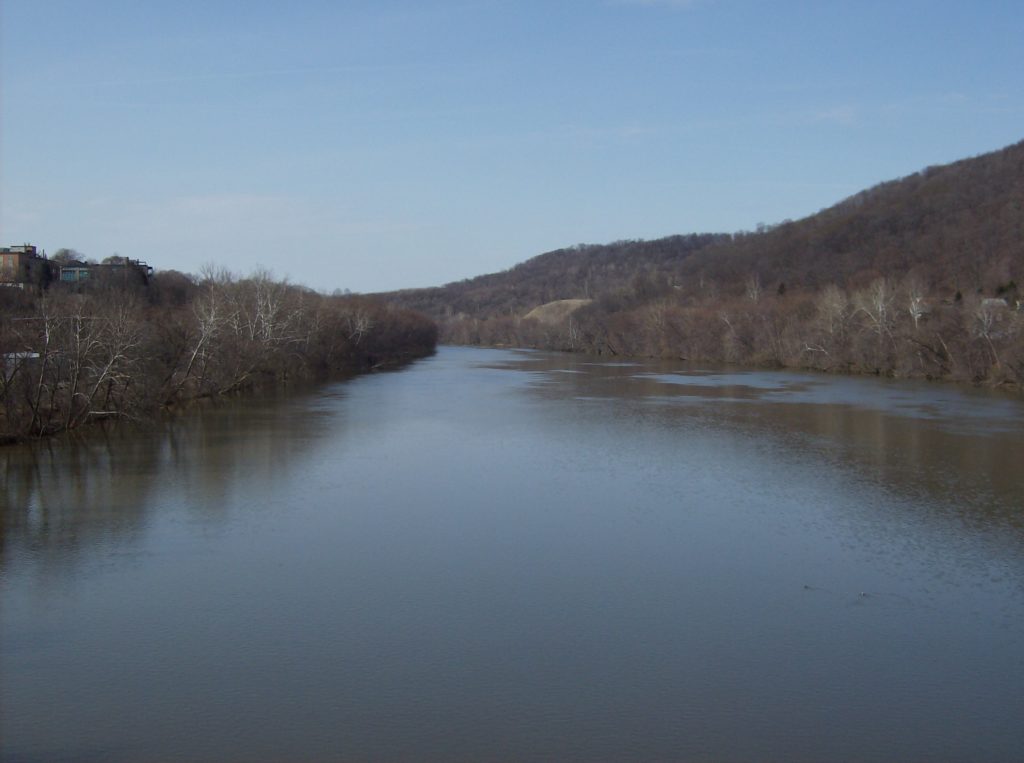 The PA Fish and Boat Commission posted this short article about the many opportunities the Beaver River holds. To check out this article please click here and choose the article by Charles Cantella about the Beaver River.
Protecting your Home from Burglary
There are easy ways to make your home less vulnerable to burglars during vacation. Making the home look "lived in" by stopping mail delivery and putting lights on timers helps. Installing dead bolt locks on doors can slow a burglar's ability to enter your home, and in some cases can lead to a discount on insurance.
Some of the tips include:
Close and lock all windows and doors, including doors leading in from a garage
Put your lights on a timer, or ask someone to turn on lights inside and outside your home
Resist the temptation to post pictures on social media from your vacation until you return home
For more tips and advice, please click here and visit the link for vacation home protection tips.

Please contact me to provide input on any state-related matter, or to receive help in dealing with a state agency.