Dear Friend,
I am pleased to present my electronic newsletter. These e-newsletters enable me to provide information about issues, events and activities in Harrisburg and around the 47th Senatorial District to you in a timely manner while saving postage costs.
If you find this e-newsletter useful, I invite you to visit my website www.senatoreldervogel.com for more information about your state government. If you do not wish to receive these e-newsletters, please click the "unsubscribe" button at the bottom of the page.
Sincerely,
Elder Vogel Jr.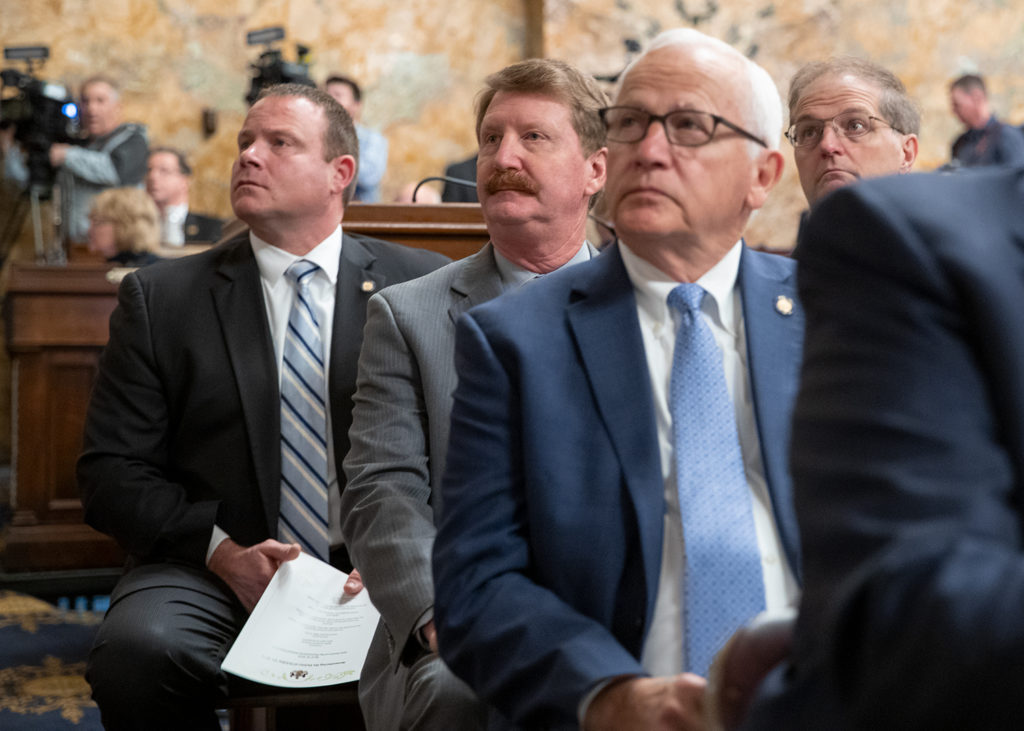 Along with my fellow elected officials, we remembered and honored the victims of the terrible attack that took place at the Tree of Life Synagogue in Pittsburgh.
---
The Senate Will Come to Order
This week the Pennsylvania Senate will be in Session, you can follow along live here!
Session times are scheduled as follows:
Monday, April 29, 2019 at 1:00 pm
Tuesday, April 30, 2019 at 1:00 pm
Wednesday, May 1, 2019 at 11:00 am
Crime Victim Rights Bills
In recognition of National Crime Victims' Rights Week, my colleagues in the Senate and I passed a package of bills on April 9 designed to protect crime victims and ensure they have more opportunities to participate in the judicial process. Please click the video link to hear my thoughts on these important pieces of legislation.
The package of bills includes measures to give crime victims more rights to attend criminal trials; expand the rights of individuals with intellectual disabilities and autism to provide testimony; provide hearsay exceptions for statements made by young witnesses of cases of sexual assault; and shield rape victims against irrelevant cross examinations.
These are important bills that will provide justice for children and for individuals with intellectual disabilities who have fallen victim to predators. This will bring us into the 21st Century in addressing these crimes and making sure that predators are held accountable for their actions.
The package of bills, sent to the House of Representatives for consideration, include:
Senate Bill 425, which amends Pennsylvania's Crime Victims Act to allow victims to attend the entirety of criminal trials
Senate Bill 431, which shields rape victims from irrelevant cross examination
Senate Bill 469, which would apply the existing Tender Years Exception – which allows certain out-of-court statements to be admissible as evidence – to include individuals with intellectual disabilities or autism
Senate Bill 479, which would expand the Tender Years Exception to apply to a wider variety of crimes, including serious sexual offenses. This exception currently only applies in cases of homicide, assault, kidnapping, burglary, robbery, and a narrow number of sexual offenses
Farmer Legacy Tax Credit – Update
My legislation (Senate Bill 478) provides a personal income tax credit for landowners who lease or sell their land, buildings and equipment to beginning farmers. The number one concern faced by new farmers is finding affordable farmland. My bill provides a tangible incentive for landowners to help new farmers.
I was joined by Senate Majority Leader Jake Corman (R-34), Senator Judy Ward (R-30) Rick Ebert (Pennsylvania Farm Bureau President), Tyler Shaw (Dauphin County hay farmer), Jason Nailor (Cumberland County dairy farmer), and David Howard (National Young Farmers Coalition Northeast Campaigns Director) at a press conference to announce the bill.
"A lot of people are talking about the crisis in the dairy industry and agriculture. Senator Vogel rolled up his sleeves and has provided a solution that will incentivize a new generation of farmers," Senator Corman said. "We work to entice companies to do business in Pennsylvania. This bill does the same thing for agriculture and young farmers."
"Most of the farms in my district have been passed down from generation to generation, and the owners and operators take a tremendous amount of pride in following in the footsteps of their grandparents and great-grandparents," Senator Ward said. "Farming is an integral part of our national, state and local heritage, but that heritage will disappear if we fail to take action. I hope we can move this bill forward and safeguard the future of our state's most important industry."
For every four farmers in Pennsylvania over the age of 65, there is only one farmer under the age of 35. Of the 7.7 million acres of farmland across Pennsylvania, 41 percent is managed by a farmer 55 years of age or older and 11 percent of that land is expected to transfer in the next five years.
Those statistics highlight the challenges that new farmers face when looking to start a farm of their own. None of our neighboring states offer a similar tax credit program, so this is a way to show the agriculture community that Pennsylvania is open for business. My bill, which is modeled after a successful program in Minnesota, would help change the trend. In the first year of its program, Minnesota offered $2.3 million in tax credits to nearly 450 landowners.
Landowners would receive a one-time personal income tax credit for the sale of property or a multi-year tax credit for the lease of property. The legislation requires all leases be enforced through written agreements and that the sale of property be for fair market value in order to qualify for the tax credit. The bill is supported by the Pennsylvania Farm Bureau and the National Young Farmer Coalition.
To read about the bill or listen to the comments made by myself and my Senate Colleagues, please click here to visit my website.
---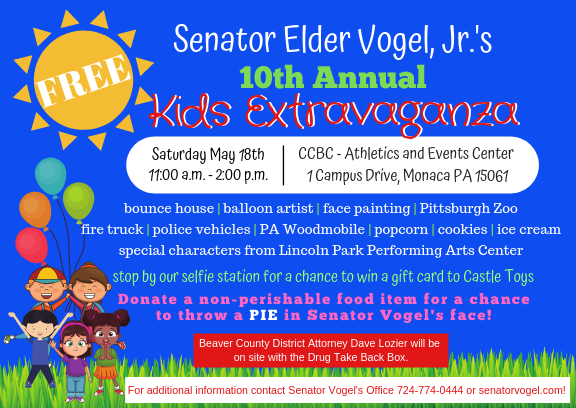 Lincoln Park Performing Arts Center will be presenting Disney's Frozen, Jr. this fall and I'm excited to have Elsa and her favorite pal, Olaf join us at my Kids Expo on May 18th! Come on out to meet these beloved characters and catch them performing a few of your favorite hits like "Let It Go!"
---
Industrial Hemp Research Pilot Program
The deadline for farmers to apply for Industrial Hemp Research Pilot Program permits is May 1. Grown mainly for fiber and seed, not as a drug, hemp has a wide range of commercial uses. It can be a profitable, sustainable, in-demand product for PA farmers.
Over the past two years, the Pennsylvania Department of Agriculture administered the Industrial Hemp Research Pilot Program, authorized in Pennsylvania statute by the Industrial Hemp Research Act.
The Commonwealth of Pennsylvania is taking advantage of the new opportunities in the Farm Bill Industrial Hemp Production program by submitting a state plan to USDA. That plan certifies our commitment to creating the conditions for Pennsylvanians to grow a profitable, sustainable, and in-demand product. Acreage caps—previously set at 100 acres—have been lifted for 84 already approved applicants (approved under the pre-2018 Farm Bill program) and acreage will no longer be restricted under the new program. Additionally, there will not be a cap on the number of applications accepted for 2019.
For more information regarding the program and how to apply, please click here.
National Limb Loss Awareness Month
During National Limb Loss Awareness Month, the PA Department of Military and Veterans Affairs is reminding veterans about its Amputee and Paralyzed Veterans Pension Program. Eligibility requirements are as follows:
Served in the military honorably.
Resident of Pennsylvania upon entering the military.
Suffered a service-connected injury or incurred a disease resulting in the loss or loss of use of two or more extremities (arms/hands or legs/feet).
At least a 40% disability rating compensation rating or higher in each limb as determined and certified by the United States Department of Veterans Affairs
Through this program, eligible Pennsylvania veterans receive a pension of $150 per month. Currently, there are 1,900 veterans enrolled in the program. Find more information or how to apply by clicking here.
---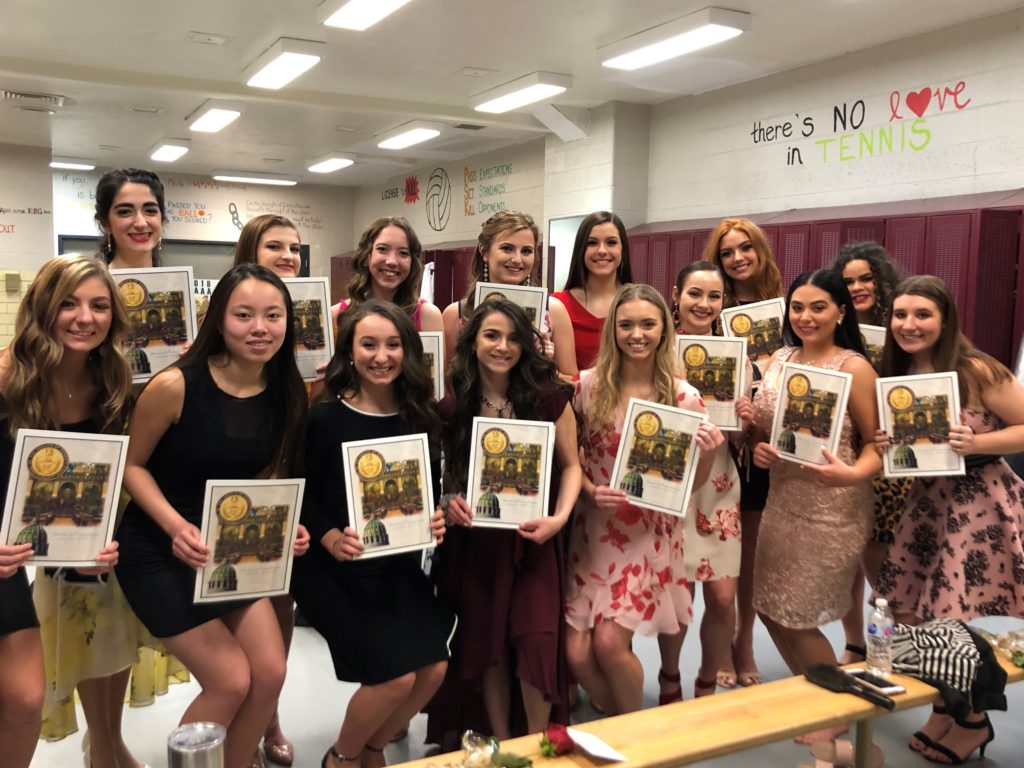 I was proud to have my office present the Finalist of the Beaver County Distinguished Young Women with Certificates!
---
Senate Bill 114 – Ill or Injured Student Education
The PA Senate recently passed Senate Bill 114 to help schools purchase technology allowing ill or injured homebound students to participate in classroom learning, schoolwork and activities remotely via telepresence technology.
The technology includes robotic devices that resemble an iPad mounted on a mobile Segway unit that allow real-time communication between students and classrooms. The grant program would use existing, uncommitted funds, not new spending.
For more information regarding Senate Bill 114, please click here.
Autism Awareness Month
April is National Autism Awareness Month. The Autism Services, Education, Resources and Training Collaborative (ASERT) provides access to information and services for the estimated 30,000 Pennsylvanians living with autism, their family and caregivers. ASERT hosts free training and special events.
Information on an event or how to get involved, please click here.
Nursing Home Inspections
Inspections of 305 nursing homes across Pennsylvania in March have been posted online by the PA Health Department. The report includes the type of inspections (or "surveys"), such as complaint investigation, re-certification, etc., whether a facility was cited, correction plans to fix the problems and more. Visit this link to Department of Health website.

Please contact me to provide input on any state-related matter, or to receive help in dealing with a state agency.