Dear Friend,
I am pleased to present my electronic newsletter. These e-newsletters enable me to provide information about issues, events and activities in Harrisburg and around the 47th Senatorial District to you in a timely manner while saving postage costs.
If you find this e-newsletter useful, I invite you to visit my website www.senatoreldervogel.com for more information about your state government. If you do not wish to receive these e-newsletters, please click the "unsubscribe" button at the bottom of the page.
Sincerely,
Elder Vogel Jr.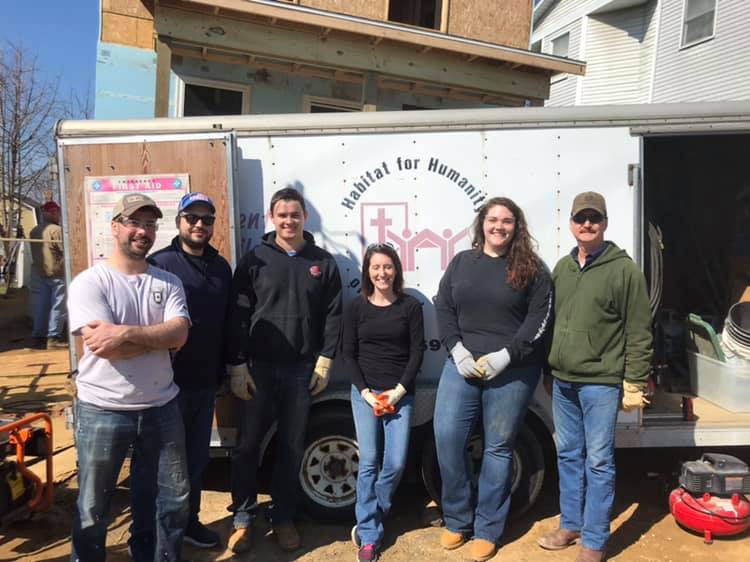 I had a great day volunteering with my staff at Habitat for Humanity's current build site in Rochester. It's a great cause that can always use energetic volunteers! Click here to find out how you can get involved.
---
Beaver County State Grants
The Commonwealth Financing Authority on March 26th awarded $ 2,139,339 in state Multimodal Transportation Funding grants for three projects in Beaver County.
The Borough of Monaca was awarded $1 million for streetscape improvements along Pennsylvania Avenue from 13th Street to 16th Street. Planned improvements include signal upgrades, sidewalk and crosswalk renovations, as well as lighting, bicycle racks and storm water management installation.
Midland Borough was awarded $650,000 to restore sidewalks and resurface roads on Midland Heights Circle, Midland Heights Midcrest, Railroad Lane, as well as Ohio, Virginia and Woodlane avenues.
Geneva College in Beaver Falls was awarded $489,339 for its South Campus Corridor project. The project includes new sidewalks, curbing, lighting, fencing and landscaping.
This is good news for Beaver County and all local residents. Grants that Pennsylvania provides for the enhancement of its transportation infrastructure are long-term investments in communities and enhance the region's attractiveness for economic development. They are essentially investments that improve the quality of life for everyone.
Trout Stocking and Fish-for-Free Days Announced
The trout waters are stocked and the statewide fishing season is right around the corner, according to the Pennsylvania Fish and Boat Commission.
Engage your family in Fish-for-Free Days when anyone can legally fish without a license on Pennsylvania waterways. For 2019, Fish-for-Free Days are set for Sunday, May 26 and Thursday July 4.
Don't have enough rods, reels, and tackle for the whole family? See the Commission's Borrow a Rod and Reel webpage enabling you to borrow the necessary gear as you would a book from the library.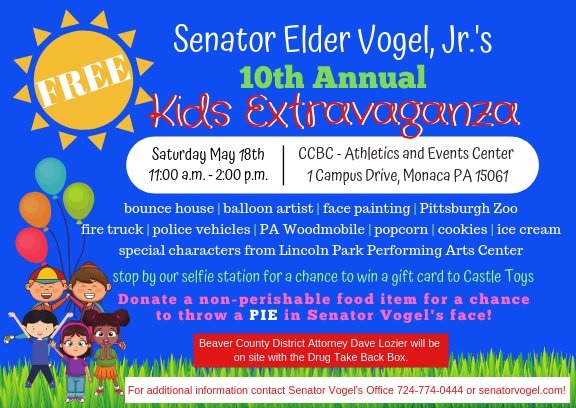 Please join me on Saturday, May 18th, for my 10th Annual Kids Extravaganza. Representatives from a number of state and local agencies will be on hand to provide useful information for children and their families on programs, government services and more. In addition, there will be door prizes, refreshments, and entertainment. KIDS, don't forget to bring a non-perishable food item and you could win a chance to throw a PIE in my face! Contact my Rochester office at 724-774-0444 if you have any questions.
Preventing Elder Financial Abuse
The Pennsylvania Department of Banking and Securities (PA DOBS) witnessed a 17 percent increase in elder financial abuse, constituting 40,000 allegations of elder abuse during the previous fiscal year.
Whether it's older family members or elderly clients with whom you engage socially or in business, the PA DOBS encourages you to look for red flags or signs of elder abuse, including:
Difficulties with decision making, such as trouble paying bills
A noticeable decline in appearance, or fear and anxiety
Suspicious account activity, abrupt changes to financial and legal documents, or large cash withdrawals may signal a problem
Consider appropriate questions and guidance if decision making appears impaired, there are signs of suspicious behaviors, or evidence of unexplained account activity. Anyone witnessing similar problems is encouraged to call the Elder Abuse Hotline 1-800-490-8505 to report any type of elder abuse.
Senate Bill 115 – CPR in High Schools
The Pennsylvania Senate unanimously passed legislation aimed at saving lives through greater education and training in cardiopulmonary resuscitation (CPR).
Senate Bill 115 would strengthen academic guidelines in schools for CPR training in grades nine through 12, while adding hands-only CPR instruction to Pennsylvania's education curriculum.
This legislation is a top priority of the American Heart Association and the American Stroke Association. It is also supported by the Pennsylvania State Education Association, Sudden Cardiac Arrest Foundation, Children's Hospital of Philadelphia, Pennsylvania Athletic Trainers Society and Independence Blue Cross.
If the bill becomes law, Pennsylvania would become the 39th state to enact such CPR legislation. The measure now goes to the House of Representatives for consideration.
Lyme Disease Predictions and Preparation for 2019
The PA Department of Environmental Protection is surveying all counties to track tick habitats, life stages, peak activity levels, and disease detection. Between July 2018 and mid-March 2019, DEP collected 3,663 adult black-legged ticks.
At the same time, the PA Department of Health is conducting a public awareness campaign to decrease the transmission of tick-borne diseases. Take steps to avoid contact with ticks in your backyard, hiking, or on a camping trip. Recommendations include:
Beware of grassy, brushy, and wooded areas
Handle with care any potentially exposed animals
Use an Environmental Protection Agency-registered insect repellant
Upon return home or to your campsite, check clothing, gear, and pets
Shower within 2 hours of being outdoors
Conduct a body check
Individuals are encouraged to see a doctor within 3 to 30 days of a tick bite if symptoms appear, including fever, fatigue, headache, muscle aches, joint pain, with or without a skin rash or bull's eye. Current Lyme Disease treatment includes oral or intravenous antibiotics.
Spotted Lantern Fly Invading PA Business
Pennsylvania's least favorite hitchhiker – the Spotted Lantern Fly is attracting renewed attention from the U.S. Department of Agriculture and Penn State Extension, as well as expanding the eradication goals of the Pennsylvania Department of Agriculture as it spreads into Dauphin County.
Businesses moving equipment and goods out of a quarantined county must obtain permits to continue that transport. Permit training, an employee toolkit, and local related meetings are available.
The threat propelling agency action includes reduced crop yields for grapes, apples, hops, walnuts, and other hardwoods. The damage to the state's economy is anticipated to be nearly $18 billion.
---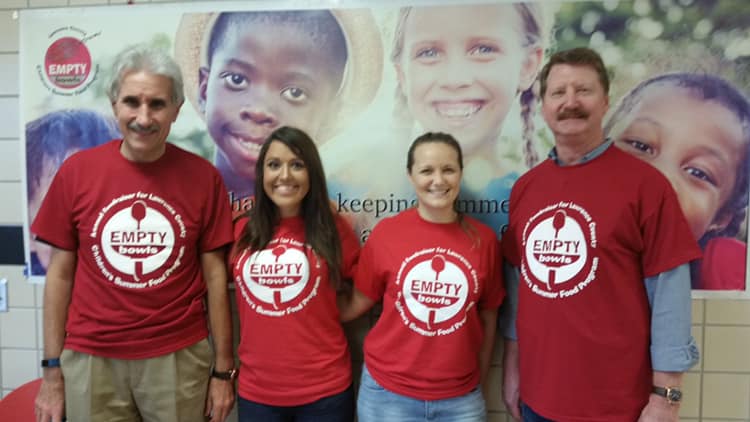 Thank you to everyone who came out to support the Empty Bowls program. It was a wonderful event!
---
Great American Clean-up
Everyone wants to live, work, and play in a clean and green community, and it's up to everyone to make it possible and improve the overall quality of life for us all.
Join Pennsylvanians across the state – and Americans across the nation – for the Great American Cleanup. You can participate in the Great American Cleanup of PA by cleaning up litter and trash along our roadsides, streams, beaches, parks, forests and neighborhoods. Additional events include holding recycling events for hard-to-dispose of items like tires and appliances, creating or enhancing green areas by planting plants, bulbs, and trees, removing or painting over graffiti that devalues your neighborhood, and other activities that help beautify your community.
The Great American Cleanup is underway across Pennsylvania through May 31. Cleanup groups registered between April 13 and May 6 have access to reduced or free trash disposal. Last year, nearly 130,000 volunteers removed more than 7.2 million pounds of trash from PA roads, shorelines & trails. For more information or to find a way to get involved, please click here.

Please contact me to provide input on any state-related matter, or to receive help in dealing with a state agency.