Dear Friend,
I am pleased to present my electronic newsletter. These e-newsletters enable me to provide information about issues, events and activities in Harrisburg and around the 47th Senatorial District to you in a timely manner while saving postage costs.
If you find this e-newsletter useful, I invite you to visit my website www.senatoreldervogel.com for more information about your state government. If you do not wish to receive these e-newsletters, please click the "unsubscribe" button at the bottom of the page.
Sincerely,
Elder Vogel Jr.

April 5, 2018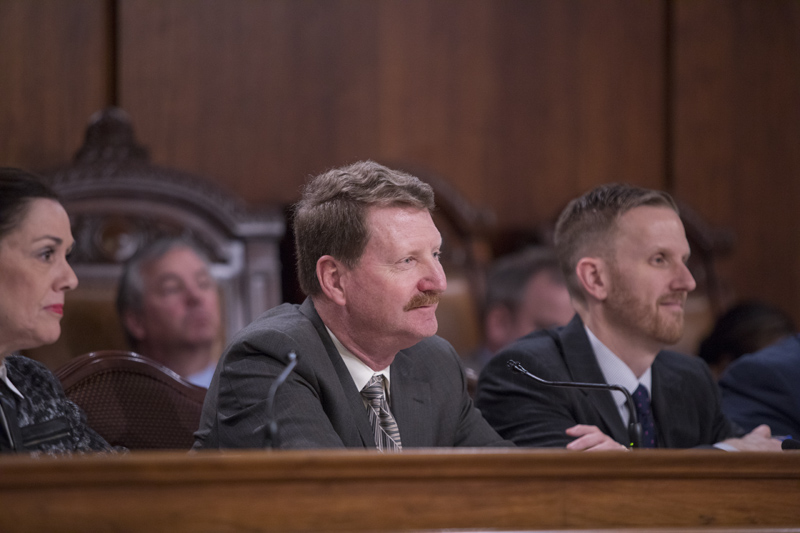 Senate Appropriations Committee Budget Hearings (Cont.)
Senate Appropriations Committee Budget Hearings continued after a brief break period with the Department of Health and Human Services. I was able to thank Secretary Miller and Secretary Levine for helping with my Telemedicine Bill and reopening the New Castle Vital Records walk-in window. I was also able to ask Secretary Miller about savings from the new Community Health Choices Program and how those savings may be reallocated. Finally, a member of Secretary Miller's staff was able to elaborate on federal pharmacy reimbursement changes.
If you'd like to watch my conversation with The Department of Health and Human Services please click here. If you have any questions feel free to call my office at 724-774-0444.
Armed Forces Golf Outing
The 4th annual "Armed Forces Golf Outing" benefiting local Vietnam Veterans Chapter #862 is being held on Saturday, May 19th – Armed Forces Day at Black Hawk Golf Course. It will begin at 8am and is played as a shotgun scramble. The event includes prizes, refreshments and a meal. This event does a great job of bringing together both civilian and military citizens to appreciate the hard work and sacrifice of our Armed forces.
Entry fee is $75 per player ($80 after May 1st). You can also be a sponsor on the Banner Tee Sign for a $25 fee. For additional event information contact Black Hawk Golf Shop at 724-843-5512.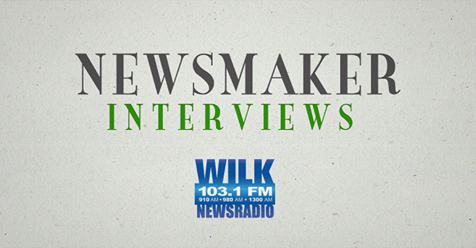 I had the pleasure of being interviewed by Frank Andrews on WILK 103.1fm News Radio about my fight against emissions testing in PA. To listen to my interview please click here.
Route 224 Construction
Construction for the Route 224 (Youngstown Poland Road) bridge, spanning a wetland in Mahoning Township, Lawrence County, is scheduled to begin during the week of April 9 and will be complete in late July. During this time, an alternating traffic pattern will be controlled by temporary traffic signals. In the event of unfavorable weather or unforeseen activities, this schedule may change.
Quit and Get Fit!
A free tobacco cessation program called "Quit and Get Fit!" is being offered by the YMCA and Northwestern Pennsylvania Tobacco Control Program. The program includes 6 in-person cessation classes and materials, 2-week supply of NRT to qualified registered participants and a YMCA membership for the duration of the program. The event is held on Wednesdays from 11:30am-12:30pm on the dates of April 11th, 18th, 25th, May 2nd, 4th and 9th (Friday) at New Castle Community YMCA, 20 W. Washington Street New Castle, PA 16101.
Any adult 18 years or older who wants to quit is welcome. Space is limited so please register ASAP by contacting Katie Gassner at 724-662-1550 ext. 147 if you're interested. The average user may try to quit 5-7 times before becoming tobacco free, and studies have shown that supportive cessation classes increase the likelihood of success. If you're unable to make the classes but would still like help quitting please call 1-800-QUIT-NOW for free over-the-phone counseling.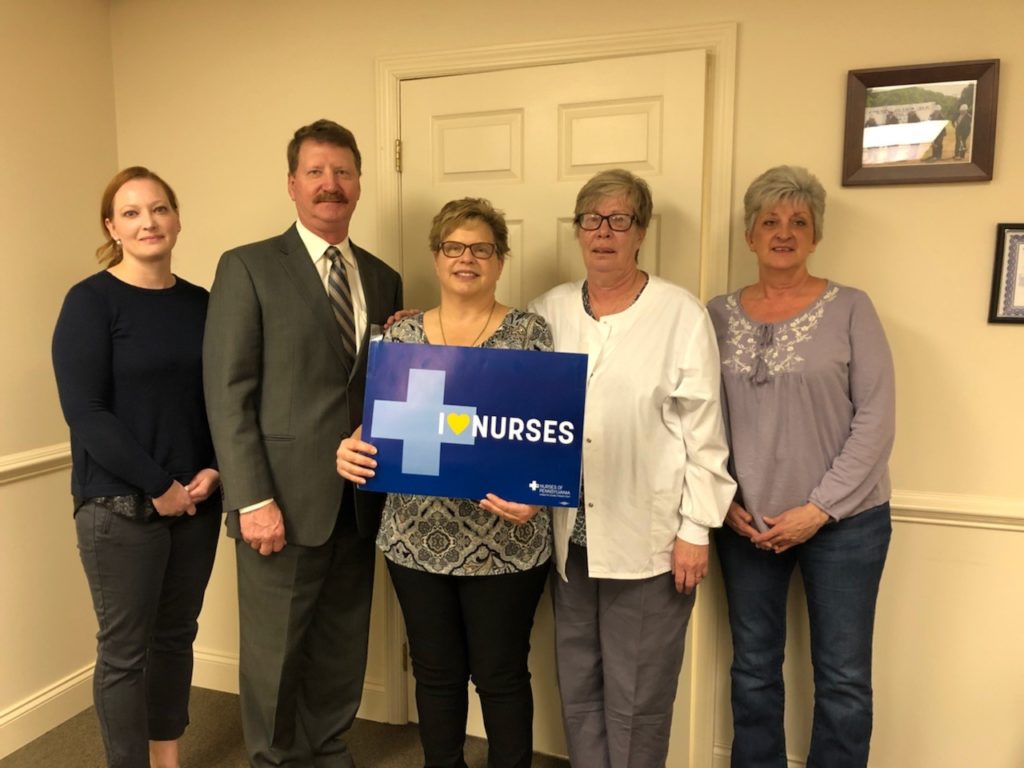 It was a pleasure to meet with local nurses about safe staffing in Hospitals.
Victim Service Pathfinder Awards
The Pennsylvania Commission on Crime and Delinquency is accepting submissions for the 2018 Governor's Victim Service Pathfinder Awards. A Governor's Victim Service Pathfinder Award is the most prestigious award that Pennsylvania gives to a victim service professional or program. The award may be presented to one program and up to seven individuals who have made notable contributions to the program for which they work, the community they serve, or the field of victim services.
The selection process for recipients of the Governor's Victim Service Pathfinder Award is highly competitive. Therefore, to be considered, each nomination must meet the criteria and eligibility exactly as outlined. The award categories include Survivor Activist Award, Outstanding Student Activist Award, Allied Professional Award, Community Service Award and many others.
For a full list of the awards, for information on nominating an agency or individual or for contact information please click here.
Spring Fishing
Pennsylvania is a diverse state with a wide variety of fishing opportunities. There are over 85,000 miles of streams and rivers, along with 4,000 inland lakes and ponds covering 160,000 acres, plus 470,000 acres of Lake Erie. As you can imagine, this diversification translates into many different types of fishing and different types of fish.
You should have a basic knowledge of Pennsylvania's fishing regulations. The best resource for this is the Pennsylvania Summary of Fishing Regulations and Laws, or Summary Book as it is known. As its name implies, the summary book contains an overview of fishing regulations. Don't forget, a Pennsylvania fishing license is required to fish in PA.
For information on PA fishing regulations, licensing or to see a list of fish locations please click here for the PA fish and boat commission website.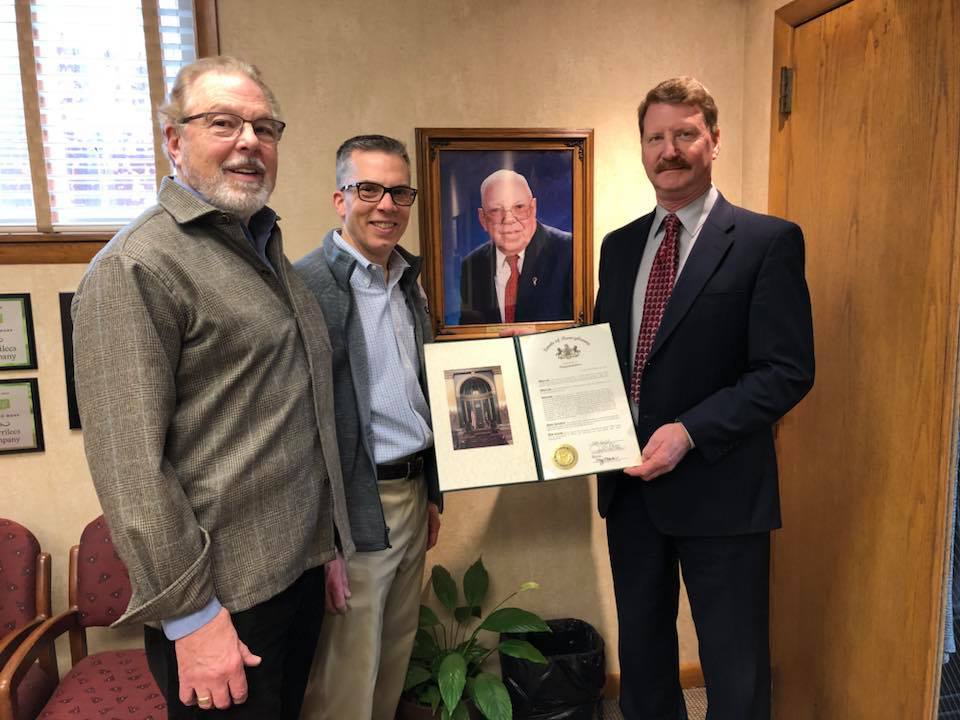 On March 29th I had the pleasure of presenting the Bruce family with a citation congratulating the Bruce & Merrilees Electric Co. on 70 years of family owned and operated business. Best wishes on your next 70 years!
IRS Scam
The Internal Revenue Service is warning taxpayers of a quickly growing scam involving erroneous tax refunds being deposited into their bank accounts. The IRS also offered a step-by-step explanation for how to return the funds and avoid being scammed.
Following up on a Security Summit alert issued Feb. 2, the IRS issued this additional warning about the new scheme after discovering more tax practitioners' computer files have been breached. In addition, the number of potential taxpayer victims jumped from a few hundred to several thousand in just days. The IRS Criminal Investigation division continues its investigation into the scope and breadth of this scheme.
These criminals have a new twist on an old scam. After stealing client data from tax professionals and filing fraudulent tax returns, these criminals use the taxpayers' real bank accounts for the deposit. Thieves are then using various tactics to reclaim the refund from the taxpayers, and their versions of the scam may continue to evolve.
For more information regarding IRS scams please click here.
Extension of PA Assistance Program Deadline
Governor Tom Wolf announced today that Pennsylvanians struggling to pay home heating bills will now have until April 13, 2018, to apply for financial help through the Low-Income Home Energy Assistance Program (LIHEAP).
The federally funded program was slated to end April 6, 2018, given the unpredictable weather this winter, Pennsylvania will extend the program, giving people extra time to apply for funding.
LIHEAP offers assistance in the form of a cash grant sent directly to the utility company or a crisis grant for households in immediate danger of being without heat. Some households are eligible for both types of assistance. Cash grants are based on household income, family size, type of heating fuel and region. In addition to proof of income and household size, applicants must provide a recent bill or a statement from their fuel dealer verifying their customer status and the type of fuel used.
Individuals can apply for a LIHEAP grant online at www.compass.state.pa.us or in person at their local county assistance office. They may also call the statewide toll-free hotline at 1-866-857-7095 with questions about the program.
Eligibility for the 2017-18 LIHEAP season is set at 150 percent of the federal poverty income guidelines. The chart below shows the maximum income allowed for eligibility based on household size.
| | |
| --- | --- |
| Household size | Maximum Income |
| 1 | $18,090 |
| 2 | $24,360 |
| 3 | $30,630 |
| 4 | $36,900 |
| 5 | $43,170 |
| 6 | $49,440 |
| 7 | $55,710 |
| 8 | $61,980 |
| 9 | $68,250 |
| 10 | $74,520 |
For more information on LIHEAP assistance you can go to www.dhs.pa.gov.

Please contact me to provide input on any state-related matter, or to receive help in dealing with a state agency.