Dear Friend,
I am pleased to present my electronic newsletter. These e-newsletters enable me to provide information about issues, events and activities in Harrisburg and around the 47th Senatorial District to you in a timely manner while saving postage costs.
If you find this e-newsletter useful, I invite you to visit my website www.senatoreldervogel.com for more information about your state government. If you do not wish to receive these e-newsletters, please click the "unsubscribe" button at the bottom of the page.
Sincerely,
Elder Vogel Jr.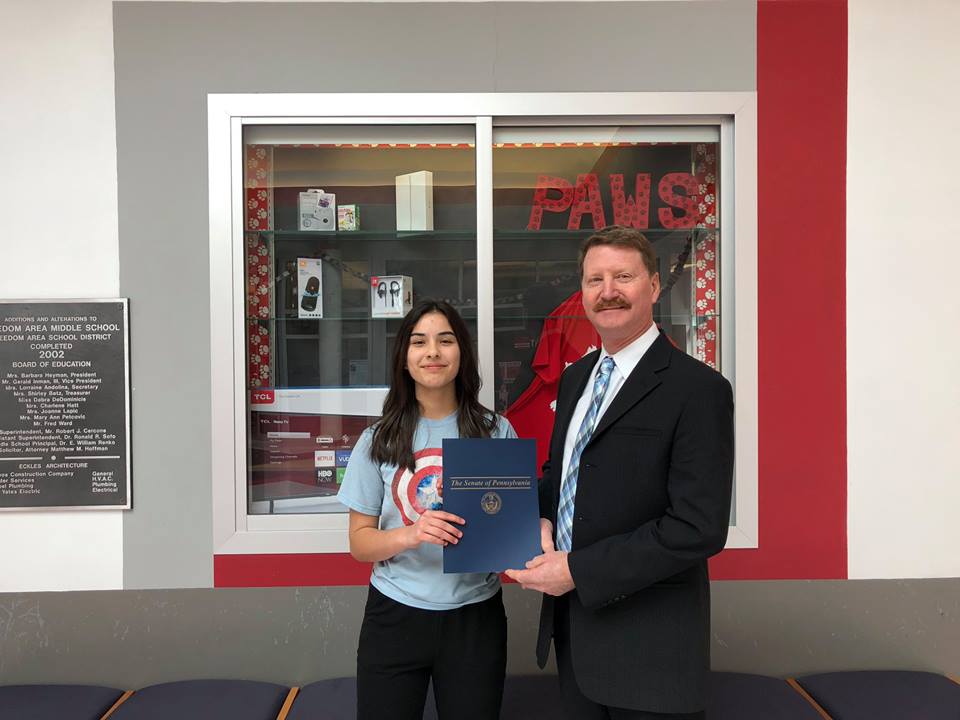 Congratulations to Norina Baker on her selection as a semi-finalist in the Commonwealth Crisis "Talk to Your State Senator" statewide video contest, which was launched to engage PA students in fighting the growing drug epidemic. Norina's video can be seen here on YouTube: https://youtu.be/1N833oeeT3w
Victims' Rights Bill Package
A package of seven bills, aimed at protecting and improving the rights of domestic violence victims, has passed the senate with one (Senate Bill 449) being passed to the Governor's desk to be signed into law. Each bill within the package has been written to protect different aspects of a victim's life from rights during trial and criminal proceedings to housing and phone plans. The goal of this package is to make sure that a victim of domestic violence can maintain their lifestyle while feeling safe from the abuser.
These bills are intended to address a number of serious and dangerous issues that face domestic violence victims in particular. My colleagues and I have heard from victims and from victims' rights advocacy groups and we took their concerns very seriously. I hope these bills are quickly enacted into law and that Pennsylvania will provide these protective measures that victims need and deserve.
To hear my views on this please watch this short video by clicking here to go to my website.
The package includes these bills:
Senate Bill 919 allows domestic violence victims who live in public housing to be relocated to another unit.
If you would like more information or have questions regarding these bills please call my office at 724-774-0444 or contact me on my website.
Multimedia Opioid Awareness
An average of thirteen people die of drug overdoses each day in Pennsylvania. Pennsylvania's drug overdose rate is more than twice the national average. The CDC reported that in the 12 months that ended July 2017, the number of drug overdose deaths in Pennsylvania was 5,443, an increase of 43.4 percent from the 3,797 that occurred in the previous 12-month period. That increase was the largest among the 50 states. Recognizing the public crisis, WQED Multimedia will be joined by six Pennsylvania public broadcasting affiliates to support the state's efforts to fight the opioid and heroin epidemic by airing programs which inform and provide resources.
The first of these segments will be on March 29th at 9:00pm and is called Broken: Women • Families • Opioids. This segment will focus on opioid addiction among women which has implications that go far beyond the addict, infecting the entire family, especially children.
Pennsylvania's Public Television stations have committed their resources to producing a year-long quarterly series called Battling Opioids. The new series will focus on solutions, and provide help and resources for the addict and their families.
In September, Pennsylvania's Public Television stations will devote an entire week of primetime programming to focus on the commonwealth's opioid crisis. The centerpiece of the week will be a single statewide broadcast featuring medical, social service, and clerical professionals along with recovering addicts and their families discussing solutions for Pennsylvania's opioid addiction. Viewers will be able to call in to ask questions, get answers and get connected to help.
For more videos and information regarding the opioid crisis follow the link below to WQED community page. https://www.wqed.org/opioids
4-H Animal Science Camp
Penn State Extension 4-H Animal Science Camp will be held on May 18th through the 20th at Penn State University. The 4-H Animal Science Camp gives participants hands-on workshops to deal with the scientific aspects of animal management, behavior, health, nutrition, reproduction, and more. The Camp includes 4-Hers studying dairy, equine and livestock.
The Dairy Science Campers are for 4-H members enrolled in a dairy or veterinary science project with an emphasis on dairy cattle. The Equine Science Campers are for 4-H members enrolled in a horse, horseless model horse or vet science project. Livestock Science Campers are for 4-H members enrolled in any livestock or vet science project (poultry and rabbits will not be covered).
The camp fee of $200 includes two nights housing at Penn State dormitories, meals, transportation during camp events, all workshop materials and supplies and a 4-H Animal Science Camp T-Shirt. This year's camp will be limited to 180 youth. A limited number of spaces are reserved for chaperones. Chaperones will be assigned duties throughout the event. Chaperones must be current screened 4-H volunteers or Extension staff.
To register for the camp click here or if you have any questions you can contact Camp Director Kristen Dubbs at 570-726-0222 or email her at kdubbs@psu.edu. Please register no later than April 16th.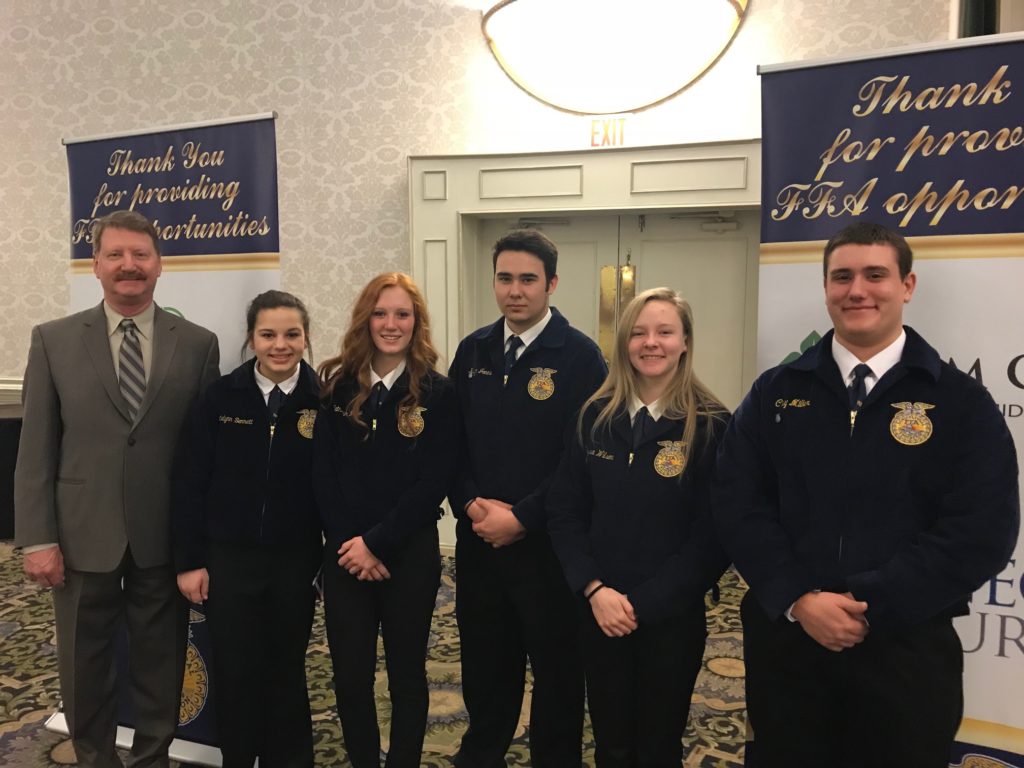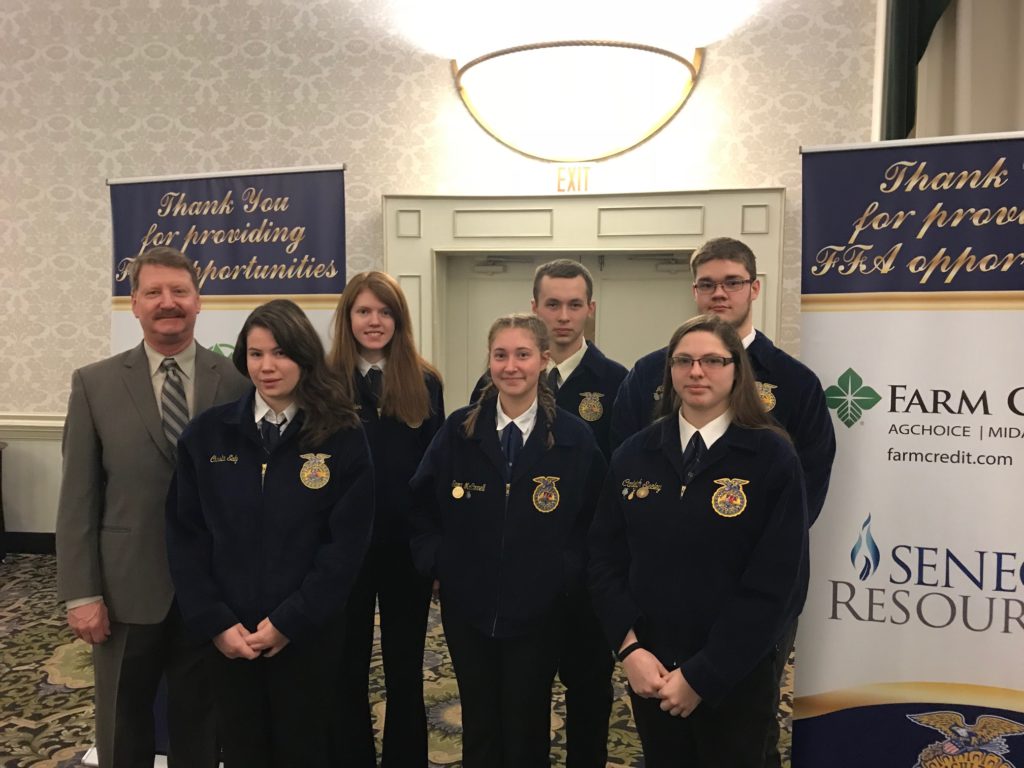 Great to see Laurel and Wilmington FFA students at the 31st Annual Legislative Leadership Conference. It is always a pleasure to meet young adults involved in the agriculture community.
Empty Bowls
Lawrence County is beginning the Children's Summer Food Program. The 6th Annual Empty Bowls Dinner will be held Saturday April 7th from 4pm to 6pm at First Assembly of God Church located at 2021 Pulaski Road, New Castle. Empty Bowls is made possible through donations by area businesses and individuals who donate money and products to the event.
The Empty Bowls dinner is a simple meal of soup, bread and dessert. The meager meal is symbolic of what it would be like to get your meal at a soup kitchen. With your $10 donation, you receive a handmade ceramic bowl to remind you of all the empty bowls in our community.
The ticket price is $10.00 and children under twelve years old eat free. The funds go to support organizations in Lawrence County that offer free summer meals for children in poverty.
For more information, please visit: www.lcemptybowls.com.
Fundraiser for Landslide Victim
Detective Patrick Young of Economy, Beaver County, was forced to evacuate his home with his family due to a half an acre ground shift caused by heavy rainfall. The former Monaca Police Officer and retired U.S Army First Sergeant was one of three households forced out of the area because of the landslide. Young, who now serves in the Beaver County Detectives Bureau, and his family will have to leave their home behind, and their insurance won't cover the cost of buying a new house or demolishing the damaged structure.
Friends and fellow law enforcement officers decided to help out the family and set up a fundraising event. The event will be held at the Rochester VFW on April 6th from 4pm to 8pm. The fundraiser will feature a cash bar, raffle auction and a 50/50 raffle. Advanced tickets are $10 for adults and $5 for children. At the door, tickets are $12 for adults and $6 for children.
If you wish to donate something to the auction, volunteer or buy tickets please contact Deputy Tom Shane at tshane113@comcast.net or Officer Dave Masura at dmosura@yahoo.com.

Lawrence County Annual Tree and Plant Sale
The 2018 Lawrence County Conservation District is hosting its Annual Tree and Plant Sale. Final date on the order forms is Friday April 6th and the pick-up date is Saturday April 21st from 9am to noon at the County Warehouse, 202 Milton Street, New Castle. All orders must be pre-paid. All the proceeds go to supporting the Conservation District's educational programs.
Ordering information available by clicking here to go to the Conservation District website.
Brush Fire Training Funding
The U.S. Department of Agriculture is authorized to provide financial, technical, and other assistance to state officials in cooperative efforts to organize, train, and equip local forces in rural areas or communities. With warmer weather there is an increased risk of forest and brush fires, and funding is now available to help rural communities better guard against this threat in forested, undeveloped, and unprotected areas. Local fire companies in rural areas or communities with fewer than 10,000 residents can apply for grants to be used for training and equipment purchases directly related to fighting brush and forest fires. Deadline to apply is April 19. For more information and an application please follow the link below.
http://www.dcnr.pa.gov/Communities/Wildfire/VolunteerFireDepartmentResources/Pages/default.aspx
Swift 9-1-1
Beaver County's Emergency Notification System, Swift 9-1-1, was used to assist the Chippewa Police Department with a missing person event the day after Christmas. Swift 9-1-1 sends out messages via voice, text, e-mail, fax and social media to those registered in the system. The notification call was sent out in a 3 mile radius of the Chippewa Police Department where the missing individual's vehicle was found. Within that 3 mile radius, 3,014 calls were sent, 227 text messages and 266 e-mails. The message reached over 1,200 accounts on Facebook and was retweeted several times. The person was found not far from the police department in a small ravine where he could not be seen from the road.
This is one example of how Swift 9-1-1 works. I encourage everyone residing and working in Beaver County to sign up for Swift 9-1-1 to be alerted to events taking place within their communities. You can sign up online by following the link from the Beaver County website or by texting SWIFT911 to 99538.
Route 168 Construction
Construction for the Route 168 (Tuscarawas Road) bridge, spanning Painters Run in South Beaver Township, Beaver County, is scheduled to begin during the week of April 2 and be complete in early May. During this time, drivers will be directed to follow a detour along Route 251 (Blackhawk Road) and Route 51 (Constitution Boulevard). In the event of unfavorable weather or unforeseen activities, this schedule may change.

Please contact me to provide input on any state-related matter, or to receive help in dealing with a state agency.