Dear Friend,
I am pleased to present my electronic newsletter. These e-newsletters enable me to provide information about issues, events and activities in Harrisburg and around the 47th Senatorial District to you in a timely manner while saving postage costs.
If you find this e-newsletter useful, I invite you to visit my website www.senatoreldervogel.com for more information about your state government. If you do not wish to receive these e-newsletters, please click the "unsubscribe" button at the bottom of the page.
Sincerely,
Elder Vogel Jr.

March 18, 2019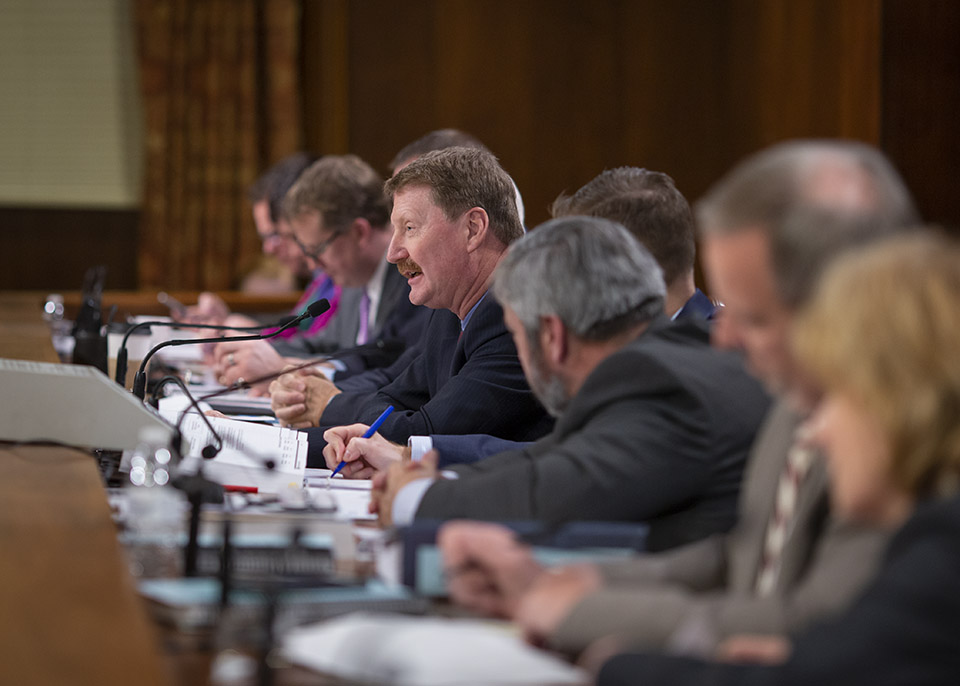 The Senate will Come to Order!
This week the Pennsylvania Senate is scheduled to convene Monday, Tuesday, and Wednesday. In addition to being broadcast on PCN, Senate Session can also be viewed online by clicking here.
Session Schedule:
Monday, March 18, 2019 the Senate will Convene at 1:00 pm
Tuesday, March 19, 2019 the Senate will Convene at 1:00 pm
Wednesday, March 20, 2019 the Senate will Convene at 11:00 am
Senate Appropriation Committee Hearings: Week Three Recap
The Senate Appropriations Committee held its third week of public hearings on Governor Wolf's proposed state budget for the 2019-20 Fiscal Year. The Appropriations Committee heard detailed reports from cabinet secretaries and other officials from March 4 through 7. This special edition of Harrisburg Happenings provides day-by-day highlights from those hearings.
In particular, the third week held the hearing for the Department of Agriculture, and as Chairman of the Senate Agriculture Committee this was a hearing of great interest to me. The Senate Appropriations Committee members discussed several topics of interest to Pennsylvania's farmers during the budget hearing with Secretary of Agriculture Russell Redding. The topics included:
Industrial hemp
Poultry and wild bird diseases.
The PA Preferred program and the value of its trademark
Centers for Agricultural Excellence
Need for a dog licensing fee increase
Long-term fiscal viability of the Farm Show Complex
Efforts to protect livestock and poultry from disease outbreaks
Veterinarians' role in the opioid crisis
The Governor's proposed elimination of funding for hardwoods research
The impact of commercial travel bans during winter storms
Deer farms' role in the spread of Chronic Wasting Disease
Crop damage payments and Sunday hunting to control the deer population
Costs of the Homegrown by Heroes program
A multi-state dairy summit
Use of third-party inspectors
Revenues from fireworks sales
The Farmers Market Nutrition Program
To see my questions to Secretary Redding, please click here for a link to my website and a video of the agriculture hearing. To see videos of all my questions from each Appropriation Hearing, please click here. As always the Senate Appropriation Hearings are an integral part of the Budget process and it is an honor to be involved.
Real ID and Your Social Security Card
Licensed Pennsylvania motorists planning to obtain a Real ID will need to submit to the Pennsylvania Department of Transportation verification of identity, a Social Security card, and proof of Pennsylvania residency.
In addition to the other documents, your Social Security card must display the same name as your official proof of identity papers. A replacement requiring NO name change may be issued based on one document from the pre-approved list.
To see Evidence of Identity for other documents that may be accepted, please click here.These documents must be current, unexpired, and in your legal name. The proof must be a U.S. driver's license, U.S. state-issued non-driver identity card, or a U.S. passport.
DEP Reaches Settlement on Abandoned Wells
Agreement secures historic bonding for abandoned oil and gas wells
The Pennsylvania Department of Environmental Protection (DEP) has announced a settlement with Diversified Gas & Oil Corporation and Diversified Oil & Gas, LLC (collectively referred to as Diversified) and Alliance Petroleum Co LLC (Alliance) over well plugging violations in 23 Pennsylvania counties.
Diversified and Alliance have agreed to a $7 million surety bond for the wells covered by this settlement, plus an additional $20,000 to $30,000 bond for each abandoned or nonproducing oil and gas well acquired in the future. Under current law, adopted in 2012 as an amendment to Pennsylvania's Fiscal Code, conventional oil and gas operators such as Diversified and Alliance are only required to secure $25,000 of blanket bonding to cover all of their wells, which in the case of the two companies, amounts to bonding of approximately $2 per well. The performance bonding negotiated in this settlement is closer to actual plugging costs that can begin around $20,000 per well and go much higher depending on well and site conditions.
With this Consent Order and Agreement (COA) in place, DEP has approved pending transfers of non-producing mostly conventional oil and gas wells to Alliance and Diversified. The COA allows some wells to be put back into production, so long as minimum production levels are maintained, and sets a plugging and restoration schedule for non-producing wells of 15 years while prioritizing the plugging of wells that pose health, safety, and/or environmental threats. The COA may be extended for an additional 5 years subject to additional bonding of $30,000 per well for wells to be plugged during the extension.
The Oil and Gas Act requires owners and operators to plug wells upon abandonment. In July 2018, DEP issued orders to Alliance, XTO Energy Inc. (XTO), and CNX Gas Company LLC (CNX) to plug 1,058 abandoned oil and gas wells across the state—based on required self-reporting of well production data—and held pending transfers of said wells. Those wells, along with wells that Diversified also reported as non-producing, make up the approximately 1400 wells specifically addressed in in the COA. Alliance, XTO, and CNX appealed DEP's orders to the Pennsylvania Environmental Hearing Board.
Pennsylvania has over 8,000 orphaned and abandoned oil and gas wells on its inventory and hundreds of thousands of legacy wells may be unaccounted for, posing a major financial liability and environmental, public health, and safety risk.
The signed COA document can be viewed at http://files.dep.state.pa.us/Newsroom/NewsroomPortalFiles/DiversifiedCOA.PDF
Penn State Extension ServSafe
Starting in 2020, the Pennsylvania Food Code requires that the person in charge (PIC) of a food service operation be a Certified Food Protection Manger. That person must be onsite at all times during operating hours. To receive and maintain certification, individuals are required to pass a certification exam every five (5) years.
The ServSafe® Food Safety Manager Course, conducted by Penn State Extension, is for individuals preparing for the food protection certification exam. Completing the ServSafe® Manger Course and passing the ServSafe® Food Protection Manager Certification Examination with a 75% or higher meets this requirement.
Our courses are taught by certified ServSafe® instructors/proctors with a focus on teaching participants the importance of understanding, developing, and implementing proper food safety practices.
Course fee covers cost of the most recent addition of the ServSafe® Manager book, exam answer sheet, and learning materials. For more information on the ServSafe program, please click here to go to Penn State Extension website.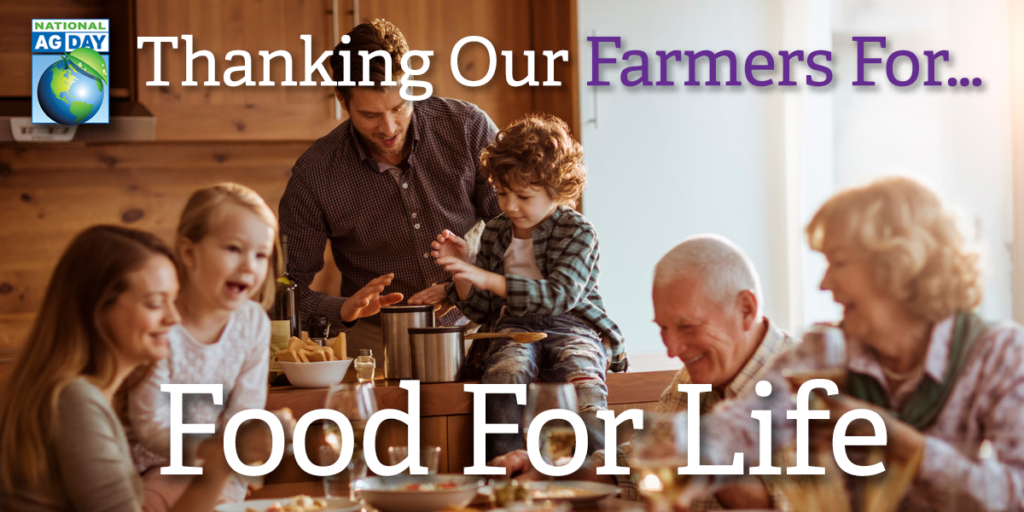 On National Ag Day, we celebrate Pennsylvania's leading industry and its $7.4 billion economic contribution. Nearly 60,000 farms feed the U.S. with agricultural products that have earned a worldwide reputation for quality.
Angling for a New Fishing Hole This Spring?
Angling to catch some fish but tired of the same old spot? The PA Fish and Boat Commission recommends dropping a line into some of Pennsylvania's Best Fishing Waters.
Bluegills to walleyes, find your favorite and head out for a fun-filled day of fishing. Be sure to pick up a fishing license through your County Treasurer's Office, the Fish and Boat Commission, a License Issuing Agent or online with a credit card.
Seasoned, new, and non-resident licensed anglers can spend more time devoted to actual fishing than looking for productive waters. Inclusion on the list assures public access, water quality, and sustainable quality fish. The Commission reminds anglers to obtain permission before fishing on private property.
Springtime Kicks Off Moving Season – Beware of Scam Movers
If you are planning to move this spring, the Pennsylvania Public Utility Commission offers tips to locate a legitimate moving company for your belongings.
Scam movers may use names similar to those of legitimate companies. Confirm a company's PUC-licensure and obtain an Information for Shippers form prior to signing any agreements.
Review any previous complaints filed utilizing the company name, utility code or carrier ID. New complaints against interstate carriers can be filed online or by calling 1-800-692-7380. Consumer complaints against an intrastate mover can be filed online with the Federal Motor Carrier Safety Administration or by calling 1-888-DOT-SAFT (1-888-368-7238).
Act 77 of 2017, sponsored by Senator David Argall, applied criminal penalties to rogue household goods movers who fail to adhere to state rules.

Please contact me to provide input on any state-related matter, or to receive help in dealing with a state agency.