Dear Friend,
I am pleased to present my electronic newsletter. These e-newsletters enable me to provide information about issues, events and activities in Harrisburg and around the 47th Senatorial District to you in a timely manner while saving postage costs.
If you find this e-newsletter useful, I invite you to visit my website www.senatoreldervogel.com for more information about your state government. If you do not wish to receive these e-newsletters, please click the "unsubscribe" button at the bottom of the page.
Sincerely,
Elder Vogel Jr.

February 11, 2019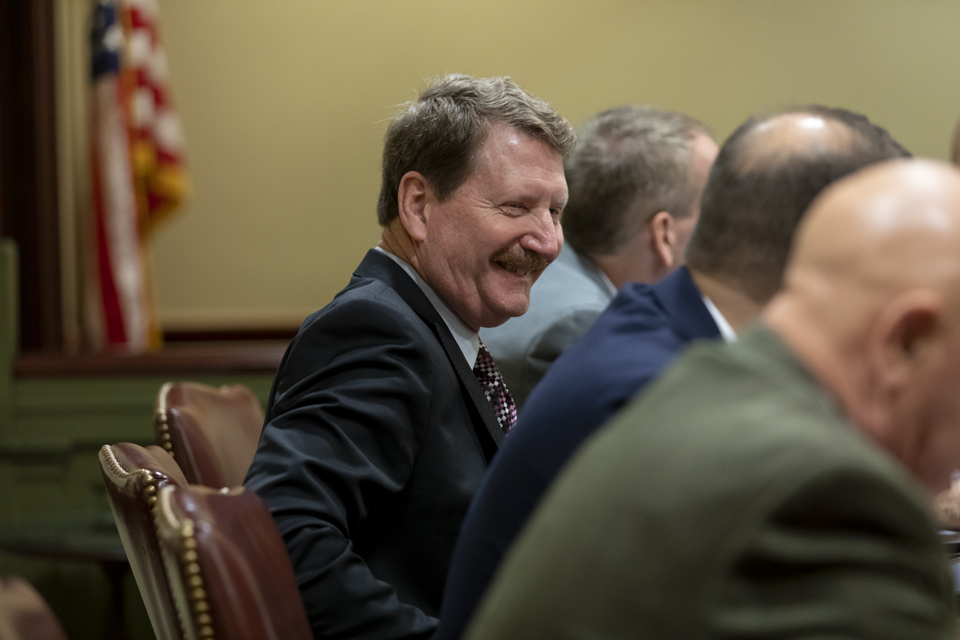 We had a very successful session last week with the Governor's budget address and many important committee meetings. Always a pleasure to be involved with issues facing our everyday citizens.
State Income Tax Aide
Pennsylvanians may download forms to file 2018 personal income taxes in the traditional manner prior to the Monday, April 15, 2019 midnight deadline. For electronic filers, Padirectfile is available for state-only personal income tax or PA Free File is a no-charge option to file federal and state taxes at the same time, according to the Pennsylvania Department of Revenue.
The Department offers the PA Personal Income Tax Guide. The Guide provides a brief overview, filing requirements, and expands on a broad range of tax-related topics from debts to dividends. Find Answers to Frequently Asked Questions on the Customer Support page or confidentially submit a specific question.
Refunds for electronically filed returns are estimated to arrive in approximately 4 weeks, while 8 to 10 weeks are required to process paper forms. While waiting on a refund, check the status online or call 717-787-8201 between 7:30 a.m. and 5:00 p.m. An automated toll-free information line is available at 1-888-PATAXES.
Tax Season Phishing Scams
Tax season brings scams and "phishing" schemes used by criminals to steal taxpayers' money and personal financial information. A popular scam is criminals posing as a government agency demanding payment. In addition to individual taxpayers, the IRS reports that these schemes have targeted tax professionals, payroll professionals, human resources personnel and school administrators.
For more information on known scams, please click here.
Community Conservation Partnerships Program Grant
Counties, municipalities, nonprofits and other entities can apply now for Department of Conservation and Natural Resources' Community Conservation Partnerships Program grants. Community Conservation Partnerships Program grants can fund:
Planning, acquisition, and development of public parks
Recreation areas
Motorized and non-motorized trails
River conservation and access
Conservation of open space
Grants also support regional and statewide partnerships that build capacity to better develop and manage resources. For more information on funding and for applications, please click here.
Ice and Snow Reminder
Removing snow and ice from the hood and roof of your vehicle is more than a good idea – it is the law, according to the Pennsylvania State Police (PSP).
Following injuries and deaths as a result of snow and ice striking vehicles and individuals, Pennsylvania passed a law requiring drivers to remove ice and snow before driving. When snow or ice is dislodged or falls from a moving vehicle and strikes another vehicle or pedestrian causing death or serious bodily injury, the operator of the vehicle from which the snow or ice is dislodged or falls is subject to a fine of not less than $200 nor more than $1,000 for each offense.
The PSP remind drivers that lights must be turned on any time the vehicle's windshield wipers are in continuous or intermittent use due to rain, snow, sleet, or mist.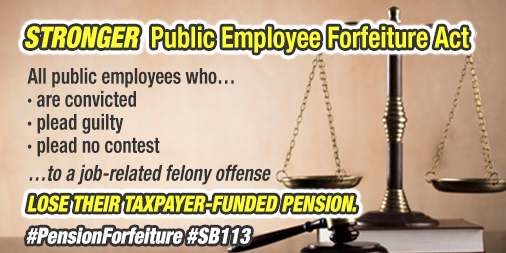 Senate Bill 113 – Job Related Felonies
A measure that would strip taxpayer-funded pensions from lawmakers and public employees who commit job-related felonies was recently approved by the Senate. Senate Bill 113 prevents them from keeping their taxpayer-funded pension by pleading to non-forfeiture crimes. It also ensures that criminal convictions involving public officials are reported to state pension boards, a step not currently required.
For more information on this bill and its proposed changes, please click here for Senate Bill 113 webpage.
Financial Options Open to Those with Disabilities
Individuals with qualifying disabilities and their families may save for a wide range of disability-related expenses through state-offered savings and investment options authorized under the Pennsylvania Achieving a Better Life Experience program (PA ABLE), according to the PA Treasurer's Office.
Individuals with a disability and their families are encouraged to save funds to support their loved one's health, independence, and quality of life without affecting eligibility for state or federal means-tested benefits.
Six of seven investment opportunities include conservative to aggressive Asset-Allocation Options.The seventh option is a FDIC-insured interest-bearing checking account with a debit card. See Frequently Asked Questions for answers regarding eligibility and qualified expenses
---
I had the opportunity to consider Senate Bill 85, which provides for license fee exemptions for service dogs used by a fire department, sheriff's office or in the performance of rescue services or medical emergency services, and Senate Bill 145, which amends the Agricultural Area Security Law to allow for the voluntary relinquishment of the right to construct a residence, during the Agriculture and Rural Affairs Committee meeting during this past session week. To view my comments on these bills, please click here to watch the video.
Wintertime Home Heating Dangers
Between 2011 and 2015, portable and stationary space heaters accounted for 43 percent of home heating fires annually and 85 percent of home heating fire deaths across the country, according to the National Fire Protection Association.
The Pennsylvania Office of the State Fire Commissioner (PA OSFC) warns that wood stoves and fireplaces are responsible for 36 percent of home heating fires.
Keep your family safe this winter with home fire safety tips from the PA OSFC.
Adult Trout Stocking List
The PA Fish and Boat Commission's Adult Trout Stocking Schedule is now posted online. You can search for locations by county & date range. Trout opening day is March 30 in the southeast region, and April 13 statewide. The Commission annually stocks streams and lakes in Pennsylvania with Coldwater (Trout) and Warmwater / Coolwater (Muskellunge, Walleye, panfish, etc.) species throughout the year.
For more information and the trout stocking schedule, please click here.
Warm Up With Award-Winning Farm Show Recipes
On a cold February day warm up to some of the Farm Show's 2019 winning recipes from Pennsylvania's outstanding amateur cooks.
Pick your favorites from each of the top five winning recipes:
Click on the 2019 photo album for hundreds of Farm Show photos from alpacas to youth tractor pulls.

Please contact me to provide input on any state-related matter, or to receive help in dealing with a state agency.