47th Senatorial District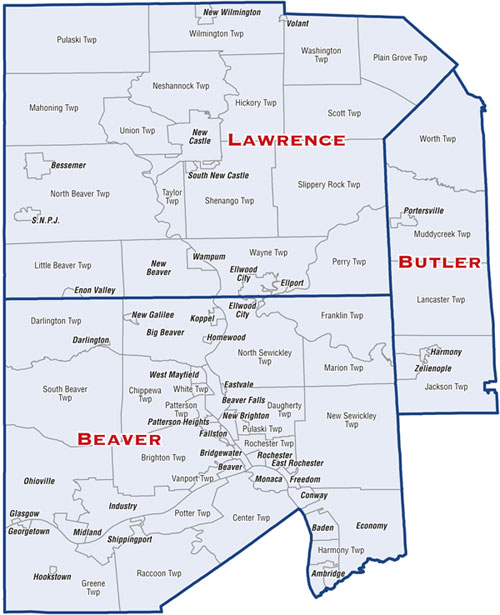 The 47th Senatorial District includes:
BEAVER, BUTLER and LAWRENCE Counties.
Part of BEAVER County consisting of the CITY of Beaver Falls and the TOWNSHIPS of Brighton, Center, Chippewa, Darlington, Daugherty, Franklin, Greene, Harmony, Marion, New Sewickley, North Sewickley, Patterson, Potter, Pulaski, Raccoon, Rochester, South Beaver, Vanport and White and the BOROUGHS of Ambridge, Baden, Beaver, Big Beaver, Bridgewater, Conway, Darlington, East Rochester, Eastvale, Economy, Ellwood City (Beaver County Portion), Fallston, Freedom, Georgetown, Glasgow, Homewood, Hookstown, Industry, Koppel, Midland, Monaca, New Brighton, New Galilee, Ohioville, Patterson Heights, Rochester, Shippingport and West Mayfield;
Part of BUTLER County consisting of the TOWNSHIPS of Jackson, Lancaster, Muddy Creek and Worth and the BOROUGHS of Harmony, Portersville and Zelienople.
All of LAWRENCE County.