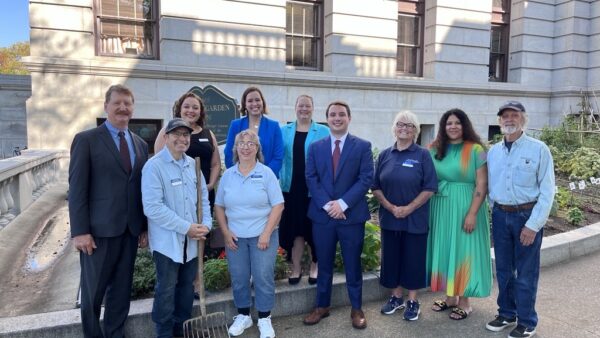 HARRISBURG – With the Capitol Hunger Garden closing its 13th season, Sen. Elder Vogel (R-47) and Rep. Emily Kinkead (D-20) highlighted the positive impacts the garden has had on the local Harrisburg area.
"The Capitol Hunger Garden serves as an integral way the General Assembly can help the greater Harrisburg area combat hunger," said Vogel. "This season, we were able to harvest over 830 pounds of vegetables and herbs which were collected by capitol staff volunteers and local Penn State Master Gardeners. The Downtown Daily Bread has continued to be the recipient of what we have harvested and has transformed the produce into hearty meals for those in need."
Vogel added, "As a lifelong farmer and chairman of the Senate Agriculture and Rural Affairs Committee, I know firsthand the incredible hard work that goes into keeping this garden going each year. I want to thank our countless staff and Penn State Master Gardeners for volunteering their time each season to help with our harvest as well as the Department of General Services for allowing us to use the land for our annual garden."
Joining Vogel and Kinkead in front of the Hunger Garden were Chef Corrie Lingenfelter, executive director to the Downtown Daily Bread; Ryan Prater, government relations manager, Central Pennsylvania Food Bank; and Erin Haafke, Community Relations Manager, Feeding Pennsylvania. Additionally, Penn State Master Gardeners Steve Cordaro, Anne Hawk, Bob Bauer, Carol Webb, and Ember Jandebeur were also able to attend.
"As we close out another successful season of the Hunger Garden today, it's also an opportunity to reflect on what this space represents and why we must continue working toward expanding food access," said Kinkead. "More than 1.2 million Pennsylvanians are facing hunger and our government has real opportunities to help feed them through programs like SNAP and WIC. The pandemic-era expansions to these programs demonstrated their power, causing a significant decrease in food insecurity for families with children. This data shows us that we absolutely could make a bigger dent in hunger with the right policy choices, and that's what we're fighting for here in the Hunger Caucus."
Vogel and Kinkead are the co-chairs of the Legislative Hunger Caucus, which was established in 2008 and seeks to raise awareness for hunger in the commonwealth. The most visible of this caucus's initiatives is the Capitol Hunger Garden, which is a bipartisan, bicameral effort of the General Assembly. Since its inaugural garden in 2010, the garden has fulfilled the mission of raising and providing healthful food options to those in need through the donation of the produce harvested which is delivered and used by the Downtown Daily Bread.
"As we mark the end of another successful season for our hunger garden, I want to express my profound gratitude to the dedicated team and volunteers who worked tirelessly to cultivate this source of fresh, nutritious produce for our guests here at Downtown DAILY Bread," said Lingenfelter. "While the garden may be going dormant for the winter, our mission to combat hunger and homelessness burns brighter than ever. We look forward to the spring when we can once again sow the seeds of hope and abundance in our community."
"I'd like to thank the Hunger Caucus, staff, and volunteers who make this garden a reality every year," said Joe Arthur, CEO, Central Pennsylvania Food Bank. "Food insecurity impacts children, families, and seniors in every community across Pennsylvania. The Capitol Hunger Garden symbolizes Pennsylvania's commitment to eradicating hunger from our Commonwealth and I could not be more pleased to see another successful harvest season that will help feed hundreds of neighbors right here in Harrisburg."
The Capitol Hunger Garden officially closes for the season on Oct. 12 and will open again in Spring 2024.
VIDEO: Capitol Hunger Garden Seasonal Closing
CONTACT: Abby Chiumento, 717-787-3076 (Sen. Vogel)
Bradley Gebhart, 717-481-3039 (Downtown Daily Bread)
Aaron Troutman, 717-480-9166 (Rep. Emily Kinkead)
Corrina Wilson, 717-979-3407 (Central Pennsylvania Food Bank)
Erin Haafke, 717-467-7553 (Feeding Pennsylvania)