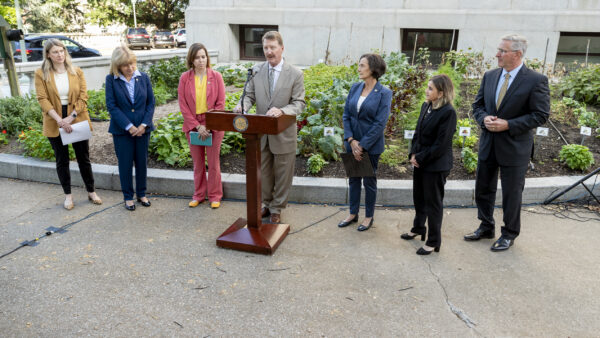 HARRISBURG – Today, Sen. Elder Vogel, Jr. (R-47) and Rep. Emily Kinkead (D-20), co-chairs of the Legislative Hunger Caucus, stood with Pennsylvania Department of Agriculture Secretary Russell Redding; Pennsylvania Department of Human Services Secretary Valerie Arkoosh; Senate President Pro Tempore Sen. Kim Ward (R-39); and Sen. Judy Schwank (D-11), as they shed light on the reality of food insecurity and how it impacts Pennsylvanians.
With a population of almost 13 million, 1 in 11 Pennsylvanians and 1 in 8 children continue to go hungry, especially as inflation rates continue to rise and the cost of goods and services increase.
"Hunger isn't something that just affects one area of our commonwealth – it has taken root in each and every county with many Pennsylvanians having to make the impossible decision of whether they are going to pay for food or pay for their mortgage, medication, or childcare," said Vogel. "As we continue to navigate through the current economic fluctuations, we must be steadfast in the fight to ensure ALL Pennsylvanians have access to adequate, healthy food."
Vogel and Kinkead lead the bicameral, bipartisan Legislative Hunger Caucus and oversees the Capitol Hunger Garden, which has been in operation since 2010. Located on the State Capitol grounds between Main Capitol Building and the Ryan Office Building, the Hunger Garden is maintained by volunteers, Penn State Master Gardeners, and the Department of General Services. Over the past 13 years, the garden has supplied hundreds of pounds of produce to Downtown Daily Bread who turned that produce into hearty meals for those in need in the Harrisburg area.
Feeding Pennsylvania CEO Julie Bancroft, who was also in attendance, stated, "Though September is Hunger Action Month, with nearly 1.5 million Pennsylvanians experiencing hunger yearly, our neighbors need our collective action year-round. No one should be forced to forgo feeding their family to try to make ends meet and cover other necessities like rent or medical expenses."
Feeding Pennsylvania is the statewide association of nine Feeding America affiliated food banks with a mission to promote and aid their member food banks in securing food and other resources to reduce hunger and food insecurity across the state. They span across all 67 counties and serve nearly 2 million people annually by distributing more than 164 million pounds of food throughout Pennsylvania to more than 2,700 agencies and feeding programs.
Additionally, the Departments of Agriculture and Human Services play a vital role in assisting with nutrition and food assistance for those in need. Secretaries Redding and Arkoosh shared their perspectives on the effects of hunger in Pennsylvania and the resources that both their agencies provide.
On the legislative front, the General Assembly has helped fight against hunger in many ways, especially through its state Budget.
"As a mother and grandmother, it is inherent to me that kids and families are well nourished and properly fed," said Senate President Pro Tempore Kim Ward. "Recognizing food insecurity has no boundaries, we are committed to working together to provide solutions. In fact, just last week in my district, we partnered with my local Westmoreland County Food Bank to bring a full-service mobile market to under-served areas of Westmoreland County and introduce the community to Food Bank services in a new way."
"Family sustaining jobs are critical to helping combat hunger across our commonwealth," Senate Majority Leader Joe Pittman said. "I thank Senator Vogel for his work to bring awareness to food insecurity within Pennsylvania."
Vogel and the Hunger Caucus will be hosting a press conference on Wednesday, Oct. 4, at 9:45 a.m., at the Hunger Garden to commemorate the seasonal closing of the garden. The Hunger Garden will officially be closed on Oct. 12 until next spring.
If you or someone you know is struggling with food insecurity, visit https://bitly.ws/UrYF to learn more about the state and federal resources that are available.
VIDEO: Hunger Action News Conference
CONTACT: Abby Chiumento, 717-787-3076 (Sen. Vogel)
Erica Clayton Wright, (President Pro Tempore Sen. Kim Ward)
Kate Flessner, (Sen. Pittman)
Erin Haafke, (Feeding PA CEO Julie Bancroft)