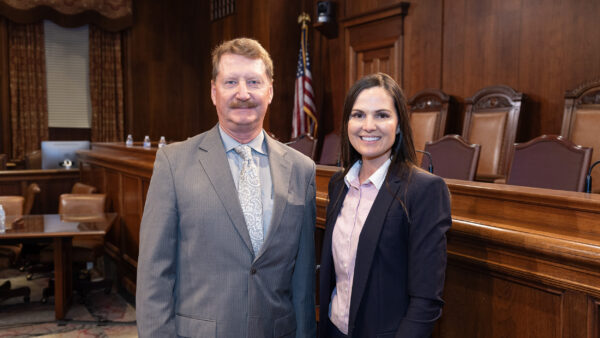 BUTLER COUNTY – With Sen. Elder Vogel, Jr's (R-47) support, Assistant Public Defender Maura Palumbi has received an appointment on Friday, June 30, to the Butler County Court of Common Pleas by Governor Josh Shapiro.
Following a Pennsylvania State Senate Judiciary Committee hearing, Palumbi received a unanimous vote in favor of the nomination. Subsequently, the Pennsylvania State Senate also unanimously approved the nomination.
Vogel provided introductory remarks to the Senate Judiciary Committee on Palumbi's behalf. "I offer my congratulations to Attorney Maura Palumbi on her confirmation to serve as a judge on the Butler County Court of Common Pleas," said Vogel. "Maura has actively contributed to making Butler County a better place both inside and outside the courtroom through her service on several nonprofit boards and her work as an Assistant Public Defender. Attorney Palumbi undoubtedly brings to the bench a wealth of knowledge and experience that will make her an incredible asset to the Court."
Palumbi also received support from Senator Scott Hutchinson (R-21) whose legislative district also comprises parts of Butler County.
"I am honored to receive the judicial appointment from Governor Shapiro," said Palumbi. "I look forward to continuing my career in public service and providing access to the judicial system to all litigants and doing so in a dignified and respectful manner for all parties involved."
Palumbi was appointed to fill the unexpired term of Judge William Shaffer, which was left vacant following his retirement in January 2022. Palumbi's appointment will expire on January 1, 2024. Prior to Palumbi's appointment, the vacancy was being temporarily filled by two senior judges appointed by the Administrative Office of the Pennsylvania Courts.
Palumbi received both the Republican and Democrat nominations in the primary election. Palumbi's name will appear on the ballot in the general election in November for the new judicial term to begin in January 2024.
CONTACT: Abby Chiumento, 717-787-3076 (Vogel)
Denise Etter, 724 -201-1690 (Palumbi)