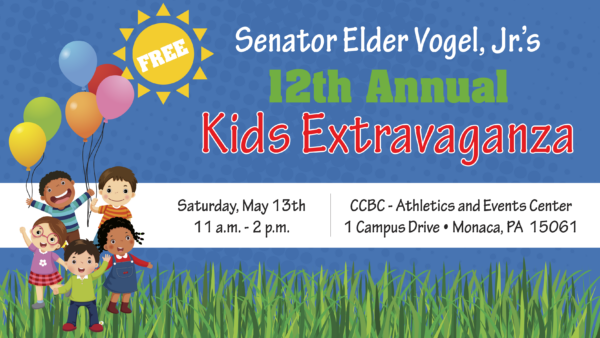 ROCHESTER, PA – Sen. Elder Vogel, Jr. (R-47) will be hosting his 12th Annual Kid's Extravaganza on Saturday, May 13, from 11 a.m. to 2 p.m., at CCBC – Athletics and Events Center, 1 Campus Drive, Monaca.
This event is free and open to the public for families to enjoy fun activities as well as receive information from local organizations regarding services available to them.
Organizations participating in this event include the American Red Cross; Arise; Armstrong (Sponsor); Beaver County Association for the Blind; Beaver County Conservation District; Beaver County CYS Foster Care Program; Beaver County District Attorney; Beaver County Emergency Service; Beaver County Historical Research and Landmarks Foundation; Beaver County Junior Grange; Beaver County Library System; Beaver County YMCA; Big Brothers Big Sisters of Beaver County; Brighton Hot Dog Shoppe (Sponsor); Center Township Fire Department; Columbia Gas of Pennsylvania (Sponsor); Giant Eagle Pharmacy; Girl Scouts Western PA; Heritage Valley Health System (Sponsor); Highmark Blue Cross Blue Shield; Highmark Wholecare; Hookstown Fair; Junior Achievement of Western PA; Keystone Wellness Programs; Lifesteps Early Head Start; Medic Rescue; PA Distance Learning Charter School; PA Office of Attorney General – Safe2Say Something PA; Penn State Extension – Beaver County; The Pennsylvania Cyber Charter School; Pennsylvania Housing Finance Agency; Pennsylvania State Police; Pennsylvania State Treasury; The Prevention Network; Private Industry Council – Head Start/Early Head Start Division; Private Industry Council – Pre-K Counts; Provident Charter School (Sponsor); Raccoon Creek State Park; Riders Advocating Against Child Abuse; Riverside Family Chiropractic (Sponsor); Rosalind Candy Castle (Sponsor); Spokane Orthodontics (Sponsor); Tiny Tot Child Development Center; Trying Together; Women's Center of Beaver County; and YMCA Camp Kon-O-Kwee Spencer.
CONTACT: Abby Chiumento, 717-787-3076