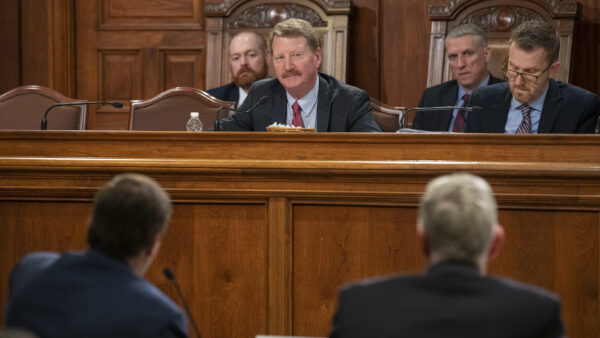 HARRISBURG – Sen. Elder Vogel, Jr. (R-47), chairman of the Senate Agriculture and Rural Affairs Committee, touched upon the struggles farmers are seeing with livestock sales following the East Palestine train derailment and potential testing of livestock tissues and crops while questioning Department of Agriculture Acting Secretary Russell Redding during today's hearing by the Senate Appropriations Committee.
"Our communities in Beaver County continue to deal with various uncertainties stemming from the East Palestine train derailment, specifically with the safety of our food, water, and soil," said Vogel. "Acting Secretary Redding shared the progress being made with ongoing area testing and acknowledged the hardships being seen in our local agriculture industry. I commend Sec. Redding for his diligent efforts during the aftermath of this devastating tragedy and being a strong advocate for our area farmers."
Redding stated livestock tissue sampling will be conducted in cooperation with the Ohio State Department of Agriculture and with Ohio State and Penn State universities. He added that the United States Department of Agriculture (USDA) is willing to assist with this process as well.
In response to loss of livestock sales seen by Beaver County farmers, Redding agreed farmers should be compensated for the agricultural losses and said his department has been advocating to Norfolk Southern and Governor Shapiro's office to include these losses in the reimbursement program they are organizing.
Additional topics covered during today's hearing include:
Containing the spread of the avian influenza.
How the proposed cut in the Animal Health and Diagnostic Commission would affect response time to issues such as Chronic Wasting Disease.
Shortage of certified veterinarians in Pennsylvania.
Mental health services for Pennsylvania farmers.
Governor Shapiro's budget proposal includes $231 million in total funding for the Department of Agriculture.
Vogel's complete lines of questioning can be viewed on his website.
Click here to view the full Senate budget hearing for the Department of Agriculture.
CONTACT: Abby Chiumento, 717-787-3076