A report on Legislative action, June 16 to July 1, 2014
Governor signs school bus length legislation into law
I am pleased to report that Governor Corbett signed Senate Bill 1312, a bill I introduced to give school districts and school bus contractors the option to choose the most appropriate school buses based on their needs, into law as Act 85 of 2014 on June 30. Click here for more information on Senate Bill 1312.
Senate approves race horse industry bill
On June 27 the Senate unanimously my legislation that makes substantial regulatory changes necessary to protect and bolster Pennsylvania's horse racing industry. Senate Bill 1188 is now before the House of Representatives for consideration. 
This legislation will bring the Race Horse Industry Reform Act (RHIR) into the 21st Century. The act, which sets the parameters and guidelines for the oversight of the racing industries in Pennsylvania, has not be updated in over twenty years despite drastic changes in the way the industry is funded, raced and regulated.
Click here for  video of my comments on the floor of the Senate on this bill.
FY 2014-15 budget finalized
The Senate approved a state budget for Fiscal Year 2014-15 that invests in education, public safety and provides support for essential social and health services and programs without a tax increase.
The $29.09 billion budget plan in House Bill 2328 provides a $502.3 million increase (1.7 percent) over the 2013-14 fiscal year budget, increases overall K-12 education spending over the previous budget and funds the core functions of government without raising taxes. The final budget is $320.1 million less than the Governor's initial request in February.
Of the $502.3 million increase, $316 million would be directed toward education. This includes increases for special education ($20 million increase), Ready to Learn Block Grants ($100 million increase), Pre-K Counts ($10 million increase) and Early Intervention ($10 million increase). The Fiscal Year 2014-15 general fund budget represents the fourth budget in a row to set a new record for total state tax dollars spent on education.
House Bill 2328 allocates $11.4 million to train four new state police cadet classes to replenish the ranks of the Pennsylvania State Police and address a substantial number of vacancies created by a surge in retirements.
The spending plan will protect Pennsylvania's most vulnerable citizens by increasing funding for county child welfare programs, services for persons with disabilities, domestic violence programs and rape crisis centers.
Agriculture, which is Pennsylvania's top industry, will see a 2.5 percent increase in funding. Funding for agriculture research, promotion, exports, the Livestock Show, the Open Dairy Show, Food Marketing and Research, and PA Preferred are all restored after being cut in the Governor's initial budget request.
Committee reviews state plan for Alzheimer's Disease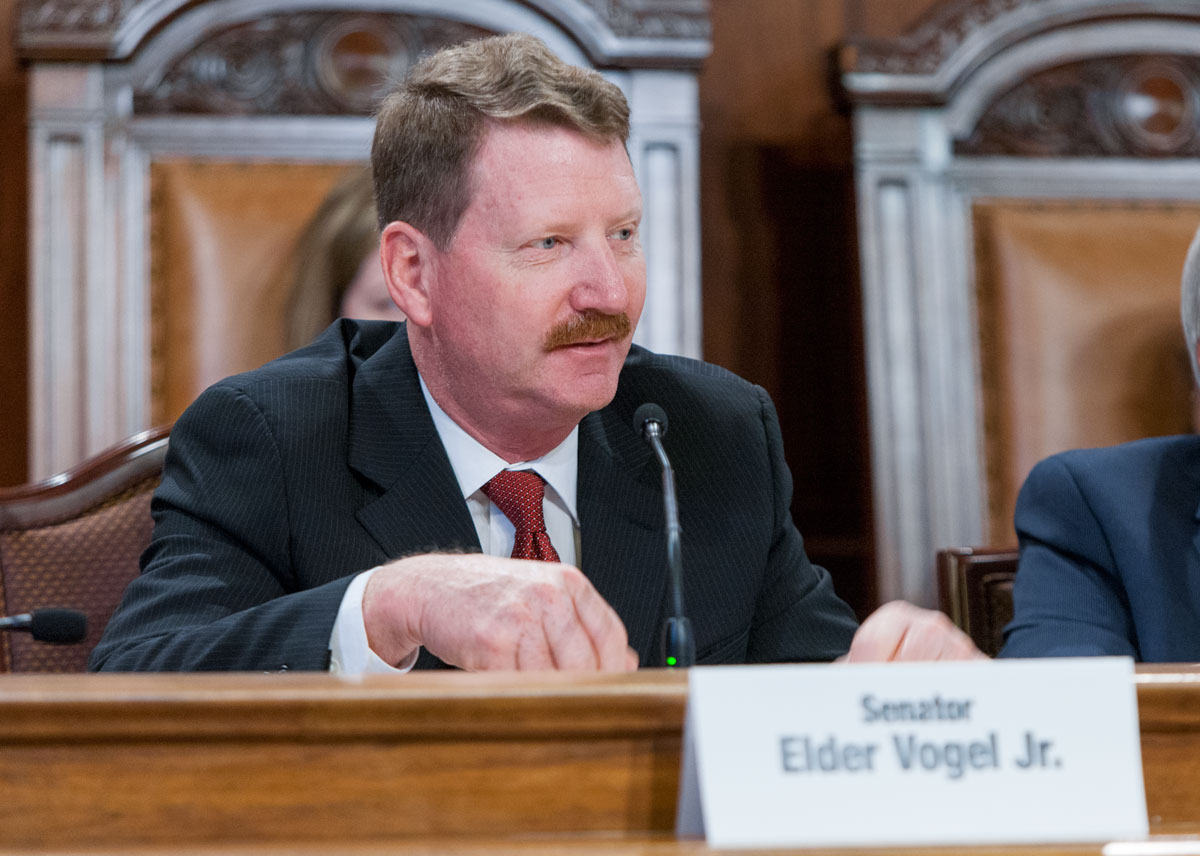 As a member of the Senate Aging and Youth Committee, I had the opportunity to participate in a June 24 public hearing on the Pennsylvania State Plan for Alzheimer's Disease and related disorders. Click here for a video of my questions for Secretary of Aging Brian Duke and Physician General Dr. Carrie DeLone about the plan.

Bill creating new license plates for combat veterans sent to Governor
Legislation that would authorize PENNDOT to issue a number of new specialty license plates received final legislative approval and was sent to the Governor for his signature and enactment into law.
Senate Bill 1187 establishes a new special plate for recipients of the Combat Action Badge, Combat Infantryman Badge, Combat Action Ribbon, Combat Action Medal or Combat Medical Badge.  It also creates the following new license plates: Combat Infantry Badge (CIB) plate, Pennsylvania Hunting Heritage plate, Appalachian Trail plate, Pennsylvania Monuments plate and United States Olympic plate.
The bill also expands eligibility for the existing United States Merchant Marine plate to include those who served in the Korean War, the Vietnam Conflict or any of the Gulf Wars, including Operation Desert Storm, Operation Iraqi Freedom and Operation Desert Shield.
Other bills sent to the Governor include:
Senate Bill 75 will help law enforcement arrest and prosecute human traffickers.
House Bill 118 extends protections of the Pennsylvania Whistleblower Law to employees of nonprofits/private sector companies who report waste of public monies obtained by their employer for services or work.
Senate Bill 137 advances consumer protection and patient results by ensuring that all audiologists, and those performing the functions of the profession, are properly licensed by the state.
House Bill 185 amends the Whistleblower Law to provide protection for employees of the General Assembly who report waste or a violation of local, state or federal law.
Senate Bill 193 would require all school nurses be certified in cardiopulmonary resuscitation.
House Bill 272  would allow dentists from other states or United States territories to obtain a "restricted faculty license" which will authorize them to teach in dental schools in Pennsylvania.
Senate Bill 622 corrects a flaw in the Debt Management Services Act which resulted in a lawsuit against the Department of Banking regarding its ability to license and regulate the debt settlement industry in Pennsylvania.
Senate Bill 874 creates a more flexible local funding system for Harrisburg Area Community College and its 22 sponsoring school districts.
House Bill 927 reenacts and amends the Community Services Block Grant Act extending the expiration date of the act to December 31, 2017.
Senate Bill 1001 eliminates the requirement that Notary Public applications be endorsed by the Senator of the district in which they reside or work.
House Bill 1090 provides for protective custody of newborn children in the areas of criminal liability, child protective services and newborn protection.
Senate Bill 1096 clarifies language in existing law related to the limited reimbursement of appraisal, attorney and engineering fees for public infrastructure improvement projects.
House Bill 1144 allows the use of crossbows in archery deer, bear and turkey seasons.
Senate Bill 1185 provides more flexibility for the use of funds by the Allegheny County Medical Examiner.
Senate Bill 1194 will give public and non-public school districts in communities where police services are furnished solely by the Pennsylvania State Police the option to contract with municipal police from nearby jurisdictions to provide security as well as school resource officers in their schools.
Senate Bill 1255 amends the Municipality Authorities Act to provide that the reasonable and uniform rates of a storm water authority may be based on property characteristics which may include best management practices.
Senate Bill 1261 increases the offense for torturing or killing a K-9 officer to a felony of the second degree, allowing for a prison term of up 10 years and a fine of $25,000. Such a penalty would more closely mirror federal law, which carries a sentence of up to 10 years and a $1,000 fine.
Senate Bill 1287 updates the ATV definition in state law to allow for titling and registration of innovative new vehicles.
Senate Bill 1384 enacts the Highway Capital Budget Project Itemization Act of 2014-2015.
House Bill 1420 requires the Department of Health to ensure that all birthing facilities and births occurring outside a birthing facility that are attended by midwives utilize pulse oximetry to screen newborns for congenital heart defects.
Senate Bill 1422 clarifies the liability status of companies that obtained a business and thereby face asbestos-related claims from the actions of the previous owner.
House Bill 1574 and House Bill 1575 amend current state laws to allow a health maintenance organization (HMO) to be structured as a Limited Liability Company.
House Bill 1772 amends the Deputy Sheriffs' Education and Training Act so that the provisions of the act apply to elected and appointed Sheriffs as well as Deputy Sheriffs.
House Bill 1980 repeals the Pennsylvania Employment Agency Law.
House Bill 2169 re-authorizes the Special Elk Conservation License and auction. It also authorizes a second special license to be awarded via fundraiser in conjunction with the PA-based non-profit elk organization that manages and operates the Elk Country Visitor's Center in Benezette Township, Elk County.
House Bill 2242 amends the Medical Practice Act to provide licensure without examination for prosthetists, orthotists, pedorthists and orthotic fitters.
House Bill 2244 is the Highway-Railroad and Highway Bridge Capital Budget Supplemental Act for 2014-2015.
House Bill 2275 extends the wireless 911 surcharge sunset date to June 30, 2015. The bill was signed into law as Act 84 of 2014 by the Governor on June 30.

Charter school reform measure sent to the House
The Senate approved and sent to the House for consideration legislation that would institute substantial reforms to increase transparency and accountability for charter schools.
Senate Bill 1085 requires charter schools to comply with Pennsylvania's open meetings law, its open records law and its ethics act. Charter schools must provide more detailed reporting and disclosure, as well as undergo an annual independent audit. The bill also calls for the state Department of Education to develop realistic and reliable methods of evaluating how well charter schools meet student needs.
The measure also establishes a Charter School Funding Advisory Commission to study the financing of charter school entities in the public education system. The bill now goes to the House of Representatives for consideration.
Other bills sent to the House include:
House Bill 278 enacts the Fiscal Code component of the 2014-15 state budget. The bill was returned to the House for concurrence on Senate amendments.
Senate Bill 405 amends the Generic Equivalent Drug Law to provide for the substitution of an interchangeable biosimilar product for a brand name biologic.
Senate Bill 819  amends the Pharmacy Act to allow pharmacists to administer influenza immunizations to persons seven years of age and older.
Senate Bill 922 provides for all elected officers, when elected, reelected or retained to a new term on or after November 30, 2014 to be automatically enrolled in the new defined contribution pension plan. This includes members of the General Assembly, members of the Judiciary, the Governor, Lieutenant Governor, Attorney General, Auditor General and state Treasurer.
Senate Bill 1078 amends the County Pension Law to provide that if a cost-of-living adjustment is given to a retired county employee, it does not need to be calculated retroactively to the date of the previous cost-of-living adjustment and does not need to apply to the cost-of-living index for each year since the previous cost-of-living increase.
Senate Bill 1135 will require local housing authorities give preference to veterans and families of active duty military when leasing public housing.
Senate Bill 1155 establishes the Aggregate Advisory Board to advise the Secretary of the Department of Environmental Protection on surface mining.
Senate Bill 1188 makes substantial regulatory changes necessary to protect and bolster Pennsylvania's horse racing industry.
Senate Bill 1207 expands the list of permitted investments for local governments, school districts and municipal authorities to deal with the impact of low yields, the decreased availability of GSE debt securities and lower bank deposit rates.
Senate Bill 1266 amends the Emergency and Law Enforcement Personnel Death Benefits Act.
Senate Bill 1332 amends the state Game Code, to prohibit the use of unmanned aircraft to interfere or disturb an individual who is lawfully engaged in hunting.
Senate Bill 1334 amends the state Fish Code to prohibit the use of unmanned aircraft to interfere or disturb an individual who is lawfully engaged in fishing.
House Bill 1337 increases the surcharge dedicated to civil legal services provided by the Pennsylvania Legal Aid Network. The bill was returned to the House for concurrence on Senate amendments.
Senate Bill 1405 would make falsely claiming to be a veteran on a Pennsylvania driver's license application a summary offense subject to a $300 fine and possible imprisonment of between 30 and 90 days for those who fail to pay the fine.
Senate Bill 1409 amends the state Board of Vehicles Act to permit Tesla to sell its vehicles in Pennsylvania.
Senate Bill 1423 amends the law governing the Volunteer Companies Loan Fund to specify that loans for heavy rescue trucks may be up to $300,000. It also extends the loan payback period from 20 to 25 years, for any loan in excess of $100,000, except for those loans for establishing or modernizing facilities.
House Bill 2107 adds the offense of unlawful dissemination of intimate image to the Crimes Code. The bill was returned to the House for concurrence on Senate amendments.
House Bill 2111 requires the Department of Health to make information publications available on its publically accessible website for health care practitioners to provide to parents upon receiving a test result that is positive for Down syndrome. The bill was returned to the House for concurrence on Senate amendments.
House Bill 2355 provides for the Capital Budget and Project Itemization Act of 2014-2015. The bill was returned to the House for concurrence on Senate amendments.