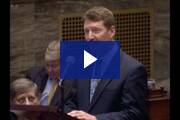 HARRISBURG, Oct. 22, 2013 – – Legislators from both parties in the House and Senate joined to extend condolences to the family of Bell Acres Police Chief Brian Brown, who passed away on September 7.
Senators Matt Smith (D-Allegheny/Washington) and Elder Vogel (R-Beaver/Lawrence/Allegheny) and Rep. Rob Matzie (D-Beaver/Allegheny) sponsored condolence resolutions to honor Chief Brown's memory. Both the Senate and House recognized the Brown family who traveled to Harrisburg for the occasion.
"One of the most common sentiments used to describe Chief Brown is that he was always there for others – from his family, colleagues and borough officials to members of the community and individuals in trouble with the law," Smith said on the Senate Floor. "We lost one of the true, local unsung heroes."
"Chief Brown was a dedicated officer of the community whose presence is sorely missed by all who had the pleasure of knowing him," Vogel added.
Brown spent 20 years with the Bell Acres Police Department, beginning as a part-time officer and working his way up to chief, a position he held since 2008. In addition to his position with the department, Brown was also a member of Good Samaritan Catholic Church, the Fraternal Order of Police, Masonic Lodge No. 669 and the Western Pennsylvania Chiefs of Police Association.
Matzie sponsored House Resolution 524, which passed unanimously. The resolution honors the life of Chief Brown and extends condolences to his family. A similar resolution was presented on the Senate floor.
Matzie said, "Brian Brown was the epitome of service, character and strength," Matzie said. "Bell Acres is a better place today because of him, and his legacy extends past his loving family to a community who stands with them in solidarity."
Both the House and Senate observed a moment of silence for Chief Brown.
EDITORS' NOTE: Videos of floor remarks can be accessed via the following links.
Sen. Smith: http://www.senatormattsmith.com/contusvideo?vid=36
Sen. Vogel: http://pasen.wistia.com/medias/e9kzkoi8oh
Rep. Matzie: https://www.youtube.com/watch?v=JSUdlbw5Qio&list=PLFCB4F49FABFC43BF
CONTACT:
Lauren Fraley
SEN. MATT SMITH
PHONE: 412-571-2169
MOBILE: 724-747-0692
lfraley@pasenate.com
Joe Weidner
SEN. ELDER VOGEL
Phone: 724-774-0444
jweidner@pasen.gov
Charlie Vaihinger
REP. ROBERT MATZIE
PHONE: 717-787-7895
CVaihinger@pahouse.net