Dear Friend,
I am pleased to present my electronic newsletter. These e-newsletters enable me to provide information about issues, events and activities in Harrisburg and around the 47th Senatorial District to you in a timely manner while saving postage costs.
If you find this e-newsletter useful, I invite you to visit my website www.senatoreldervogel.com for more information about your state government. If you do not wish to receive these e-newsletters, please click the "unsubscribe" button at the bottom of the page.
Sincerely,
Elder Vogel
---
---
Senate Approves Legislation to Combat Opioid Crisis
"Report: Rate of newborns with drug problems in PA up 250%"
"Heroin mixed with fentanyl leads to 26 overdoses within 1 week in Beaver County"
"[Lawrence County] heroin overdoses continue to mount"
Those are just three of the hundreds of headlines in the past year describing what is now a full-blown crisis: heroin and opioid addiction in Pennsylvania. There is not one community in the state that has not felt the impacts of this epidemic; whether it's crime associated with drugs, loved-ones dying, children being orphaned, and so much more.
Recently, I voted for and the Senate approved three measures to begin to address this crisis and curb the potential for addiction to painkillers.
Senate Bill 1367 limits the amount of opioids that children may be prescribed with reasonable exceptions. It also requires a medical professional to obtain written consent from a minor's parent or legal guardian to prescribe opioids.
Senate Bill 1368 implements the Safe Opioid Prescribing Curriculum in all of Pennsylvania's medical schools. This legislation will help ensure that doctors and medical professionals know the dangers of opioid over-prescription, know of alternative methods of painkilling, and more.
Senate Bill 1212 will provide funds for organizations that will provide opioid awareness education programs to be delivered in schools.
In the near future, I will be hosting a tele-town hall, open to the public, to discuss and share ideas about steps we can take together to further combat this scourge. See the above picture for more information.
Government cannot solve this crisis alone; it is going to take a collaborative effort of policymakers, law enforcement, healthcare providers, addiction specialists, education professionals, and most importantly, families warning their children about the dangers of opiates, knowing the signs of drug-abuse, and helping loved ones overcome this crippling addiction before it's too late. The legislation I voted for is just the beginning of state-level solutions to turn the tide against heroin and opioid addiction.
---
Senate Passes Budget Reform Legislation
I voted for and the Senate recently approved Senate Bill 1341, legislation which would significantly reform state budgeting and move the process closer to private sector practices.
The Performance Based Budgeting Act would streamline and justify discretionary and state government spending by requiring departments and agencies to justify their budget requests for all existing, as well as proposed programs, for each fiscal year. This is in contrast to the traditional method of government budgeting, which usually begins the process with a minimum spending floor matching each department's previous year appropriation.
This concept of "performance based budgeting" was the subject of a recent hearing of the Senate Majority Policy Committee. Click here to watch it.
---
---
Agent Orange Awareness Month
In the very near future, I intend to submit for Senate approval a resolution designating October as Agent Orange Awareness Month in Pennsylvania.
Agent Orange was the name of a chemical defoliant used by U.S. military forces during the Vietnam War which contained the chemical dioxin. Dioxin exposure was later revealed to cause serious health issues–including tumors, birth defects, rashes, psychological symptoms and cancer.
The VA now recognizes the harm caused by Agent Orange; veterans and their survivors are eligible for benefits and compensation if they are determined to suffer from any number of diseases associated with exposure. Click here for more information.
We lost too many good soldiers to Agent Orange exposure, many from our area. I'm introducing this resolution to make sure we never forget about what happened to them and their loved ones.
---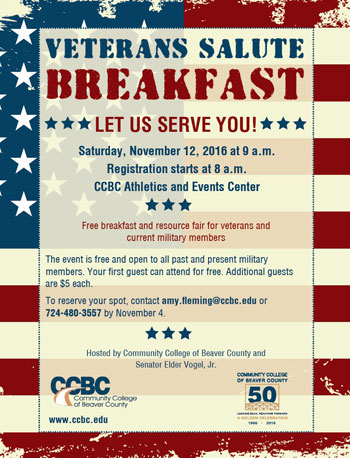 I'll be hosting my annual Veterans Salute Breakfast in conjunction with CCBC on November 12, 2016. See flier for more information.
---
Westminster College Receives Approval for $3 Million Grant
I'm very happy to announce that $3 million in state funding has been secured for a major expansion of Westminster College's Science and Technology programs.
The funding, provided through the Redevelopment Assistance Capital Program (RACP), will significantly support the college's expansion of science facilities.
The entire project— estimated to be a $15 to $25 million undertaking—is part of Westminster's commitment to refocusing its academic program on science, technology, engineering, and mathematics (STEM).
This is fantastic news for Westminster College, prospective students, and our entire area. STEM careers are essential to the economic future of Western Pennsylvania. This funding will help ensure that Westminster College remains a national leader in higher education, and I'm proud to have played a role in securing it.
RACP is a commonwealth grant program administered by the Office of the Budget for the acquisition and construction of regional economic, cultural, civic, recreational, and historical improvement projects.
---
---
Four Local Volunteer Fire Companies Receive State Grants
Four volunteer fire companies in Beaver and Lawrence counties were recently awarded state grants for training and equipment purchases directly related to fighting brush and forest fires.
Beaver County grant recipients are: Independence Volunteer Fire Co. No. 1, $1,000, and Industry Borough Volunteer Fire Department, $7,500.
Lawrence County grant recipients are: New Beaver Borough Volunteer Fire Department, $2,900, and Volant Volunteer Fire Company, $2,767.
The grants of up to $7,500 were offered under the program to volunteer fire companies serving rural areas and communities with fewer than 10,000 residents and where forest and brush fires are common.
Funds from the Volunteer Fire Assistance Grant Program, administered by the state Department of Conservation and Natural Resources, may be used for purchasing mobile or portable radios, installing dry hydrants, performing wildfire prevention and mitigation work, training wildfire fighters, or converting and maintaining federal excess vehicles to be used for fire suppression.
---
State Parole Agents Wanted!
The State Civil Service Commission has opened the testing period for individuals seeking to become state parole agents. Until November 30, the commission is offering the parole agent 1 civil service exam to all interested applicants. Individuals selected as a result of the examination process must pass an extensive ten-year background investigation. Click here for more information.
---
---
Tomorrow is the Last Day to Register to Vote!
If you plan on voting in the November election, you must be registered by October 11th! You can register to vote, as well as check your voter status and polling location at http://www.votespa.com/en-us.
---
Follow Me on Twitter!
I have a Twitter account to better connect with my constituents and provide daily updates on my voting record, whereabouts, state government, and local news affecting the 47 S.D. To access my Twitter page, click here.
Please contact me to provide input on any state-related matter, or to receive help in dealing with a state agency.