Dear Friend,
I am pleased to present my electronic newsletter. These e-newsletters enable me to provide information about issues, events and activities in Harrisburg and around the 47th Senatorial District to you in a timely manner while saving postage costs.
If you find this e-newsletter useful, I invite you to visit my website www.senatoreldervogel.com for more information about your state government. If you do not wish to receive these e-newsletters, please click the "unsubscribe" button at the bottom of the page.
Sincerely,
Elder Vogel
---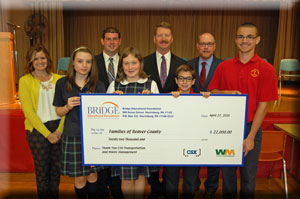 It was wonderful to be at the presentation of an EITC scholarship check made out to the Bridge Educational Foundation on behalf of CSX Transportation & Waste Management at Sts. Peter & Paul Catholic. The EITC Program offers tax credits for donating to organizations providing low- and middle-income families educational opportunities.
---
House Committee Approves Ridesharing Legislation
Last week, the House Consumer Affairs Committee approved legislation that I voted for and the Senate approved last October legalizing ridesharing networks, such as Uber and Lyft.
Introduced by Senator Camera Bartolotta (R-46), Senate Bill 984 would establish a permanent legal framework for these innovative services that allow common citizens to use their own vehicle to provide reliable transportation to willing customers through the use of a mobile app. These services are currently operating in Pennsylvania under a temporary two-year license from the Public Utility Commission.
I heartily support this legislation and hope that the House of Representatives will consider and pass Senate Bill 984 in the near future. Ridesharing services are a prominent example of the effectiveness of the free market identifying a need and providing a mutually beneficial solution. In addition, studies have already shown that the proliferation of ridesharing services has lowered the amount of drunk drivers on the roads.
---
IFO Releases Initial Outlook for FY 2016-17
Last week, the Independent Fiscal Office (IFO) released their Initial Revenue Outlook for Fiscal Year 2016-17. These forecasts are critical to the budget process because these statistics are largely used as a basis for the crafting of a balanced budget. Without delving into the details too much, I can report here that revenue collections are expected to modestly grow, due mostly to growth in personal incomes and sales tax receipts. It's important to note that these projections assume current tax rates. Click here to read the full report.
The IFO, created by an act of the Legislature in 2010, provides revenue projections for use in the state budget process along with impartial and timely analysis of fiscal, economic, and budgetary issues to assist residents and the General Assembly in their evaluation of public policy. I encourage all of my constituents to visit their website and learn more about the state of our Commonwealth's finances. Click here for more information.
---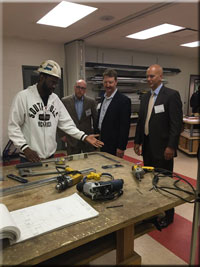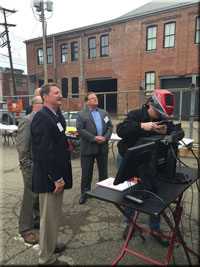 It was great to visit the Iron Workers Local Union #3 and the United Brotherhood of Carpenters Training Center in Pittsburgh w/ Rep. Marshall & Sen. Stefano
---
I'm pleased to report that 62 different fire and EMS companies in the 47th Senate District were recently awarded state grants.
Click here to view the Beaver County recipients.
Click here to view the Lawrence County recipients.
Click here to view the Butler County recipients.
The grants, from a program administered by the Pennsylvania Emergency Management Agency and the Office of the State Fire Commissioner, may be used for construction or renovation of a unit's station, the purchase or repair of equipment, training or debt reduction. Click here for more information and to apply for this grant opportunity.
---
Four Environmental Projects in 47th Senate District Awarded State Grants
Four different environmental projects in the 47th Senate District will receive Growing Greener grants from the Pennsylvania Department of Environmental Protection.
The Lawrence County Conservation District will receive $810,283 for the Slippery Rock Watershed Agricultural Restoration project. Stream Restoration Inc., will receive $99,785 towards the Raccoon Creek Bank & Buffer Project. The Allegheny County Conservation District will receive $54,395 for remediation of the Raccoon Creek Streambank. The Beaver County Conservation District will receive $25,667 towards the North Fork Little Beaver Stabilization/Habitat Project II.
These are great investments by the state in protecting the natural beauty of our streams and watersheds, as well as improving the quality of life for the residents of this area. Partnering with local organizations can make a real difference for our environment.
Growing Greener remains the largest single investment of state funds in Pennsylvania history to address critical environmental concerns throughout the Commonwealth. Click here for more information.
---
The All-American Soap Box Derby will take place on June 11, 2016 in Ambridge. For more information about this All-American classic, visit their website at www.wpsbd.org or call (724) 777-0568.
---
Beaver County Office on Aging Needs Your Input
The Beaver County Office on Aging is asking for all Beaver County residents to consider taking a few minutes to answer a survey to assist in the development of the County's four-year plan. Your responses will assist the Beaver County Office on Aging in planning for essential supports to help older adults remain in the living environment of their choice as long as possible. The survey is available on-line through May 20, 2016, at https://www.surveymonkey.com/r/727TRKG.
---
70 MPH Speed Limits
An additional 396 miles of the Pennsylvania Turnpike and 400 additional miles of certain PennDOT highways are being converted to a 70 mph speed limit. Combined with the 201 miles of Turnpike and PennDOT roadways already at 70 mph since July 2014, motorists will see the higher speed limit on 997 miles of roadway in the Commonwealth, including nearly 90 percent of the Turnpike. Click here for more information.
---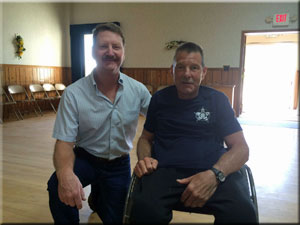 It was great to see so many folks at the spaghetti dinner benefit for Officer Tim Lentz of New Sewickley Twp.
---
2016 Great American Cleanup of PA
The 2016 Great American Cleanup of PA runs through May 31. You can participate by cleaning up litter and trash along roadsides, streams and neighborhoods. Community and civic associations, schools and youth groups, families and friends, business employees, hunting and fishing clubs, conservation organizations, sports teams, and others can organize an event. Click here to find a local event or register your own cleanup event.
---
Follow Me on Twitter!
I have a Twitter account to better connect with my constituents and provide daily updates on my voting record, whereabouts, state government, and local news affecting the 47 S.D. To access my Twitter page, click here.
Please contact me to provide input on any state-related matter, or to receive help in dealing with a state agency.