Dear Friend,
I am pleased to present my electronic newsletter. These e-newsletters enable me to provide information about issues, events and activities in Harrisburg and around the 47th Senatorial District to you in a timely manner while saving postage costs.
If you find this e-newsletter useful, I invite you to visit my website www.senatoreldervogel.com for more information about your state government. If you do not wish to receive these e-newsletters, please click the "unsubscribe" button at the bottom of the page.
Sincerely,
Elder Vogel
---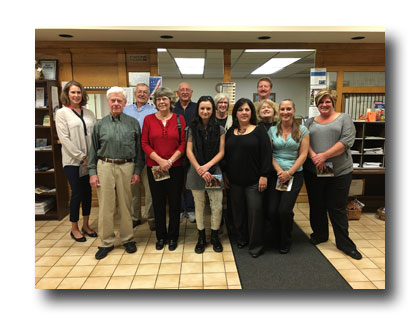 The winning photographers (L to R) Front: Mel Roush, Alicia Stankay, Marissa Kording, Robin Fishburn, Karin McIltrot, Taryn Campbell. Back: Cheryl Macon, Tim Heimel, Robert Sopka, Denise Guthery, Kimberely Smith. Missing from photo: Gloria S. Jarrett
---
Scenes from the 47th Senate District Photo Contest Winners Announced
The votes have been tallied and you've had your say. Hundreds of photographs showcasing the natural beauty of the 47th Senate District were submitted by neighbors eager to share their moments captured on camera. I would like to thank not only the winners who submitted photos, but all of you who took the time to enter our contest. All the photos submitted, captured the splendor of our 47th District, and I thank you.
The Scenes From the 47th Senatorial District Calendars will be available in my district offices, free of charge. No taxpayer dollars were used in the production of the calendar.
At this time, I'd like to share with you the twelve winning photographs:
---
The Beauty of Fall Overtakes an Old Chapel, New Castle – Karin McIltrot

West Pittsburgh Train Station – Marissa Kording

Covered Bridge in Winter, McConnells Mill State Park – Robin Fishburn

Baby Birds, New Sewickley Township – Cheryl Macon

Amish Duck Pond and Farm, Wilmington Township – Denise Guthery

Life is Good, Spring Lamb, New Castle – Gloria S. Jarrett

Summer Evening with Moon and Bridges, Rochester – Mel Roush

Butterfly on a Zinnia, Harmony Township – Alicia Stankay

Sunset, River Front Park, Rochester – Taryn Campbell

Morning Calm, Ohioville – Tim Heimel

Reflections of Fall, North Sewickley Township – Kimberly Smith

McConnells Mill State Park – Robert Sopko


Ready for an Adventure in the Snow, New Castle – Karin McIltrot
---
Follow Me on Twitter!
I have a Twitter account to better connect with my constituents and provide daily updates on my voting record, whereabouts, state government, and local news affecting the 47 S.D. To access my Twitter page, click here.
Please contact me to provide input on any state-related matter, or to receive help in dealing with a state agency.



Offices
Senate Box 203047
362 Main Capitol Building
Harrisburg, PA 17120-3047
Phone: (717) 787-3076
FAX: (717) 772-2756
District
Monday-Friday
8:30 - 4:30
Rochester
488 Adams Street
Rochester, PA 15074-1940
Phone: (724) 774-0444
FAX: (724) 773-7384
New Castle
1905 W. State Street
New Castle, PA 16101
Phone: (724) 654-1444
FAX: (724) 656-3182