Dear Friend,
I am pleased to present my electronic newsletter. These e-newsletters enable me to provide information about issues, events and activities in Harrisburg and around the 47th Senatorial District to you in a timely manner while saving postage costs.
If you find this e-newsletter useful, I invite you to visit my website www.senatoreldervogel.com for more information about your state government. If you do not wish to receive these e-newsletters, please click the "unsubscribe" button at the bottom of the page.
Sincerely,
Elder Vogel
---
---
Photo Contest Voting Now Open
Voting for the 47th Senate District Photo Contest is open until September 30! Please, only one vote per person per category!
Thank you and good luck to everyone who submitted photographs over the last few months.
http://www.senatoreldervogel.com/photo-contest/voting/
---
PA Preferred/Homegrown By Heroes Program
The Pennsylvania Department of Agriculture recently recognized farmer veterans and launched the department's partnership with the Homegrown by Heroes (HBH) initiative in conjunction with the PA Preferred label.
PA Preferred is the official state branding program used to identify locally-sourced agricultural products made and grown in Pennsylvania. Homegrown by Heroes (HBH) is the official farmer veteran branding program of America. The HBH logo serves to inform consumers that products donning the logo were produced by military veterans. The program is available to farmers, ranchers, fishermen, and value-added producers of all branches and eras of military service. Several state Departments of Agriculture have officially partnered with Homegrown by Heroes to promote the HBH label within their states. PA Preferred worked with HBH to combine the PA Preferred and HBH logos to give the state's farmer veterans the point of sale visibility needed to be successful in the marketplace. The label provides the consumer with a tangible way to support veterans and an avenue to share the veteran's story.
The program is available to farmers, ranchers, fishermen, and value-added producers of all branches and eras of military service. The following criteria must be met for veterans to participate in PA Preferred's Homegrown by Heroes program:
Must be a current PA Preferred member.
Must have veteran, active duty, National Guard, or Reserve membership of the United States Armed Forces status, without regard to age or era of duty.
Must provide a copy of your U.S. Department of Defense Form 214 or equivalent.
Must have characterization of service of Honorable Discharge or General Discharge (Under Honorable Conditions).
Active duty members must provide a letter of support from their commanding officer or designated representative, attesting to their service under honorable conditions.
Businesses or operations that are certified by the label must maintain 50 percent or greater veteran ownership and 50 percent or greater veteran management control.
Products certified under the label must contain 50 percent or more non-water ingredients produced by Homegrown by Heroes certified producers.
For more information about Homegrown by Heroes and how to support farmer veterans, go tohttp://www.farmvetco.org/homegrown-by-heroes/. To learn more about PA Preferred, go to http://www.papreferred.com/.
---
2015 Butler County Farm Tour
The Butler County Farm Tour is back for 2015, bigger and better than ever! A multitude of locations will be open for touring, each with special activities and fun educational opportunities planned. The county has been divided into four regions for easy navigation. This will be a great chance to learn where your food comes from and meet the friendly faces that work diligently to provide it! The tour is a two day, at-your-own-pace event on October 3 rd and 4th.
An information booth will be at each of the farms. At your first stop, you can pick up an event guide with map. The event is free, but many of the farms and stops will have goods for sale, or special activities with an extra cost.
For more information, click here or contact the Butler County Tourism and Convention Bureau at 724.234.4619.
---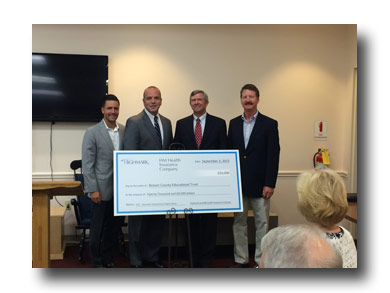 Highmark's recent EITC donation to the Beaver County Educational Trust will help to ensure that students throughout Beaver County have affordable opportunities to receive a first-rate education . Thank you, Highmark!
Click here for more information about EITC/OSTC.
---
Pennsylvania State Emergency Operations Plan
The Pennsylvania State Emergency Operations Plan is now posted online. The plan outlines procedures and organizational structures and assigns responsibilities to accomplish the mission of helping citizens during an emergency. Click here to view it in its entirety.
---
PA Voters Can Now Register Online
Recently, the Pennsylvania Department of State announced that beginning immediately, Pennsylvanians are now able to register online to vote.
The online registration application, hosted by the Department of State, is now available for use by eligible citizens at www.register.votesPA.com. The new site also allows currently registered voters to more easily make updates to their voter record, such as a change of name, address, or party affiliation.
Online voter registration is currently available in 22 states, with the measure approved but not yet implemented in another five states plus the District of Columbia. Click here for an FAQ.
---
Beaver County Scrap Tire Collection Planned
Independence Conservancy, a land conservation and environmental stewardship organization active in Beaver, Washington and Allegheny counties, will have tire collections this fall in cooperation with these municipalities:
- Sept. 26, 9 a.m. to noon, Brighton Township Public Works, 1250 Brighton Road, Brighton Township.
- Oct. 3, 9 a.m. to noon, Beaver Falls Street Department, 15th Street and 10th Avenue, Beaver Falls.
- Oct. 16 and 17, Hookstown Fair Grounds, 1198 Route 168, Hookstown. Collection hours Oct. 16 are 9 a.m. to 3 p.m.; hours on Oct. 17 are 9 a.m. to noon.
Individuals and small businesses are welcome to participate. No proof of residency is required, and there is no limit to the number of tires or wheels any one person may bring.
Disposal fees for auto and light-truck tires up to 18 inches off rim are $3 each, $5 if on rim. Tractor-trailer tires up to 22.5 inches are $20 each. Farm tractor rear tires up to 75 pounds are $20 each. Farm tractor rear tires 75 to 150 pounds are $40 each, and those over 150 pounds are $75 each. No rims are permitted on the tractor-trailer or farm tires.
For more information, contact the Independence Conservancy by email.
---
Open Records in PA Podcast
The Open Records in Pennsylvania podcast examines the Right-to-Know Law, the Sunshine Act, and
other issues related to government transparency. Click here to download it for iTunes. Click here to listen online.
---
Follow Me on Twitter!
I have a Twitter account to better connect with my constituents and provide daily updates on my voting record, whereabouts, state government, and local news affecting the 47 S.D. To access my Twitter page, click here.
Please contact me to provide input on any state-related matter, or to receive help in dealing with a state agency.