Dear Friend,
I am pleased to present my electronic newsletter. These e-newsletters enable me to provide information about issues, events and activities in Harrisburg and around the 47th Senatorial District to you in a timely manner while saving postage costs.
If you find this e-newsletter useful, I invite you to visit my website www.senatoreldervogel.com for more information about your state government. If you do not wish to receive these e-newsletters, please click the "unsubscribe" button at the bottom of the page.
Sincerely,
Elder Vogel
---
---
Jameson Health System Merger Should Be Approved Immediately
(The following is an op-ed that I authored and was published in the New Castle News)
In September of last year, I read Jameson Health System's announcement of their intention to merge into the UPMC Health System with some concern.
Like many of you, I had plenty of questions as to what this merger would mean for the health of our residents and for the employees that have made Jameson a healthcare leader. After talking to officials from Jameson and UPMC, it became abundantly clear that the proposed merger would be the best possible outcome for patients and employees in Lawrence County. Not only would Jameson remain open in order to continue to serve our residents, but Lawrence County would have even greater access to the world-renowned health services that UPMC provides.
Prior to announcing the merger, Jameson Health System had entertained merger proposals from two other competing healthcare providers but none matched the investment that UPMC was willing to make into expanding healthcare services, infrastructure improvements, and—of crucial importance to smaller hospitals—recruitment and retention of physicians.
In February, the respective governing boards of UPMC and Jameson had agreed to formally merge pending the approval of the Pennsylvania Attorney General. The announcement explained many of the benefits to patients and some of the expanded services that could be coming in the future.
Two months later, I was contacted by Jameson employees concerned that the delay being caused by the office of the Attorney General threatened the healthcare services that Jameson provides. The excitement of the formal announcement gave way to concern about the health and safety of our residents that rely on Jameson.
Almost immediately, the Lawrence County state delegation penned a letter to Attorney General Kathleen Kane expressing our concern with the approval process and the threat that further delay posed to our constituents. The Attorney General's office responded that they were still investigating and listed a series of concerns they were looking at—concerns that had been addressed months before. In the meantime, Jameson announced the closing of the inpatient part of its behavioral health department at the Jameson South Campus, as well as other changes necessitated by the continued delay.
Again, the delegation reached out to the Attorney General's office and requested a meeting in order to address concerns and establish a plan to resolve this issue as quickly as possible so that no other vital healthcare services were impacted. We stressed to them that further delay would endanger the health of our residents. A month later, Jameson announced the closing of their maternity unit, a move attributed to the inability to retain and attract physicians to a health system caught in bureaucratic limbo.
It is now August, nearly a year from the initial announcement and 6 months since the formal one. Every month that passes puts more strain on Jameson to keep their doors open.
I have heard several reasons and theories for why this action is delayed, but what matters is the health of the people served by Jameson Health System. This merger should be approved without delay before any more services are cut and more jobs are lost.
---
Scenes from the 47th Senatorial District Photo Contest Winding Down
The deadline to submit pictures for the 2016 "Scenes from the 47th Senatorial District" calendar contest is September 1. Voting will take place from September 2, 2015 to September 30, 2015. Winners will be announced in October.
Contestants can submit two photos per category of their favorite shots. The categories are: Spring, Summer, Fall and Winter. The contest is open to all individuals, both children and adults, but photos must have been taken within the boundaries of the 47th District.
Winning photos will be featured in the 2016 "Scenes from the 47th Senatorial District Calendar." The top three vote-getters in each category will serve as a featured month in the calendar. To submit your photos or for more information, visit www.senatoreldervogel.com/photo-contest/. No taxpayer money will be used for the publication of the calendar and the calendars will be available to residents free of charge.
---
Application Deadline for PennDOT Winter Jobs Program is Aug 21
If you're interested in working within the Pennsylvania Department of Transportation (PennDOT) Winter Maintenance Program, please click here
The program runs Sept. 1 through March 31. Positions include Transportation Equipment Operators, Diesel Mechanics, Radio Dispatchers, Clerk Typists, Welders, and Tradesman Helpers. People in these positions supplement the permanent workforce and have the potential to lead to permanent full-time employment.
Positions pay between $12.25 and $18.66 hourly. The application deadline is Aug. 21. All interested candidates should apply through www.employment.pa.gov under the PennDOT Winter Maintenance Program category. Applicable skills and requirements, such as CDL qualifications, will be tested for during the interview process.
---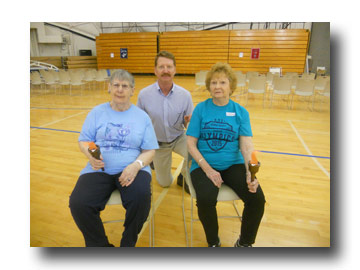 Recently, I had the chance to attend the 2015 Beaver County Senior Olympics at CCBC. Thank you to all 225 participants!
---
Free Building Energy Management Training for Municipalities & K-12 Schools
The Pennsylvania Department of Environmental Protection (DEP), using recently-received funding from the US Dept. of Energy, is providing free building energy management training to a limited number of municipal building & facilities managers in Pennsylvania. Any municipality or K-12 school interested in reducing their building energy costs from 5% - 20% is encouraged to apply. For more information, call or email Heidi Kunka at DEP, 717.783.9989 or hkunka@pa.gov.

---
Persian Gulf Vets Bonus Deadline August 31
Veterans who served on active duty in the Persian Gulf Theater of Operations from Aug. 2, 1990 to Aug. 31, 1991 are eligible for a one-time monetary bonus. Active-duty members can receive up to $525, and an additional $5,000 is available for surviving family of personnel who died through illness or injury received in the line of duty or those who were declared prisoners of war. The deadline to apply for the one-time payment is Aug. 31, 2015. For more information and to apply, click here.
---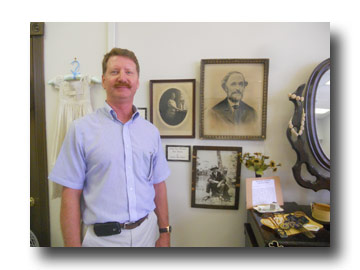 I had a chance to stop by the Rochester Area Heritage Society Museum (located inside the borough building) and see some great history. Here I am with a picture of General Abner Lacock, the first state rep. from Beaver County to serve in the legislature.
---
PA Farm Market Guide
The PA Farm Market Guide provides a list by county of markets, along with location, contact information, hours of operation, and available products to help you begin selecting only the best for your family. Click here to check out the PA Farm Market Guide.
---
Follow Me on Twitter!
I have a Twitter account to better connect with my constituents and provide daily updates on my voting record, whereabouts, state government, and local news affecting the 47 S.D. To access my Twitter page, click here.
Please contact me to provide input on any state-related matter, or to receive help in dealing with a state agency.