Dear Friend,
I am pleased to present my electronic newsletter. These e-newsletters enable me to provide information about issues, events and activities in Harrisburg and around the 47th Senatorial District to you in a timely manner while saving postage costs.
If you find this e-newsletter useful, I invite you to visit my website www.senatoreldervogel.com for more information about your state government. If you do not wish to receive these e-newsletters, please click the "unsubscribe" button at the bottom of the page.
Sincerely,
Elder Vogel
---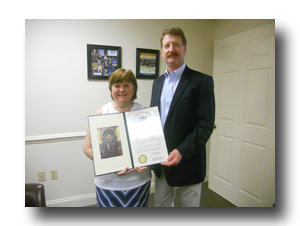 Luann Glover, 1st grade teacher at New Brighton Elementary, was recently named "Teacher of the Year" by the Jumet Charitable Foundation. Congratulations!
---
Budget Update
I'd like to take a moment to set the record straight regarding the ongoing budget negotiations between the Governor and the Legislature.
I voted for and the Legislature passed a balanced budget that increased basic education funding by $100 million, early education by $30 million, and special education by $20 million without asking for one additional cent from Pennsylvania taxpayers. Governor Wolf then took the almost unprecedented step of vetoing the entire budget and now demands that every working Pennsylvanian pay 21% more in income taxes and 10% more in sales taxes. I believe that every additional dollar taken from the pockets of taxpayers and sent to Harrisburg is one less dollar you have to spend at the store, one less dollar you have to save for a down payment on a home or vehicle, and one less dollar you have to put towards your child's college tuition.
The budget the Legislature approved funded 174 line items at identical levels as the Governor's proposal, and 100 line items were above what he requested. The Legislature and Governor Wolf agreed on roughly 68% of the entire budget. In the past, it has been common for a governor to line-item veto parts of the budget that they disagree with. Governor Wolf did not have to veto the entire budget, but he chose to.
Governor Wolf's miscalculation now threatens funding for students, low-income working families, victims of domestic abuse, veterans, and others who rely on state services. Working to address this crisis should be foremost in the minds of legislators and the governor so we can ensure innocent parties do not suffer the consequences of ongoing political disagreements in Harrisburg.
Voters last fall elected a divided government to Harrisburg, but I don't believe voters elected for a dysfunctional government. We were elected to work together and deliver efficient, commonsense governance. That cannot happen if the governor continues to insist, without compromise, on the entirety of a plan that has been unanimously rejected by every Republican and Democrat in the House of Representatives.
In the past few weeks, I have heard from many of you with a loud and clear message: We cannot afford broad-based tax increases, do not give in to Governor Wolf's demands for more money from taxpayer pockets, and stand strong. I intend to heed that message. The majority of spending in the budget is already agreed upon between the Governor and Legislature, but it is the Governor's insistence on a budget with significantly higher taxes that is preventing our two sides from coming together and compromising on a budget. I am hopeful we can move forward toward an agreement to ensure schools, social service agencies, and others do not suffer the consequences of the deep philosophical differences that exist on each side of this debate.
---
Copayment Protection Measure Sent to Governor
A bill that I voted for protecting consumers against paying multiple copayments for physical therapy, chiropractic, and occupational therapy services was approved by the Senate and sent to the governor's desk to be signed into law.
Senate Bill 487 prohibits health insurance policies from charging a consumer more than one copayment amount per visit. The bill would also prevent policies from depleting more than one visit for services provided on a given date, an important protection for policyholders with strict limits on provider visits.
The bill requires the Pennsylvania Department to develop regulations relating to multiple copayments. Companies that violate the law would face penalties prescribed in the Unfair Insurance Practices Act.
---
Senate and House Panels Hold Joint Hearing on Highway Worker, Driver, & Pedestrian Safety
Last week, the Senate and House Transportation Committees held a hearing focused on ensuring the safety of motorists, pedestrians, and highway workers. The committees heard from an array of experts on a variety of legislation pending action in the Legislature. To watch the entire hearing, click here.
---
Jameson Health System Awarded Statewide Honor
Jameson Health System recently received the 2015 Champion of Older Workers Award presented by the Pennsylvania Department of Aging. The Pennsylvania Department of Aging presents this award to recognize employers in the state who employ and value older workers.
Jameson Health System, Lawrence County's largest employer, employs over 1,300 employees with 31 percent of health system workers representing those 55 years of age and older. Jameson is also recognized for providing ongoing training. Congratulations Jameson Health System and thank you for your commitment to Lawrence County.
---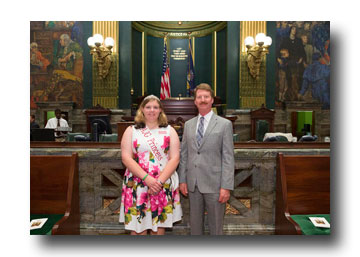 I had the privilege of welcoming '14-15 State Jr. Grange Princess, Anna Benzio, to the Capitol recently.
---
Upcoming Entrepreneurship Informational Session
Do you have an idea for a small business? Job Training for Beaver County, Inc. invites you to come learn how the Entrepreneurship Education Program can help to develop your ideas. The session will be on Wednesday, July 22 from 2 p.m. to 3 p.m. at Job Training for Beaver County, Inc. within the Beaver Valley Mall. For more information, please call 724.728.2020.

---
Calling All Photographers!
I've received many wonderful submissions for the 47th Senatorial District Photo Contest so far, but the contest is far from over! Contestants can submit two photos per category of their favorite shots. The categories are: spring, summer, fall, and winter. The contest is open to all individuals, both children and adults, but photos must have been taken within the boundaries of the 47th District. The work of the winners will be featured in a 2016 "Scenes from the 47th Senatorial District" calendar. More information and the entry form are available at http://www.senatoreldervogel.com/photo-contest/.
---
International Year of Soils
Pennsylvania's many agriculture and natural resource industries depend on an understanding of soil diversity and soil fertility requirements in order to produce commodities for our communities. In addition to producing commodities, soil filters water, acts as a rooting support for plants that provide the oxygen we breathe and the fibers for our materials, contains anti-producing bacteria, and acts as a structural support for our infrastructure. Last week, I introduced Senate Resolution 169 to bring attention to this often-overlooked resource. To watch my remarks on the Senate Floor on this resolution, click here.
---
Follow Me on Twitter!!
I have a Twitter account to better connect with my constituents and provide daily updates on my voting record, whereabouts, state government, and local news affecting the 47 S.D. To access my Twitter page, click here.
Please contact me to provide input on any state-related matter, or to receive help in dealing with a state agency.



Offices
Senate Box 203047
362 Main Capitol Building
Harrisburg, PA 17120-3047
Phone: (717) 787-3076
FAX: (717) 772-2756
District
Monday-Friday
8:30 - 4:30
Rochester
488 Adams Street
Rochester, PA 15074-1940
Phone: (724) 774-0444
FAX: (724) 773-7384
New Castle
1905 W. State Street
New Castle, PA 16101
Phone: (724) 654-1444
FAX: (724) 656-3182