Dear Friend,
I am pleased to present my electronic newsletter. These e-newsletters enable me to provide information about issues, events and activities in Harrisburg and around the 47th Senatorial District to you in a timely manner while saving postage costs.
If you find this e-newsletter useful, I invite you to visit my website www.senatoreldervogel.com for more information about your state government. If you do not wish to receive these e-newsletters, please click the "unsubscribe" button at the bottom of the page.
Sincerely,
Elder Vogel
---
It's been a busy time in Harrisburg, but I was glad I got the chance to come home and see everyone at my Kids' Extravaganza. Thank you to everyone that attended. I look forward to seeing you next year!
---
Legislature Approves Fiscally Responsible State Budget
I voted for and the Senate approved a Fiscal Year 2015-16 budget plan last week that provides increased state support for education and other key services and programs without adding to the tax burden of Pennsylvania families.
House Bill 1192 is a balanced budget that includes no new taxes or tax increases and $370 million in new money for education. It also includes fundamental changes to the state's pension and liquor systems.
The budget contains:
$30.1 billion in total state spending.
$100 million in new state dollars for basic education that is combined with reforms to the basic education funding formula and improvements in accountability.
$20 million for special education.
$30 million for early education, including Pre-K Counts and Head Start.
$300 million in savings for the state and school districts to pay for capital improvements.
$50 million across the board for higher education.
$2.8 million to address avian flu.
Expanding community-based services for seniors to help keep them in their homes and communities.
Structural reform to the pension system, which is the primary cost driver for the state and school districts.
$200 million in additional revenues through liquor reforms.
I am extremely disappointed with the Governor's veto of House Bill 1192. We passed a good budget that does what Pennsylvanians have asked us to do. The budget package gets state government out of the liquor business, increases funding for education, and does so without raising taxes.
It's ironic that the Governor claims we haven't supported education. That is simply not true. The budget approved by the House and Senate includes a $100 million increase for K-12 basic education, $25 million for Pre-K Counts, $20 million for special education, $5 million for Head Start, and $1 million for our libraries.
While Governor Wolf's budget proposed to provide one school district, namely Philadelphia, with a whopping $150 million increase in funding, the Senate and House allocated out all new monies to schools through the new formula that was approved unanimously by the bipartisan Basic Education Funding Commission.
Yesterday, Senate and House leaders met with the Governor to negotiate a compromise on the budget. I believe that Pennsylvanians expect their state government to live within its means without raising their taxes, but it is apparent that the Governor disagrees with that. Yesterday, a letter was penned to the Governor outlining the Legislature's position in this budget negotiation; click here to read that letter.
---
Senate Approves Vogel Bill to Increase Support for Housing Program
I am pleased to report that the Senate recently approved legislation I introduced that would increase state support for a program that promotes housing affordability and rehabilitation in communities across the Commonwealth.
Senate Bill 566 would dedicate a portion of funds raised from the state's Realty Transfer Tax (RTT) for use by the Pennsylvania Housing Affordability and Rehabilitation Enhancement Fund (PHARE) for projects across the state. The legislation does not increase the RTT rate, but solely changes how the revenues under the existing rate are used. Click here for video of my remarks from the floor of the Senate regarding Senate Bill 566.
Currently, PHARE's only revenue is from Act 13 impact fees and those monies may only be spent in Marcellus Shale counties. Revenues generated through impact fees provide resources for home repairs, new construction, rental assistance, home rehabilitation, and demolition.
The economic case for strengthening PHARE – which has already proven its power to help alleviate blight, reduce homelessness, create jobs and drive economic activity – is compelling. But the broader good that we have the opportunity to offer vulnerable residents, families and communities, is even more profound.
Across Pennsylvania, we see blighted and abandoned properties overwhelming the housing market. PHARE funds can be used to remediate blight as well as develop homes within reach of low wage workers and people on fixed income.
According to the Federal Reserve Bank of Philadelphia, there is a statewide shortage of 266,000 rental homes that are both affordable and available to households earning about $20,000 or less. The National Alliance to End Homelessness reports that 270,000 Pennsylvanians are homeless, including those living doubled up with friends or family.
The bill now goes to the House of Representatives for consideration.
---
Bill Introduced to Legalize Sale of Consumer Fireworks in PA
In the near future, I—along with colleagues Sens. Gene Yaw (R-Lycoming) & Don White (R-Indiana)—will be introducing legislation legalizing the sale of fireworks in Pennsylvania.
The legislation would lift the ban on the sale of "consumer" fireworks, known as "Class C" fireworks, and allow businesses legally operating in the state to sell consumer fireworks, such as bottle rockets, roman candles and mortars, to Pennsylvania residents without the need for a permit. Currently, only the sale of novelty fireworks is legal to Pennsylvania residents. This bill would permit Pennsylvanians to purchase and use Class C fireworks under parameters set forth in the legislation.
The legislation would generate additional revenue for the Commonwealth. In addition to the state's current six-percent sales tax, the legislation would also authorize an additional excise tax on the sale, which is to be directed to Fire and EMS personnel.
I believe that it's common sense to give Pennsylvanians the same convenience that residents of other states have and at the same time help to provide funds for our first responders. I'm looking forward to getting this prohibition off the books in Pennsylvania.
---
Bill Offering Greater Access to Oral Chemotherapy Drugs Sent to House
I voted for and the Senate approved legislation last week that would allow cancer patients to select their best treatment option, including oral chemotherapy.
Senate Bill 536 would require health insurers to provide coverage for orally administered chemotherapy on a basis that is at least as favorable as an insured's co-pay, coinsurance or deductibles as they are for intravenous or injected chemotherapy treatment.
Because oral chemotherapy is typically covered as part of the prescription drug benefit, patients who choose this option in consultation with their doctor often experience significantly different out-of-pocket costs based on how their treatment is administered.
Senate Bill 536 now goes to the House for its consideration.
---
Volunteer First Responders Tax Credit Bill Adopted By Senate
I voted for and the Senate unanimously passed a piece of legislation in response to the growing shortage of volunteer first responders. Senate Bill 299 gives municipalities the authority to reduce or waive their local earned income tax for volunteer firefighters and volunteers at nonprofit emergency medical service agencies.
The decrease is attributed largely to families' growing need for multiple incomes reducing time available to volunteer, the demands of incessant fundraising and the stagnant economy.
Under the legislation, municipalities would have the authority to set the amount of the tax credit and the guidelines of the program, including specifying the number of calls to which a volunteer must answer and the level of training they must have.
For more information on this legislation, click here.
---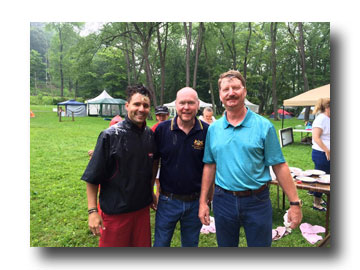 I had a great time for a great cause with Reps. Christiana & Marshall at the Beaver County Relay for Life at Bradys Run Park.
---
Basic Education Funding Commission Presents Final Report
The Basic Education Funding Commission recently issued its final report recommending that the General Assembly adopt a new formula for distributing state funding for basic education to Pennsylvania's 500 school districts.
The Commission undertook a comprehensive study of multiple factors before arriving at a consensus on a new formula that will benefit school districts, parents and children.
The 15-member group, created through Act 51 of 2014, held 15 hearings over 11 months and heard from a wide range of experts and advocates in the education field, as well as parents, from urban, suburban and rural school districts throughout the state.
Click here to read the final report.
---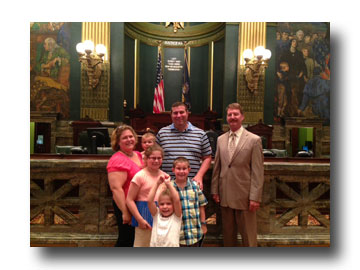 It was my pleasure to welcome the Miller family of Volant to the Capitol. If you're planning on visiting Harrisburg while the Senate is in session, let me know!
---
Claim What's Yours
The Pennsylvania Treasury is currently seeking the owners of $2.3 billion (total) in unclaimed property. It's estimated that one in ten residents have unclaimed property waiting for them. Checking for yours is as easy as typing in your last name. To begin your search, click here.
---
Follow Me on Twitter!!
I have a Twitter account to better connect with my constituents and provide daily updates on my voting record, whereabouts, state government, and local news affecting the 47 S.D. To access my Twitter page, click here.
Please contact me to provide input on any state-related matter, or to receive help in dealing with a state agency.