Dear Friend,
I am pleased to present my electronic newsletter. These e-newsletters enable me to provide information about issues, events and activities in Harrisburg and around the 47th Senatorial District to you in a timely manner while saving postage costs.
If you find this e-newsletter useful, I invite you to visit my website www.senatoreldervogel.com for more information about your state government. If you do not wish to receive these e-newsletters, please click the ďunsubscribeĒ button at the bottom of the page.
Sincerely,
Elder Vogel
---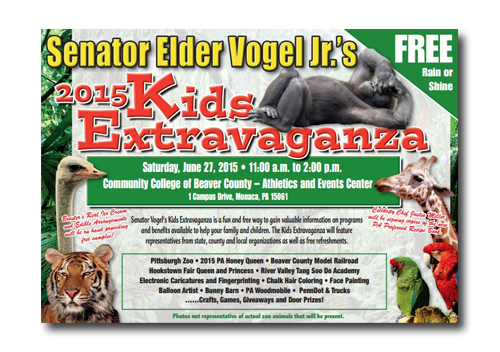 Iíll be holding my annual Kidís Extravaganza this Saturday, June 27 from 11 a.m. to 2 p.m. at the CCBC Dome. There will be tons of fun for kids, including face painting, raffle prizes including 2 kids Huffy bikes, Iceburgh from the Pittsburgh Penguins, and beneficial programs and information for parents and guardians.
---
Nearly $4.6 million in Marcellus Shale revenue coming to 47th District
A total of $4,587,903 in Marcellus Shale impact fee revenue will be distributed to counties and municipalities in the 47th Senatorial District.
Counties and municipalities in the 47th District will receive the following distribution:
Beaver County and municipalities in the 47th District ó $830,249 ($886,379 total)
Butler County and municipalities in the 47th District ó $2,675,468 ($5,658,821 total)
Lawrence County ó $1,082,186
Under the Marcellus Shale Impact Fee legislation, Act 13 of 2012, the Public Utility Commission collects and distribution of impact fees. The PUC is required to distribute the collected impact fee revenue for 2014 to counties and municipalities. More information regarding the Act 13 revenue collections can be found on the new PUC interactive website.
Act 13 imposed a reasonable fee on drillers and uses those revenues for environmental protection efforts and to assist local and county governments most directly impacted by the drilling operations. This is a boost for the counties in the 47th District and probably even more so for the local municipalities. This industry is providing jobs and economic opportunities that are also important to our regional economy.
Background on Act 13 Revenue Distribution
The impact fee legislation requires that approximately $25.5 million of the annual revenue go to state agencies to offset the statewide impact of drilling. These agencies include the State Conservation Commission, County Conservation Districts, PA Fish & Boat Commission, PA Emergency Management Agency, Office of State Fire Commissioners, PA Department of Transportation, Natural Gas Energy Development, Housing Affordability & Rehab Enforcement Fund, PUC and DEP.
The residual revenue will be distributed with 60 percent of the remaining funds being sent to counties and municipalities where drilling takes place. Counties and municipalities may utilize the funds in several ways, including for roadways, public safety, environmental programs, agriculture preservation and career and technical job training.
The remaining 40 percent is placed into the Marcellus Legacy Fund which serves as funding for statewide initiatives with local impacts. The Marcellus Legacy Fund includes the Commonwealth Financing Authority, Environmental Stewardship Fund, Highway Bridge Improvement Fund, PENNVEST and H2O Program and the Department of Community & Economic Development.
Click here to see a municipality by municipality breakdown of impact fee distribution.
---
Child Abuse & Criminal Background Check Fees Waived for Volunteers
Iím pleased to announce that fees for child abuse clearances and criminal background checks required by the recently enacted Child Protective Services Law will be waived for all volunteers working with children. The fees for all other applicants have been reduced from $10 to $8 for both the child abuse and criminal record checks.
In the past few months, I have heard from a variety of volunteer organizations and their volunteers upset with the notion of having to pay fees in order to volunteer their own time. Iím very happy that the General Assembly and Governorís Office were able to work together to eliminate these onerous fees for volunteers working with children. For more information about the Child Protective Services Law, click here. Individuals seeking clearances can go directly to www.compass.state.pa.us/cwis to create an individual account and apply for their child abuse clearance electronically.
---
Bill Addressing Fraudulent Doctors Sent to Governor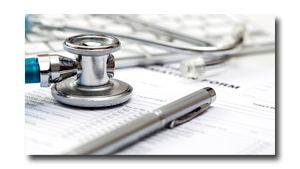 A bill addressing individuals who fraudulently pose as doctors is headed to the Governorís desk for his signature and enactment into law.
Senate Bill 485, which was approved by the House of Representatives on Tuesday, increases the criminal grading for impersonating a doctor of medicine and providing medical treatment, from a second degree misdemeanor to a first degree misdemeanor.
The legislation is based on a recommendation made by the Philadelphia Grand Jury which investigated and ultimately indicted Dr. Kermit Gosnell and other employees at his "House of Horrors" abortion clinic. Although Gosnell was ultimately sentenced to life in prison for murder, several of his employees, who were practicing medicine without a proper license, received lenient sentences for their crimes. Currently, impersonating a physician is treated the same as impersonating a notary public or other licensed professional under Pennsylvania law.
---
Save a Life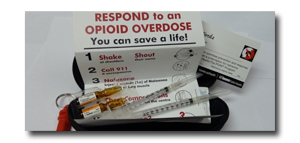 Substance use disorder effects one in four families in Pennsylvania. Seven people die every day due to drug overdose fatalities. Pennsylvania is in the midst of one of the worst drug-related health crisisí in history.
Nearly 80 percent of those addicted to heroin, started with prescription opioid pain medications. Make no mistake; this is happening to our children, mothers, fathers, brothers, sisters and grandparents. It is a common misperception to assume that only addicted individuals overdose from drugs. Teens who have experimented, senior citizens whoíve unknowingly mistook their medications, and individuals with pre-existing medical conditions have a possibility of becoming addicted to the opioids or even worse, accidentally overdosing.
To prevent a tragic fatal overdose, a medication called naloxone can be administered to reverse an overdose that is caused by an opioid drug (i.e. prescription pain medication or heroin). When naloxone is administered during an overdose, it blocks the effects of opioids in the brain and restores breathing within two to eight minutes. Naloxone is safe and non-addicting.
In 2014, the Pennsylvania General Assembly passed Davidís Law, ACT 139, which allows friends and family to obtain naloxone and administer it to someone who is overdosing.
This life-saving antidote could save the life of a loved one who is addicted to prescription opioids or heroin. If you would like to carry naloxone, you can do so by obtaining a prescription from your doctor. The departmentís website offers a toolkit for individuals interested in carry naloxone. These resources include how to talk to your doctor, training on how to administer and other helpful information, please click here: NALOXONE - David's Law
The department has also reached out to pharmacies across the state to find out who was carrying naloxone, this list can be accessed here: Find Naloxone.
---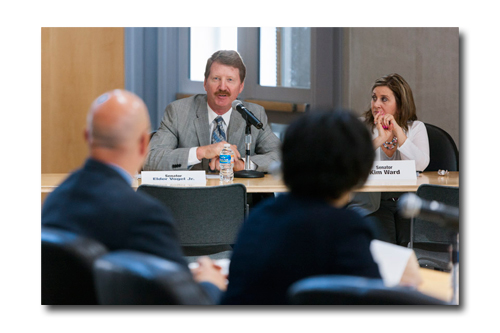 Recently, I participated in the joint Environmental Resources & Energy/Transportation Committee hearing on the safe transportation of crude oil in PA.
Click here to watch the hearing.
---
Pennsylvania State Police Seeking Cadet Applicants
Applications are now being accepted for those interested in joining the ranks of the Pennsylvania State Police. Applications will be accepted online until June 30 for the written examination, which is the first step in the process.
More information on careers with the State Police, eligibility requirements and applications for the written examination can be found and submitted online at www.patrooper.com.
Following the written examination, successful candidates will move on to the oral examination phase. A candidate's final overall score is based on both the written and oral examinations. Those passing the oral and written exam portions must then successfully complete a physical fitness test, polygraph test, background investigation and medical and psychological evaluations before appointment as a cadet.
Cadets must complete an intense 27-week training course at the State Police Academy in Hershey before they become troopers. The starting salary for new troopers will be $57,251 as of July 1.
---
Congratulations PIAA Champs Neshannock High School!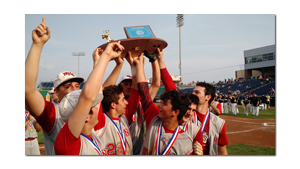 On June 12, the Neshannock High School Baseball team (20-5) defeated Neumann-Goretti High School in a three-hit shutout by a score of 9-0 at Lubrano Park in State College to win the PIAA Double-A state title. The win capped off a tremendous season for the Lancers who already won the WPIAL Double-A championship this past spring. Congratulations!
---
---
PennDOT Accepting Applications for Transportation Safety Grants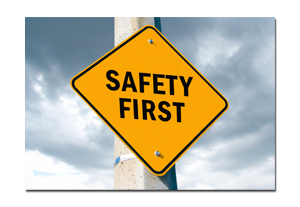 The Pennsylvania Department of Transportation is accepting applications for grant funding through the Automated Red Light Enforcement (ARLE) Funding Program from June 1 to 30, 2015.

The program provides transportation enhancement grants to local, regional, and state agencies for projects that improve highway safety and mobility. Click here for more information. For a list of eligible projects, click here.
---
Donít Let a Tick Make You Sick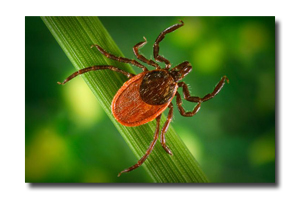 Pennsylvania saw a 25 percent increase statewide in reported Lyme disease cases in 2014 over the previous year. Lyme disease is an illness transmitted through the bite of an infected blacklegged tick (also known as a deer tick). Symptoms include fever, fatigue, headache, muscle aches and joint pain. A common early symptom is a red rash that looks like a bulls-eye. Click here for more information.
---
Follow Me on Twitter!!
I have a Twitter account to better connect with my constituents and provide daily updates on my voting record, whereabouts, state government, and local news affecting the 47 S.D. To access my Twitter page, click here.
Please contact me to provide input on any state-related matter, or to receive help in dealing with a state agency.



Offices
Senate Box 203047
362 Main Capitol Building
Harrisburg, PA 17120-3047
Phone: (717) 787-3076
FAX: (717) 772-2756
District
Monday-Friday
8:30 - 4:30
Rochester
488 Adams Street
Rochester, PA 15074-1940
Phone: (724) 774-0444
FAX: (724) 773-7384
New Castle
1905 W. State Street
New Castle, PA 16101
Phone: (724) 654-1444
FAX: (724) 656-3182