Last week, I voted for and the Senate approved a number of bills designed to prevent animal cruelty in Pennsylvania.
Government Reform Measures Introduced
I'm cosponsoring a number of bills that were recently introduced intended to streamline government operations and reduce unnecessary spending.
Senate Bill 865 prohibits any elected member of the legislature from being issued a state car and any cabinet secretary who does not need a vehicle for emergency response purposes. In my entire time with the Senate, I've refused the option to use a state-owned vehicle for travel and opted to use my own personal vehicle; I strongly believe no elected official should have the option to drive taxpayer-funded vehicles for travel.
I'm also cosponsoring Senate Bill 864, legislation requiring GPS units to be placed in state-owned vehicles. For years the private sector has been putting GPS units in vehicles to achieve efficiencies, and monitor vehicles for abuse by the driver. It's time our state government did the same.
---
Committee Approves Caps on Punitive Damages Against Care Facilities
The Senate Banking and Insurance Committee approved legislation on Tuesday that would place caps on punitive damages against personal care facilities.
The caps were amended into Senate Bill 747, a bill I introduced that would require the state insurance Commissioner to investigate the awarding of punitive damages in cases brought within the health care industry over the past 10 years.
The amendment caps punitive damages in cases against personal care homes, assisted living communities, long-term care nursing facilities and their employees and officials at 200 percent of the compensatory damages awarded in a lawsuit. This provision would be consistent with the cap currently placed on punitive damages awarded against physicians.
The amendment was sparked by the actions of a Florida-based law firm that placed ads in newspapers listing Pennsylvania care facilities that had been cited for "violations." The Pennsylvania Health Care Association has tracked 33 full-page advertisements attacking over 40 nursing facilities just since the beginning of 2015. Resulting lawsuits from these ads drained more than $91 million from the state in 2013.
Senate Bill 747 now goes to the full Senate for consideration.
---
Senate Committees Discuss Natural gas Severance Tax Proposals
Legislation imposing a severance tax on natural gas extracted in Pennsylvania was the topic of conversation during a recent joint Senate public hearing in Harrisburg.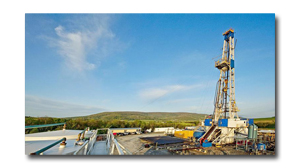 In February, Governor Tom Wolf outlined his budget platform that requires enactment of a five percent severance tax, in addition to 4.7 cents per thousand cubic feet of gas extracted.

The joint Senate panel heard testimony from state officials, representatives from the oil and gas, business and industry, as well as outside think tank organizations.
To read testimony, listen to, or watch video of the entire hearing, click here.
---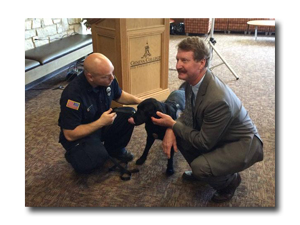 Last week, I attended the graduation of the newest arson detective team in PA, David Seidl of Beaver Falls F.D. & K-9 Patty
---
PUC Offers Suggestions to Beat the Heat While Saving Energy
With the arrival of summer's heat and humidity, the Pennsylvania Public Utility Commission (PUC) offers a number of tips about how to conserve energy while staying cool.
If you have window air conditioning units, close off rooms not in use.

Make sure all air conditioner filters are clean and in good shape.

Turn off non-essential appliances and as many lights as possible.

Postpone using appliances that produce heat such as clothes dryers, dishwashers and stoves until after 7 p.m. These appliances also use significant amounts of electricity adding to the demand on an electric infrastructure that is already stressed during peak hours due to heat.

Keep drapes closed and shades drawn. The amount of energy required to cool your home will be considerably less.

Use ceiling fans to circulate the air, keeping rooms and you cooler.

Replace filters monthly for maximum benefit and check air and return vents on a regular basis to keep circulation air paths clear.

Relax in rooms that do not receive direct sunlight.
Consumers can find more tips in the Summer Heat Wave fact sheet on the PUC website, www.puc.pa.gov. Consumers also can follow the Commission on Twitter (@PA_PUC) for tips on how to reduce energy bills despite rising temperatures.
---
Property Tax/Rent Rebate Program Application Deadline Extended
The Property Tax/Rent Rebate program deadline for older adults and residents with disabilities to apply for rebates of rent and property taxes paid in 2014 has been extended from June 30 to Dec. 31, 2015.
Each year the department evaluates the program as the statutory June 30 application deadline approaches to determine if funds are available to extend the deadline. To date, funding has been available to allow all who qualify to take advantage of this tax relief.
As of May 22, the Revenue Department had received 449,224 rebate applications. As specified by law, rebate distribution will begin on July 1. After June 30, rebates will be distributed as claims are received and processed.
Applicants may obtain Property Tax/Rent Rebate claim forms (PA-1000) and related information at my district offices, online at www.revenue.pa.gov, or by calling, toll-free, 1-888-222-9190.
It costs nothing to apply for a rebate and application assistance is provided at all of my district offices.
To check the status of your rebate once you've applied, click here or call, toll-free, 1-888-PATAXES.
---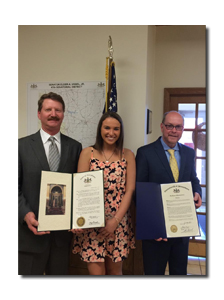 Representative Marshall and I presented citations to Tara McFadden of New Brighton High School for being a finalist for the U.S. Army/Pro Football Hall of Fame Award. The winner will be announced on August 8 in Canton, OH.
June is Alzheimer's and Brain Awareness Month, bringing attention to the sixth-leading cause of death in the United States. Today, nearly one in three seniors dies with Alzheimer's or another dementia. Nearly two thirds of Americans with Alzheimer's disease are women. The PA Department of Aging has information on support for family caregivers and more, click here for more information.
I have a Twitter account to better connect with my constituents and provide daily updates on my voting record, whereabouts, state government, and local news affecting the 47 S.D. To access my Twitter page, click here.