Dear Friend,
I am pleased to present my electronic newsletter. These e-newsletters enable me to provide information about issues, events and activities in Harrisburg and around the 47th Senatorial District to you in a timely manner while saving postage costs.
If you find this e-newsletter useful, I invite you to visit my website www.senatoreldervogel.com for more information about your state government. If you do not wish to receive these e-newsletters, please click the "unsubscribe" button at the bottom of the page.
Sincerely,
Elder Vogel
---
On May 12, I and hundreds of other 2nd Amendment supporters and defenders gathered on the steps of our state capitol for the annual Right to Keep & Bear Arms Rally. As your state legislator, you can count on my unwavering support for the right to keep and bear arms.
---
Industrial Hemp Hearing Held
The Senate and House Agriculture and Rural Affairs committees, chaired by myself and Representative Martin Causer, held an informational meeting to discuss Senate Bill 50 & House Bill 967, legislation to allow the growth and cultivation, for research purposes, of industrial hemp in the Commonwealth. Industrial hemp has many uses, including paper, textiles, biodegradable plastics, construction, health food, and fuel. Industrial Hemp is produced in many countries around the world. Major producers include Canada, France, and China. Click here to watch the entire video of the hearing.

---
Phishing Email Alert
The Pennsylvania Criminal Intelligence Center received information regarding a fraudulent email (see picture) claiming to originate from the Pennsylvania Department of Motor Vehicles. The subject line of the email indicates "Action Required – Fine for Traffic Violations."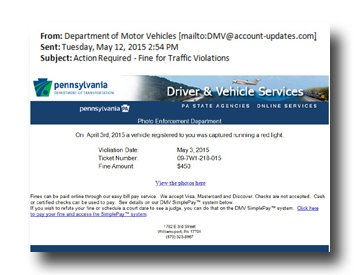 The body of the email further states that a "vehicle registered to you was captured running a red light" along with a violation date, ticket number and a fine amount. There were also various links within the email that redirect users to other websites not affiliated with PennDOT.

Be aware that this is a scam. Citations and traffic tickets are never paid directly to PennDOT. Furthermore, you won't ever get an email from PennDOT requesting that you pay a fine for a citation.

---
Read the Monthly Revenue Report
Every month, the Senate Appropriations Committee compiles a comprehensive report on the fiscal state of Pennsylvania. To summarize this month's report, General Fund revenue collections are 5.3% above estimate and fiscal year-to-date collections are 2.3% above estimate. To read the entire report, click here.
---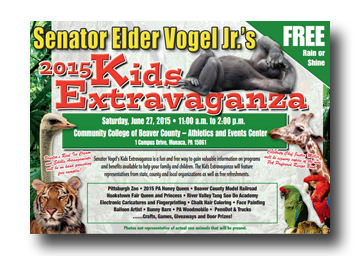 On June 27, 2015 I will be hosting my annual Kids Extravaganza at the CCBC Dome from 11:00 a.m. to 2:00 p.m. For more info, click here.
---
DEP Continues Alternative Fuel Vehicle Rebate Program
The Department of Environmental Protection recently announced the continuation of Pennsylvania's Alternative Fuel Vehicle Rebate Program, which provides $2,000 rebates to commonwealth residents for large-battery system plug-in hybrid electric and battery-electric vehicles. DEP provides these rebates as incentives to assist Pennsylvanians with the incremental cost of purchasing an alternative fuel vehicle.
To qualify, the vehicle must be registered in Pennsylvania, operated primarily in-state, and be purchased no more than six months before the rebate application is submitted.
Large-battery vehicles that have battery system capacities equal or greater than 10 kilo-watt hours (kWh), including models such as the Nissan Leaf, Ford Focus, BMW, Tesla, and Chevy Volt, are eligible for the highest rebate amount of $2,000. DEP is also extending rebates of $1,000 for plug-in hybrid electric vehicles and battery-electric vehicles with battery system capacities of less than 10 kWh, including models such as the Toyota Prius plug-in, Ford C-Max Energi, Ford Fusion, and Honda Accord.
Rebates of $1,000 are being extended for natural gas, propane, hydrogen, or fuel-cell vehicles, such as the CNG powered Honda Civic or any 2014-15 CNG powered car or pickup truck. CNG original equipment, manufacturer retrofits, or certified conversions to CNG or propane are also eligible for the $1,000 rebate. A $500 rebate is available for electric motorcycles and scooters.
There are only a limited number of rebates available at $2,000. The rebate program offered will be reassessed upon payment of the first 250 rebates at $2,000 or December 31, 2015, whichever occurs first.
To apply for a rebate and for more information, click here.
---
PHFA Awards Tax Credits for New Brighton Housing Rehab Project
The Pennsylvania Housing Finance Agency (PHFA) recently award awarded $1.13 million in Low Income Housing Tax Credits for a major housing rehabilitation project in New Brighton.
The tax credits were awarded for Winn Development's proposal to preserve and rehabilitate the 101-unit EB McNitt Apartments complex on a former high school campus as low-income housing for senior/disabled residents.
New Brighton has a rich history and EB McNitt Apartments sits on a property with much historical significance to the community. I support Winn Development's long-term commitment to this property, its residents, and the community and believe it is a worthy endeavor for the PHFA to support. Winn Development's plans for renovating and improving the property will greatly enhance the lives of the residents of EB McNitt Apartments and the surrounding community.
---
Recently, I spoke at the Knights of Columbus Blue Mass honoring Beaver County police & law enforcement officers at Saint Titus Church, Aliquippa.
---
Public Feedback Needed
Public feedback on the next update to Pennsylvania's Twelve Year Transportation Program will be collected through May 29. The program outlines PennDOT's next 12 years of projects for all modes of travel including car and truck, public transit, bicycle and pedestrian, aviation, rail and ports. You can provide your input via an online survey: https://talkpatransportation.metroquest.com/
---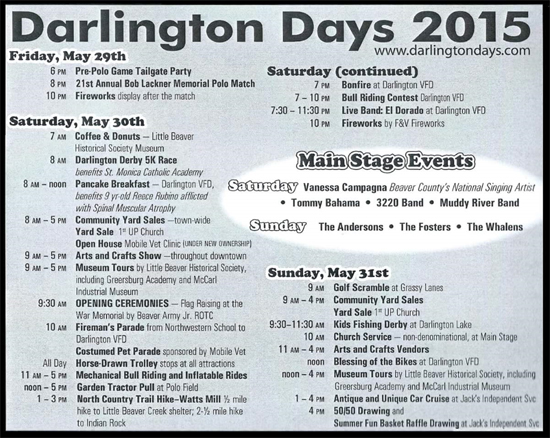 The 16th annual Darlington Days festival will take place this weekend, from May 29 to May 31. For more information, click here.
---
Older Americans Month
May is Older Americans Month. Pennsylvania is home to 2.7 million residents over the age of 60. There are plenty of state services available for seniors and families who need help caring for an older relative. To learn more about these services, click here.
---
Follow Me on Twitter!
I have a Twitter account to better connect with my constituents and provide daily updates on my voting record, whereabouts, state government, and local news affecting the 47 S.D. To access my Twitter page, click here.
Please contact me to provide input on any state-related matter, or to receive help in dealing with a state agency.



Offices
Senate Box 203047
362 Main Capitol Building
Harrisburg, PA 17120-3047
Phone: (717) 787-3076
FAX: (717) 772-2756
District
Monday-Friday
8:30 - 4:30
Rochester
488 Adams Street
Rochester, PA 15074-1940
Phone: (724) 774-0444
FAX: (724) 773-7384
New Castle
1905 W. State Street
New Castle, PA 16101
Phone: (724) 654-1444
FAX: (724) 656-3182